Leading the Blue Knights Drum and Bugle Corps for the past 30 years, Mark Arnold has helped the organization become a consistent top finisher in Drum Corps International competition. The 2015 season marked a milestone not only for the Blue Knights but also for Arnold.
When excellence is the foundation of a drum and bugle corps, great things happen. That is what Mark Arnold (left in photo), executive director of the Denver-based Blue Knights Drum and Bugle Corps, has proven to be true. At the 2015 Drum Corps International (DCI) World Championships, the Blue Knights tied its highest placement in history, and Arnold was the proud recipient of the Dr. Bernard Baggs Leadership Award.
Halftime: What is your musical background?
Arnold: I have a degree in music education from the University of Wyoming. I was a trombone player and a music educator and taught school for seven years before becoming the director of the Blue Knights [in 1985].
Halftime: What has kept you with the Blue Knights for 30 years?
Arnold: I think Denver is a beautiful community with very progressive people. The team that we built around the Blue Knights—we all support each other. We're a mission-driven organization, keeping our focus on the development of young people. It's just been a great environment to be in. I have no desire to be anywhere else.
Halftime: How have you seen the Blue Knights evolve?
Arnold: I think, perhaps, the biggest change that's happened to the Blue Knights is that our staff and our designers have [become] consistent, and we have highly qualified educators and individuals working with the group that really have a dedication to excellence on all levels.
Halftime: Congratulations on receiving the Dr. Bernard Baggs Leadership Award this year and for the second time overall. What is your reaction?
Arnold: It's an honor to be selected amongst your peers. I appreciate their belief and support in what goes on in the Blue Knights and the leadership we have.
Halftime: The Blue Knights tied its highest placement at 6th in World Class. What made this year special to be able to achieve this milestone?
Arnold: I think any time you have a show that speaks to the audience, and that the performers can relate to and enjoy performing, special things are going to happen. That was key. We're lucky to have designers and instructors that can put together a program like that and help the members achieve it. Success is a result of those three tiers: great students who buy into a great design program and the instruction that helps them achieve the excellence that they do.
Halftime: How have you taken the Blue Knights from the middle of the pack to a consistent finalist?
Arnold: Again, I think it's just a culture of excellence within the organization—always striving to do better both on and off the field, keeping our focus on the experience that our members are having and trying to improve upon that every year. I think that's how you build the foundation of excellence. No detail is too small to try and improve upon.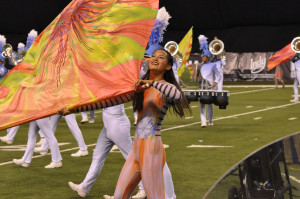 Halftime: Tell us about your show.
Arnold: Our program all starts with the music and great musicians. The show was titled "Because," and it was kind of a celebration of life and what it's like to work alongside and live with people who are passionate about performance and communicating with the audience. I think that the very base of that was great music, instructing in a way that spoke to the audience. Why? Because.
Halftime: Since Blue Knights is only one aspect of the Ascend Performing Arts organization, how do the other programs round out the group?
Arnold: We recognize that we play a huge role in our community as far as leadership in the marching arts and music education. Branching out into other organizations, such as our percussion ensemble, all the clinics, providing our Friendship Cup marching band series, and showcasing percussion and brass at all the Denver Broncos games—it's all a part of promoting music and music education and youth in Denver. The Blue Knights Drum and Bugle Corps is kind of the flagship of that, so it all fits together to help our community.
Halftime: You've been the chairman of the DCI board several times and won the inaugural George Bonfiglio Chairman's Award in 2012. Why do you think it's important to serve the board?
Arnold: I think the drum corps activity has such a profound impact on the young people that we serve, and we have the responsibility to help promote and support the activity. To me, it was always an incredible honor to be able to serve as the Chairman of the Board. I'm very fortunate to be able to give time to the activity that I know makes such a huge difference in the life of so many. The rest of the directors of Drum Corps International are of like mind, and it takes all of us working together to keep DCI moving forward. I'm very proud of what we've done along those lines. I think DCI is reaching some great milestones right now. The audience and the international footprint that we have are growing, and it's an honor to be a part of that leadership when all those transitions are taking place.
Halftime: Do you have advice for other directors and performers?
Arnold: Engage the people around you in the quest for excellence. You can't do it by yourself; you need other people along with you.
Photos by Ken Martinson/Marching.com.