Drum Corps International's SoundSport and DrumLine Battle, which allow smaller ensembles to participate in new types of marching programs, have skyrocketed in popularity in just two years.
With summertime comes drum corps season and all the blood, sweat and tears that it entails. Participants can look forward to long rehearsals in the blazing sun as they work tirelessly to prepare that perfect show for competitions and eventually championships. Many students are happy to rise to the challenge, sacrificing a portion of their time off from school in hopes of gold and glory. But for those interested in having a bit more vacation with their summer vacation, Drum Corps International (DCI) started SoundSport and DrumLine Battle to offer smaller, variant versions of the traditional drum and bugle corps competitions.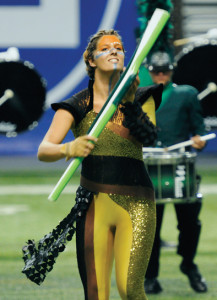 BIG ENOUGH TO GO SMALL
Debuting in 2013, SoundSport began with the intent of giving smaller ensembles the opportunity to compete in a drum corps setting without as much financial cost or time commitment. SoundSport competitions take place on smaller, 30-yard by 20-yard stages and allow for a wider range of instrumentation, from woodwinds to accordions and Irish tin whistles.
"We saw a few years ago that we were losing corps that couldn't keep up with the financial demands of the modern drum corps activity," says John DeNovi, DCI's director of business development. "And we were seeing that new corps weren't coming around as frequently as we would like."
SoundSport has had great success with bringing new drum corps into the competitive scene since its inception. "In the last two years we've seen 12 new drum corps enter DCI's Open Class," DeNovi says. "And half of those had roots in SoundSport."
For example, SoundSport's reduced barriers of entry allowed the Guardians Drum and Bugle Corps in Houston, Texas, to graduate from a new 15-member ensemble to a 112-strong participant in DCI's Open Class. When the Guardians helped pioneer SoundSport in 2013, it was more of a local exhibition of music and marching trying to define its niche, but the ensemble grew quickly while maintaining its community roots since those early performances. "We weren't ready for an Open Class evaluation just yet," says Johnathan Doerr, director of the Guardians. "SoundSport was something that could get us in front of a big crowd and give our members more opportunities to perform."
All-age group Thunder Brigade Drum and Bugle Corps from Montgomery County, Maryland, also found SoundSport to be a perfect fit for the beginning ensemble. "I'm thankful to DCI for creating these opportunities for smaller, developing groups and looking for a positive venue for our students to perform and grow," says Terrell Smith, executive director of Thunder Brigade. "We get to expose them to the very best marching musicians in the world through DCI, and they bring that inspiration and excitement back to our rehearsal setting."
A NEW KIND OF COMPETITION
Besides being used as a launching pad to form new drum corps, SoundSport encourages other types of ensembles to participate and form teams as well. Several drum corps alumni such as Star United from Indianapolis and the Freelancers Alumni Corps from Sacramento, California, have participated. Additionally, larger, more-established high school and college groups can broaden their horizons and membership counts by creating SoundSport teams. Participants have included the Kennedy High School Marching Band from Silver Spring, Maryland, and the University of North Georgia Golden Eagle Band from Dahlonega, Georgia, both of which share the current roster with corps from as far as Shanghai.
Since it began, SoundSport has featured participants from across the globe, including Ireland, Canada, Guatemala, Colombia, China, Thailand and many others.
"For some ensembles, it's the first time they've gotten together as a group," DeNovi says. "Other groups may be more advanced, but they are not full-sized organizations that would normally perform on full-sized fields."
Part of what attracts groups to SoundSport is the reduced emphasis on judging and scores. Groups earn ratings of gold, silver and bronze based on their technical skill as well as their showmanship and ability to excite the audience.
"In the history of marching band and drum corps, some of the great performances of all time came from groups that weren't necessarily in the top five but the audiences loved," DeNovi says. "What they had in common was that the crowd got on their feet and loved every minute. We wanted to give ensembles the opportunity to do well if they have the ability to get a crowd into what they are doing."
Furthermore, SoundSport differentiates itself from the traditional drum corps setup with instrumentation outside the drum corps norms. Along with more familiar woodwinds like clarinets, saxophones or even bassoons, international ensembles bring their own unique instrumentation with traditional instruments from China, Guatemala, Colombia and others. SoundSport also suggests that groups use whatever equipment and uniforms are easiest to acquire, lowering or eliminating the costs of instruments and costuming.
"SoundSport has no restrictions on instruments, so we can use woodwinds, harmonicas, spoons or whatever we want," says William Clark, director of the Florida Xpress Performance Ensemble from Hawthorne, Florida. "It gives students the opportunity to perform in a DCI setting without switching instruments."
Thunder Brigade enjoys the creativity that SoundSport allows. "The way we interpret it is that it's not just drum corps on a smaller stage," Smith says. "It's a completely different performance opportunity. It has its roots in traditional drum corps, but there's no limitation on size or instrumentation. The sky's the limit for us."
And thankfully, a SoundSport show does not require the 12-hour, 7-day rehearsal schedule of full-scale drum corps, so teams face much less pressure. "A lot of kids want to be part of groups like The Blue Devils or Carolina Crown, but they don't want to give up their whole summer," Doerr says. "In our SoundSport year, [the Guardians] rehearsed every weekend in June and then had larger rehearsals for about a week and a half."
This summer will see eight SoundSport competitions in the United States and additional contests in 15 other countries with more than 200 participating ensembles.
"To be a part of DCI two years ago, you needed a 50- to 60-member drum corps with only brass and percussion," DeNovi says. "SoundSport opens up an opportunity for the whole rest of the world to perform."
HEAD-TO-HEAD BATTLES
While SoundSport varies the formula of a traditional drum corps experience, DrumLine Battle brings a new kind of musical matchup to DCI. Two drumlines go head-to-head as if reenacting the finale to the movie "Drumline" to see who can get the audience hyped the most.
DCI's DrumLine Battle was inspired by a similar event in Indonesia. "I saw the very first matchup, and I instantly fell in love with the concept—two drumlines coming together and playing solos at each other," DeNovi says. "The number of people that came to watch was just mind-boggling."
After a bit more structuring and branding, DrumLine Battle debuted in 2013 alongside SoundSport. As of 2015, more than 20 countries have hosted DrumLine Battle, and groups participate from all over the world. Last year in Indianapolis, DCI drew a crowd of more than 10,000 people who filled the streets to see DrumLine Battle firsthand.
"DrumLine Battle gets people involved, engaged and excited," says Fred Morrison, executive director of the Crossmen Drum and Bugle Corps from San Antonio, Texas. "It really draws attention to what we do as drum corps."
In addition to drum corps drumlines, DrumLine Battle also opens its doors to high school and college groups, such as the Dover (Delaware) High School Rolling Thunder Drumline and the Indiana University Drumline from Bloomington.
Rather than a strict, regimented competition, DrumLine Battle aims for more of a friendly competition that can involve the fans as well. There's no real judging criteria beyond which group feels better and how much of a reaction they get from the crowd. Group members can even contribute their own ideas to the performance.
"The band members like to perform," Morrison says. "Anytime we can get them in front of an audience, they're going to enjoy it."
A DRUM CORPS RENAISSANCE
SoundSport and DrumLine Battle prove that drum corps fans and participants are more than ready for something new and exciting, whether it be a wider range of instruments or a drumline face-off. Drum corps may hold the spotlight, but there still remains space on stage for new and exciting events celebrating music in motion.
Those interested in starting a SoundSport or drumline team or even hosting an event can visit the respective websites at www.soundsport.com and www.drumlinebattle.com.
Photos courtesy of Drum Corps International.