Drum corps organizations thrive in winter marching activities.
The colder weather is no reason for drum corps members to stop practicing and competing. In this winter marching season, well-established drum corps such as the Blue Knights and Music City have launched groups for indoor winds, following in the footsteps of several other corps that have done the same in the past few years. Many corps also operate winter guard and indoor percussion groups, allowing enthusiastic youths to continue participating year-round.
"The benefits are the same as with any musical or marching arts ensemble in any season," says Keith Hall, executive director of Music City Winds and past executive director of Music City Drum Corps in Nashville. "It provides an opportunity for members to have a ton of fun, be part of a team, learn from a talented staff, develop a strong work ethic, build one's self-esteem, as well as build one's esteem for others."
Similarities and Differences
Since indoor groups are smaller than their outdoor counterparts and compete in gyms or basketball arenas instead of football fields, performers have a more intimate experience, reflected in the artistry of the show as well.
"Both [venue and size] greatly affect the design musically and visually," says Gregory "GM" Kuzma, director of operations for Ascend Performing Arts in Aurora, Colorado. Ascend Performing Arts is the umbrella organization that operates the Blue Knights Drum and Bugle Corps, the Blue Knights Percussion Ensemble, and its newest group, the Blue Knights Winds.
Certain indoor groups don't have age limits for their members, which can make the average age of a winter participant significantly older than summer participants.
Crossmen Winds, now in its third season, has no age limit, and sometimes its members are much older than what is common for drum corps. "Last year, Crossmen Winds was made up of many local band directors," says Natalie Steele, director of development and communications and appointed CEO for Crossmen Productions in San Antonio, Texas, the parent organization for the drum corps and winds group.
By comparison, members of the Blue Knights Winds and Blue Knights Percussion Ensemble tend to be younger.
"[Indoor members] primarily come from the local Denver area," Kuzma says. "The Blue Knights Drum and Bugle Corps has a slightly higher average age due to prospective members coming from not just Colorado but also from around the world. Also, our indoor ensemble weekly rehearsal schedule tends to be more of a commuting situation versus the drum corps when members move in and stay with us continuously for the entire summer national tour."
Other organizations find that both indoor and outdoor groups attract members of the same age, typically those in their early 20s.
Logistical Challenges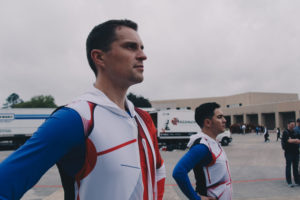 Each indoor group creates its own schedule to best meet its goals, but all groups that practice during the winter have one thing in common: They schedule everything indoors because of the chilly weather.
"The biggest challenge is finding gyms to rehearse in," says Mike Nevin, program director for Blue Knights Percussion Ensemble. "We don't have our own indoor facility, so we have to secure gyms in the public schools and sometimes colleges. We have to compete with the other school activities, such as basketball and volleyball, for gym time."
In some cases, indoor directors need to procure even more space than just gymnasiums.
"Rather than meeting one weekend per month, Crossmen Winds requires a housing site each weekend," Steele says. "Not only do we need a gym but also multiple rooms for sectionals. However, space isn't too much of an issue with just 40 cast members rather than the 154 [in our drum corps]."
Participants' other extracurricular activities may cause difficulties for directors when creating their practice schedules.
"One of the biggest challenges for winter groups that rehearse exclusively on the weekends is the variety of potential scheduling conflicts with school activities, such as honor band clinics and school musicals," Hall says.
A Full- or Part-Year Commitment
Some performers participate year-round with drum corps organizations while others are only involved during the winter.
"Each Crossmen Winds performer chooses [whether or not] to participate in the winter for their own reasons," Steele says. "For some, they're young, and this is their way to get their feet wet. For others, who march both ensembles, they just can't get enough."
Several factors may influence why some members only perform with indoor groups.
"The time commitment of an indoor group is much less than with a drum corps," Nevin says. "Many of our members have to work during the summers, and some may be too young and inexperienced to be in drum corps. [And] financial commitment is always a factor. The member tuition for the indoor ensembles is less than half of the amount of the member tuition for the drum corps."
Those who are serious about competition prefer not to take the season off, so participating during winter is the obvious choice.
"They have worked from a very young age and aspired to perform at the highest level," says David Gibbs, senior executive advisor of BD Performing Arts in Concord, California. "This is similar to amateur Olympic participants, where they have worked so hard to get to the highest level in their discipline. These young people want to do it as much and as long as they can."
Best known for fielding the 18-time champion Blue Devils Drum and Bugle Corps, BD Performing Arts partnered with neighboring Riverside City College to operate its indoor percussion program, which has won the WGI Independent World championship six times.
History in the Making
Many young musicians and guard members are eager to perform with world-class groups. These indoor ensembles founded by established drum corps give them the option of following their passion year-round.
"The benefits of running an indoor program are primarily for our students and the community," Nevin says. "We tend to train more local students, and many of them go back into the community to become instructors or go back to their school programs and inspire their peers to become better musicians. Both are a powerful tool in helping the local music programs grow and improve. It's also a youth activity, of course, so it gives young adults an opportunity to be involved in a worthy activity that they enjoy."
Some indoor groups have a long, established history competing in WGI Sport of the Arts; others are just starting out.
For example, the Blue Knights Percussion Ensemble, an Independent World Class group, has been four-time champions through WGI and 24-time state champions through the Rocky Mountain Percussion Association.
"The Blue Knights Percussion Ensemble started in 1993 and is the longest-running Independent World Class percussion ensemble in the history of WGI," Kuzma says.
By comparison, many winds groups have existed only a few years since the winds category was launched in 2015.
Crossmen Winds began in 2017 and has begun to rack up accolades. "Crossmen Winds was the first Independent World Winds group in Texas," Steele says. "They have received gold medals at TCGC [Texas Color Guard Circuit] Championships and most recently received silver at WGI World Championships last year. While Crossmen Drum and Bugle Corps has a rich 45-year history, Crossmen Winds is still new and creating its own traditions. However, both are world-class ensembles with standards and skills that define the best of the best."
Corps across the nation are still forming new winds groups to meet demand.
"We launched a Blue Knights Winds group in 2019 that will provide more performing opportunities for young people in the region," Kuzma says. "This new ensemble has a similar budget and staff as the Blue Knights Percussion Ensemble but consists of brass, woodwind performers, and dancers. They will travel to Dayton to compete in Winds Independent Open."
For the debut of Music City Winds, the staff and participants all needed to be flexible in their expectations. "Music City Drum Corps has existed for 10 years, [but] this is the first year for Music City Winds," says Hall, who notes that the group will only attend one show in Indianapolis before attending the WGI World Championships in Dayton. "No one knew what to expect Music City Winds to be in its first season, including me. The members had to be game for a bit of an adventure, not knowing what they were signing on for."
Common Ground
Regardless of whether they are members of percussion, winds, or guard, youth who join indoor ensembles learn important life lessons, including the importance of teamwork and acceptance.
"All of our ensembles bring together people from different races, religions, and sexual orientations and give them a common ground where they can become aware and learn about their differences and find out they're not so different after all when it comes down to the core of who they are," Nevin says. "They carry these connections with them for the rest of their lives and spread their positive experiences wherever they go."
Feature photo courtesy of Ascend Performing Arts.
Photo of Music City Winds courtesy Chris Carroll.
Photo of Crossmen Winds courtesy Rico Gomez.
Photo of Riverside City College Indoor Percussion courtesy Devon Asmus.