Whether through in-person clinics or online opportunities, getting a different educational experience can help winter guard performers and instructors sharpen their skills.
Color guard clinics are a great way for performers to learn new skills and improve their understanding of the activity. It is also a great way for instructors and designers to gain valuable insight into the best practices of creating a show and teaching performers to reach their maximum potential.
WGI Offerings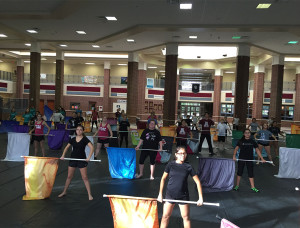 WGI Sport of the Arts is a leader when it comes to color guard education and development. In the past, the organization hosted "Spinfest!," particularly for instructors, in the United States and abroad.
"I attended the first WGI Spinfest! in Florida and found that it was a great way for me to continue learning as an instructor," says Brandy Dubose, director of Arizona State University Independent A winter guard and FeniX Independent Winter Guard. "I am always looking to be open to new ideas or methods other instructors have used to make their teams grow."
WGI hosted Spinfest! starting in 2005, even expanding to Drumfest! in later years. Events have been held in several different states including Florida, Texas, and Massachusetts as well as internationally in locales like Japan with clinicians such as Carol Abohatab, Rosie Queen, and Emmy-winning choreographer Mia Michaels.
"Spinfest! to me was a way to be exposed to different ideas or angles of color guard," says Michael Cortes, color guard instructor for John Paul Stevens High School in San Antonio, Texas. "It presented new ways of thinking about both choreography and show design as well as training performers to better achieve what's being asked of them. It also gave me some insight to what goes on in a judge's head and how they come to the number they put down."
More recently, WGI launched two online offerings for continuing education: wgiCertify for judges' training and WGI 1on1 for instructors to receive consultations and evaluations of their shows from peers and judges. For both offerings, WGI has partnered with e-Adjudicate.
In wgiCertify, current and potential judges can go through five levels of training using a combination of online tutorials and personalized local mentoring. Through the levels, individuals can become fully certified WGI judges. "Certifying our judges has been discussed for years in WGI, and we are extremely pleased that our partnership with e-Adjudicate gives us the platform to deliver this training universally in our activity," said Ron Nankervis, WGI executive director and CEO on the WGI website. "This is just the start of making standardized judge training a cornerstone of the services we provide to our participating groups."
In WGI 1on1, color guard directors and instructors can submit a video run-through of their ensemble's show, pay a fee, and upload it to the wgi1on1.com website. Then an available judge from the caption of their choice will watch the unit's program and provide an audio recording filled with adjudicator comments within 72 hours.
"We are very excited to launch WGI 1on1 as we believe this will open a world of possibilities for instructors to seek help for their programs from some of the best minds in WGI," Nankervis said in a WGI.org article. "The opportunity to share information is always something to celebrate especially with the caliber of experts we have assembled in this initial offering. We expect to expand the range of services in the near future as well."
Spinning Closer to Home
For performers and instructors wishing to learn closer to home, regional circuits and even individual guard units have taken the initiative to host their own educational clinics to the benefit of those in their neighborhood.
The Texas Color Guard Circuit hosts a free symposium for all member groups, involving hands-on skills for instructors and students as well as presentations on various topics. "It is a great networking opportunity," says Jaime Martinez, president. "It gives us a chance to introduce our circuit to national designers and adjudicators who may not have ever done anything in Texas. This is also true for our instructors who may never have the resources to bring in an outside designer of the caliber we would bring in."
Solstice Winter Guard out of Denver has hosted several guard camps around Colorado.
"The spin camps we host keep kids and adults spinning over the summer with beginner through advanced classes," says Shauna Hodges, director of the Solstice Winter Guard. "The participants get to learn a different approach because it is different staff. We try to provide a low-stress environment where participants can try a new piece of equipment or new style of dance without taking time away from learning a show."
At the end of the spin clinic, the participants demonstrate what they learned by performing a routine for parents, family, and friends.
According to Hodges, the best part about hosting spin camps is seeing relationships develop between the participants and for them to realize they are part of a larger color guard community. "They are friends on social media, they cheer each other on at competitions, and they wish each other well in the hallways between performances," Hodges says.
Whether in person or virtually, continuing education helps all involved to be more engaged in making the color guard activity better than ever.
Cover photo courtesy of Solstice Winter Guard.
Photo courtesy of Jaime Martinez, Texas Color Guard Circuit.