Here's a look at the unique experiences of international groups that have performed in Drum Corps International.
Every May, Canada's declining drum corps scene is revived by a lobster. Based in Sherbrooke, Quebec, Les Stentors is currently the only active drum and bugle corps in Canada. While other Canadian drum corps have folded, Les Stentors, founded in 1988 under the name La Relève Musicale (meaning Musical Relief), has used this unique fundraising tradition to stay alive. Its yearly lobster dinner offers tickets for $100 apiece and draws in 700 guests.
Because of its innovation in the face of financial struggle, Les Stentors is able to represent Canada every August at the Drum Corps International (DCI) World Championships in Indianapolis.
Musical Melting Pot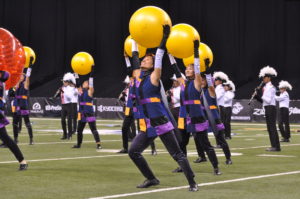 Though inspirational, Les Stentors is by no means the only international corps to get to championships. Each year, DCI welcomes a range of groups from around the world to represent their countries in a universally entertaining display of pageantry. In 2015 Les Stentors from Canada, Chien Kuo from Taiwan, and Gita Surosowan Banten from Indonesia were among those that performed.
"We like that we're able to bring together a wide variety of ensembles, so we can mix different cultures and backgrounds," says John DeNovi, DCI's senior director of global sales and business development.
Though 2015 was the first time Chien Kuo performed at DCI championships, the group is no stranger to taking its show around the world. A frequent competitor in the World Association of Marching Show Bands, Chien Kuo has performed in Japan, Korea, Malaysia, Canada, England, Germany, and Italy.
The inspiration to travel to DCI championships came from seeing the Blue Knights Drum and Bugle Corps perform at Chien Kuo High School in December 2013. "The impression of [the] performance [and] the passion of Blue Knights' executive director, Mark Arnold, motivated us to make the trip," says Chien Kuo director Damien Fan.
Similarly, 2015 was the first year at DCI championships for Indonesia's Gita Surosowan Banten. "It [is] a dream for every marching band to compete at DCI championships," says director Hari Doyo Sugianto. Like Chien Kuo, Gita Surosowan Banten also gained experience performing internationally, including performances at the Malaysia World Band Competition and the Thailand World Music Championships, before making the trip to Indianapolis.
Indonesia's marching scene is fairly large since marching band is common in Indonesian schools. "We could pick randomly any city in Indonesia; [they have] at least one group," Sugianto says.
Indonesia's marching season culminates in a national competition called Grand Prix Marching Band (GPMB). Gita Surosowan Banten has competed at GPMB every year since 2006, winning first place in 2012. The group decided to make the trip to Indianapolis in 2015, so that they could be on "the same field with all the best drum corps in the world," Sugianto says.
Unlike other international groups, Les Stentors competes at DCI championships almost every year. The group's director, Gabriel Francoeur, is no stranger to DCI as an alumnus of the Star of Indiana. Because marching band and drum corps are not common in Canada, most of Les Stentors' domestic performances are parades.
Les Stentors performs its DCI routine when touring the United States throughout each summer. This year, the corps will perform in shows in New Hampshire, Pennsylvania, and Michigan before reaching championships in Indianapolis. Canada's proximity to the United States makes touring easy. "It's cheaper to go to the U.S. [than] Ontario," says Francoeur. "We don't take a plane. We have our own bus."
According to DeNovi, YouTube and DVDs have made it easier to spread the influence of American-style drum corps around the world. "As much as these groups are all different, they're very similar," he says. "They look to DCI as standard."
Cultural Challenges
Naturally, social and cultural obstacles will emerge when a group travels to another country. "Food is one, having access to the types of foods they're used to," DeNovi says. "Language is another one."
Chien Kuo, Gita Surosowan Banten, and Les Stentors have all had to overcome these barriers for a smooth trip abroad.
Because the members of Chien Kuo are seasoned travelers, they are used to dealing with cultural differences. "English classes are mandatory in Taiwan, and thus American culture is introduced to a certain extent," Fan says.
However, Fan notes that every once in awhile, the group will run into issues when traveling abroad. "We had to constantly remind the band about the importance of being quiet, respectable, and orderly when traveling to Japan," he says.
The language barrier is more prominent with Gita Surosowan Banten. "Language [is] a little issue for us," Sugianto says. Sugianto's responses were translated to English by Dewi Mulya, a New York-based translator working with DCI.
Though the Les Stentors group is just across the border, all of the corps' students and directors speak French as their first language. "Half of them can talk a little bit [of English]," Francoeur says. "They can go to McDonald's."
However, because the student members in the ensembles mostly talk amongst themselves, the language barrier has been less a challenge for the them than it has been for the staff. "The staff has to communicate with the judges," says Francoeur, who speaks English as his second language.
Despite any language differences, Francoeur trusts that DCI personnel will always be able to help the group out. "They're great people," he says. "So you start at the base that they want to help you. That makes it easier."
Because DCI wants to attract musicians from all over the world, its staff is committed to creating a welcoming environment for international travelers. "We put together a committee that made sure when they got here, they had a guide that would help them with getting around," DeNovi says.
These guides help groups with everything from finding the locations where they need to go to finding restaurants that serve the kinds of food they're used to. Guides also help eliminate cultural misunderstandings. "In the case of Indonesia, their culture is very relaxed; Thailand is the same way," DeNovi says.
More relaxed cultures do not emphasize the importance of being on time the same way that the United States does. "We give each group an internal guide, kind of like a stage manager, to make sure they get there when they have to be there," DeNovi says.
Financial Constraints
While cultural differences may pose challenges for many of these bands, the biggest struggle is often a financial one. "The most challenging thing to overcome is expenses," Sugianto says. "It costs a lot of money to bring 180 people to the U.S."
Similarly, funding has been an issue for Canadian groups. Back in the 1990s, Quebec had about 35 drum corps. Over time, as the costs of running a drum corps increased, groups stopped performing. Because Canada does not have a strong culture for marching band or drum corps, schools were much more likely to fund soccer fields and hockey arenas.
Now, only Les Stentors remains. "We were lucky enough to have business people managing the corps," Francoeur says.
A few years ago, the child of a multimillion-dollar business owner was a member of Les Stentors. "The kid really enjoyed drum corps, and the parent stayed for a long time."
For Gita Surosowan Banten, its government covers expenses as the group was formed as an official corps for Indonesia's Banten Province. When the ensemble needs more funding, it convinces the government of the trip's importance to the culture of Banten.
Other groups, like Chien Kuo, require internal funding. "The parent booster club actively seeks for donations and government subsidies, but the majority of the expenses are still covered out-of-pocket," Fan says.
To join Chien Kuo, students must pay an annual fee equivalent to 1,000 USD. To participate in international trips, members must pay extra fees ranging from $1,500 to $3,500, depending on the trip.
These fees make it difficult for lower-income students to take part in the corps. "It is likely that some people might not join if they cannot afford it," Fan says.
However, the group does try to help all members afford the overseas trips. "If we know that a certain band member chooses not to travel with us due to financial reasons, we try to subsidize their expenses by averaging the cost among the entire band," Fan says. "If we are fortunate, a donor might be willing to sponsor the member's trip."
International Impact
Despite the obstacles that these groups need to overcome, they all believe that making the trip to Indianapolis creates an experience well worth the effort. "It is important to step outside our comfort zone and see the world," Fan says. "We raise the bar each time we learn from others."
Sugianto agrees that the trip provides an important cultural and educational experience. "We learned a lot from DCI championships," he says.
According to Sugianto, one of the most important things the group learned at championships was that so many different cultures see the marching arts as a great way to build character.
DCI is grateful for the ability to bring so many different cultures together for a shared purpose. "It gives us a view of what's going on in the rest of the world, how what they do is unique to their musical culture," DeNovi says.
For example, last year, Gita Surosowan Banten used percussive instruments native to Indonesia and performed Indonesian dance styles that were, in DeNovi's words, "never seen before in the States."
This coming August, DCI will again feature a variety of international musicians. Right now, DCI is hoping to host Hong Kong's Pegasus Vanguard for DrumLine Battle as well as a group from Colombia. "There are groups around the world that want to be a part of DCI," DeNovi says. "We're all the same through music."
Photos of Les Stentors.
Photos of Chien Kuo courtesy of Ken Martinson.
Photo of Gita Surosowan Banten courtesy of Ken Martinson.