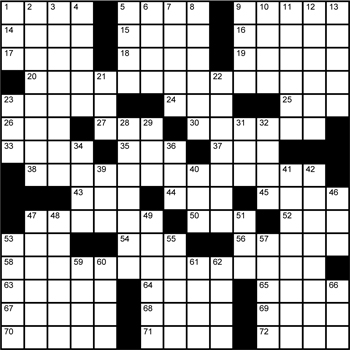 ACROSS

1. Actress Pinkett Smith
5. With 71 Across, surf guitar king who will have one of his trumpets on display at the Musical Instrument Museum in Phoenix
9. March composer the University of Illinois has a museum devoted to
14. Word before rock, jazz or rain
15. Singer Brickell married to Paul Simon
16. Helpers (abbrev.)
17. One of the Three Bears in "Goldilocks"
18. Where one of the stressed beats may land on in 8/8 time
19. Christian ___ (some high-fashion dresses)
20. Some of his trademark bent trumpets are on display in many museums, among them The Smithsonian (2 words)
23. Actress Zellweger
24. Director Spike
25. Doc that may focus on head colds (abbrev.)
26. "___ making myself clear?" (2 words)
27. Computer key that helps you exit
30. Drug-related subject of a 2006 Tour de France scandal
33. The "D" in CD
35. Pose a question
37. What brave people use to fill in crosswords
38. His saxophone is on display at the American Jazz Museum in Kansas City, Mo. (2 words)
43. Regrettable
44. Opposite of neither
45. It follows "high" or "roll," in marching
47. Sports fan's favorite group, to that same sports fan (2 words)
50. Halftime Magazine staffers (abbrev.)
52. Ambient musician Brian
53. Noise you don't want to hear from the audience
54. Keanu's role in "The Matrix"
56. "Lady ___" (Chris de Burgh song) (2 words)
58. His cornet and bugle are on display at the Louisiana State Museum in New Orleans (2 words)
63. Make a collection, as with books or instruments
64. "Elenore, ___ think you're swell" (line from The Turtles' "Elenore") (2 words)
65. Aunts, in Spanish
67. All-time record holder in strikeouts ___ Ryan
68. Exclamation from Sherlock Holmes
69. Takeoff times at the airport (abbrev.)
70. Former Baltimore football team whose marching band instruments are on display at the Sports Legends Museum at Camden Yards
71. See 5 Across
72. Fabric colorers

DOWN

1. Freestyle music session
2. School- and learning-related
3. Change a major seventh chord by flatting the third and fifth, then doubleflatting the seventh
4. In ___ (confused) (2 words)
5. Go against, like with authority or gravity
6. "Gotcha," to a beatnik (2 words)
7. ___ War Game (nickname for the annual Oregon Ducks vs. Oregon State Beavers football game)
8. ___ over (dropped from exhaustion)
9. One-named "Smooth Operator" singer
10. Suffix after "psych-" or "mononucle-"
11. Last of the four events in tennis's Grand Slam (2 words)
12. It may be tuned to G, D, A or E on a violin
13. Person who brings strength to a group
21. Letter that follows double-u, ex and wye
22. Spotted wildcat
23. Cool, 1980's-style
28. Actress Zoe of "Avatar"
29. CBS show set in Las Vegas
31. Part of MPH
32. Calligraphy needs
34. Participating group in a musical
36. "Jazz" documentarian Burns
39. Singer Corinne Bailey ___
40. Edgar Allan who wrote "The Raven"
41. It really feels like forever
42. Individual who marches to the beat of a different drummer, perhaps?
46. Pea holder
47. Sound in "Old MacDonald" (2 words)
48. Address to the whole group, in some parts of the Southern United States (2 words)
49. Went from two lanes of traffic to one, perhaps
51. Title for a knight
53. Mel who voiced Bugs Bunny
55. Last letter of the Greek alphabet
57. Jotted down for later
59. "The City ___ War" (song by Cobra Starship) (2 words)
60. ID numbers on tax forms (abbrev.)
61. One-named singer that married Heidi Klum
62. Crimson ___ (Alabama's college teams)
66. Sound from a snake or a leaky tire
Wait, don't peek yet. Here come the solutions.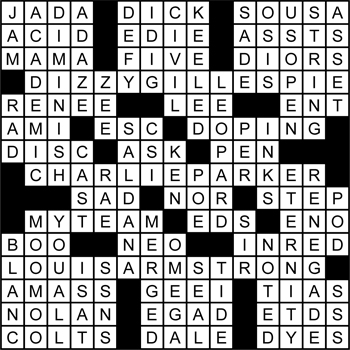 About the Author
Matt Jones is a 1998 graduate of Willamette University in Salem, Ore., where he majored in music education. Since 1994, he has also written crosswords for venues such as The New York Times, Games Magazine and Stagebill. He currently writes a syndicated weekly puzzle for more than 50 alternative newspapers across the country.