ACROSS

1. Massachusetts city home to The Beanpot
Invitational on 7/2/11
5. Meal in a pot
9. Metallica drummer Ulrich
13. Hawaii state capital locale
14. Klum who married Seal
15. Like some power utilities (abbrev.)
16. Actor Feore of 2011's "Thor"
17. Made of wood, like some furniture or
buckets
18. "On top of that …"
19. Ohio city home to the Glassmen All Star Review on 7/8/11 (2 words)
22. Jack Bauer's organization, on "24" (abbrev.)
25. Oregon's home school of the Vikings (abbrev.)
26. Get snarled up, like hair
27. Minnesota city home to DCI Minnesota on 7/16/11
31. PGA pro Ernie
32. How some travel takes place (as opposed to by water or by air) (2 words)
33. Frank in the Rock and Roll Hall of Fame
35. Language from "Avatar"
36. Talk nonstop
37. Opening prefix for "physics"
41. Not now
44. "Toxic" singer Britney
46. Chicago Law School (abbrev.)
49. Oklahoma city home to Drums of Summer on 7/20/11 (2 words)
51. "___ a fool not to!" (2 words)
53. "Me," in French
54. 180 degrees from SSW
55. Tennessee city home to The Masters of the Summer Music Games on 7/29/11
59. Jessica of "7th Heaven"
60. Like many San Francisco streets
61. MasterCard competitor
65. Beijing's continent
66. ___ Birds (popular game app)
67. Of grand proportions
68. "___ we forget" (a common phrase in war memorials)
69. Easter egg dye company
70. New York city home to Drums Along the Mohawk on 8/4/11

DOWN


1. "Funky Cold Medina" rapper Tone ___
2. Basketball star Ming
3. Sports league that awards the Conn Smythe Trophy
4. Without feeling
5. Make airtight (2 words)
6. Type of torch for an outdoor party
7. Early paradise
8. Leather dress shoe variety
9. Take a class on
10. Accuse without proof
11. Put up on eBay, perhaps
12. Baked goods in a tea shop
14. "What a downer …" (2 words)
20. Neon sign word
21. "I don't believe it!" noise
22. "Get moving!"
23. Singer Turner
24. Home of the Runnin' Rebels (abbrev.)
28. Manicurist's target
29. ___ National Forest (Arkansas area named for a mountain range)
30. Mad scientist's place
34. Part of ASL (abbrev.)
36. Milli's brother, on "Team Umizoomi"
38. Make, like money
39. Disney computer movie with a 2010 sequel
40. "It's the End of the World ___ Know It" (REM song) (2 words)
42. Shortened, like this answer?
43. Unprocessed maple syrup, really (2 words)
44. He slept on top of his doghouse
45. Socks quantity
46. Source of a crash in the band?
47. Madonna's real middle name
48. Response to "It's hot outside," perhaps (2 words)
50. Glowing bits in a campfire
52. Note whose enharmonic is C# (2 words)
56. Active Sicilian volcano
57. Sonic the Hedgehog's former home
58. Finished
62. NASDAQ opener (abbrev.)
63. ___ card (removable mobile phone storage unit)
64. Blackjack card
Wait, don't peek yet. Here come the solutions.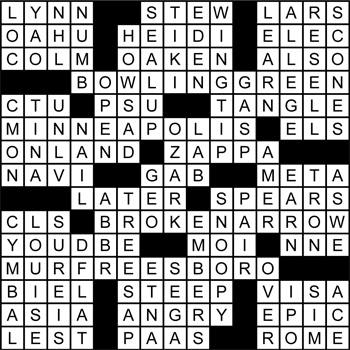 About the Author
Matt Jones is a 1998 graduate of Willamette University in Salem, Ore., where he majored in music education. Since 1994, he has also written crosswords for venues such as The New York Times, Games Magazine and Stagebill. He currently writes a syndicated weekly puzzle for more than 50 alternative newspapers across the country.