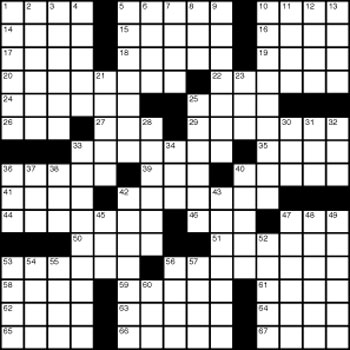 ACROSS
1. It may be left over from a wound
5. Totally adores
10. It gets stamped
14. "Ooh _____!" (2 wds.)
15. Piano key wood
16. "That's terrible!" (2 wds.)
17. X ___ "xylophone" (2 wds.)
18. They may be half or quarter
19. Laboratory maze runners
20. Alabama home of the Golden Tigers and the Marching Crimson Piper Band
22. Type of clef for a saxophonist
24. Gnaws away on (2 wds.)
25. Virginia _____ (school where the Highty Tighties march)
26. "Treasure Island" author's monogram
27. "___ Drives Me Crazy"
29. Words of apology (2 wds.)
33. Hot springs like Old Faithful
35. Over, in German
36. It can be major, minor or diminished
39. British afternoon drink
40. Sneaker brand modeled for athletes and cheerleaders
41. Arizona city
42. Fish you may feel like when crowded in a tight formation
44. Bugle relative
46. It may get scrambled
47. Feeling to be struck with
50. Part of a drumstick
51. Closer
53. Aviator Earhart
56. Alabama home of the Tigers and the Blue Pride Marching Band
58. Type of sax, slangily
59. Whistle sound
61. Superior or Huron, e.g.
62. Victorious cry (2 wds.)
63. Chicago airport
64. Some binary digits
65. One of "The Brady Bunch" sons
66. Runaway games that are easy wins
67. Darken, like sunglasses or windows
DOWN
1. Actor Christian of the 2006 movie "Bobby"
2. Like some Friday dress codes
3. Rosters for big-name celebrities (hyph.)
4. Rows of musicians
5. Like drawn-out speeches or performances
6. Reedy instrument rarely seen in a marching band
7. Make decisions at a band council, e.g.
8. Direction opposite WSW (abbr.)
9. Methods
10. Georgia home of the Maroon Tigers and the House of Funk Marching Band
11. "Moby Dick" captain
12. Like some overseas
music competitions (abbr.)
13. Take a dive
21. Made simpler
23. Some colas
25. Long, angry speech
28. It may include a mansion and surrounding grounds
30. Baseball stat (abbr.)
31. ___ room (room with a TV and pool table, maybe)
32. Time periods of many, many months (abbr.)
33. Louisiana home of the Tigers and the Mighty Tiger Marching Band
34. Suffix for "auction" or "mountain"
36. Cable network that airs "Trick My Truck"
37. Not him
38. Where the Beavers play (abbr.)
40. ___ food cake
42. Hillary Clinton, in 2006
43. Lights on fire
45. Hawaiian delicacy
47. Italian designer Giorgio
48. Drain the strength out of
49. Author Hemingway
52. Portion out
53. "Don't make ___ deal out of it!" (2 wds.)
54. Bryn ___ College (one of the Seven Sisters colleges)
55. Canal in New York
56. Stitched line on a uniform
57. Slang for a University of Maryland Terrapins athlete
60. " ___ Let the Dogs
Out?"
Wait, don't peek yet. Here come the solutions.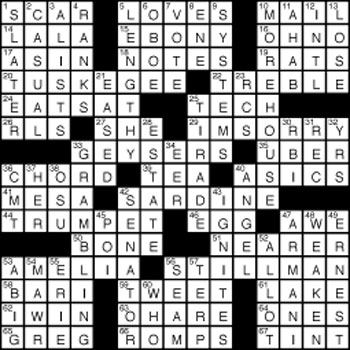 About the Author
Matt Jones is a 1998 graduate of Willamette University in Salem, Ore., where he majored in music education. Since 1994, he has also written crosswords for venues such as The New York Times, Games Magazine and Stagebill. He currently writes a syndicated weekly puzzle for more than 50 alternative newspapers across the country.