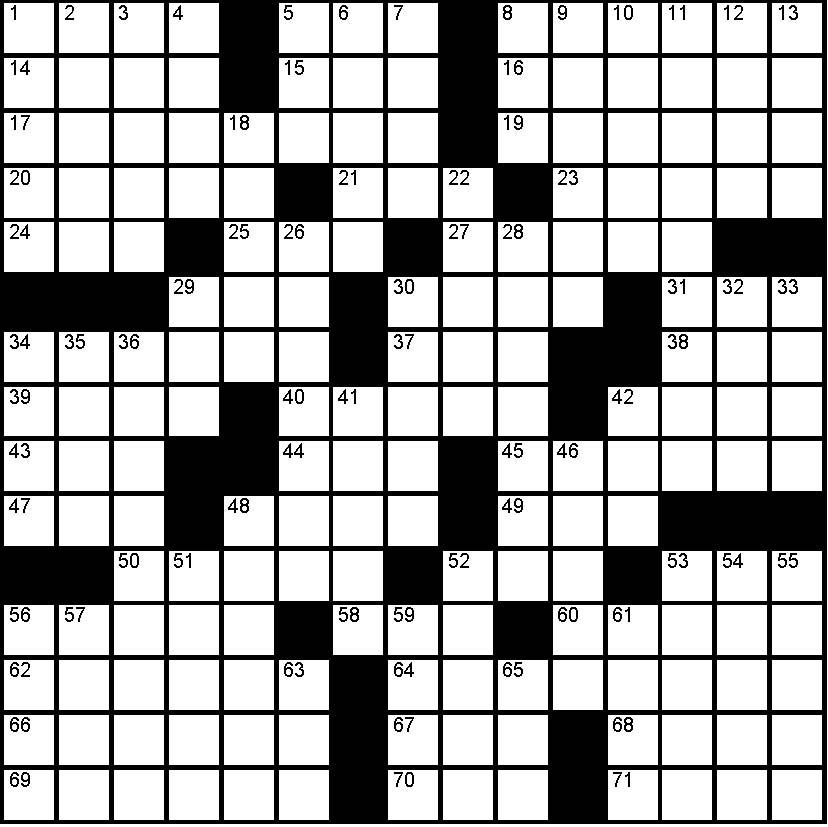 ACROSS
1. They shouldn't expand as much if you breathe with the diaphragm
5. Electric guitar pioneer ___ Paul
8. Noodle dishes
14. Country singer Jackson
15. Historical time period
16. Edmonton's NHL team
17. University of ___ (school with the fight song "Oskee Wow Wow")
19. Like some T-shirt decals (hyph.)
20. Rate of speed at which music is played
21. Harry Potter's first girlfriend ___ Chang
23. Honda Battle of the _______
24. Make an attempt
25. "Music ___ discipline and a mistress of order and good manners; she makes the people milder and gentler, more moral and more reasonable." (Quote by Martin Luther) (2 words)
27. One way to travel to out-of-state concerts
29. "___ only as directed"
30. Steep, rugged cliff
31. School (abbr.)
34. Like treasures at the bottom of the ocean
37. Fodder for horses
38. "___ Drives Me Crazy" (Fine Young Cannibals' song)
39. "Float like a butterfly, sting like ___" (2 words)
40. ___ State University (school with the fight song "Growl, Bengals, Growl!")
42. Taunting remark
43. "Back" button on a DVD player (abbr.)
44. Hockey legend Bobby
45. Staff markings for some tuba players (2 words)
47. Biceps location
48. United Kingdom resident, for short
49. Egg ___ young (dish on a Chinese menu)
50. Use one end of a pencil
52. Home of the Trojans (abbr.)
53. Lines on road maps (abbr.)
56. Instruments with a single-reed mouthpiece
58. Knighted title for Edward Elgar
60. ___ nerve (nerve located near the eye)
62. Gave a dollar amount to
64. University of ___ (school with the fight song "Boomer Sooner")
66. Point the finger at
67. Tiny
68. "Can I let you ___ a little secret?" (2 words)
69. Informal band wear with T-shirts, perhaps
70. Ctrl-___-Del (PC rebooting command)
71. Eyeglasses part
DOWN
1. "Something to Talk About" singer Bonnie
2. More sick
3. Like mild weather
4. Sound heard at a barbershop
5. Summer horoscope sign
6. "Smallville" actress Durance
7. Accessory for some drill team uniforms
8. Hawaiian paste
9. Automotive safety feature
10. Utah Jazz coach Jerry
11. University of ___ (school with the fight song "Fight, Vols, Fight!")
12. Nickname of Yankees third baseman (hyph.)
13. Numerical IDs on tax forms (abbr.)
18. _____ exposure (hearing-related concern for marching band members)
22. Winfrey with a book club
26. Ensemble members that will soon graduate
28. They're bad news in the workplace
29. Hawaiian stringed instrument, for short
30. Drill ___ (sheet that maps formations on the field)
32. Occupation of a Swedish Muppet
33. Belonging to that girl
34. "Love Song" singer Bareilles
35. "Over," in German
36. ___ State University (school with the fight song "Aggies, oh Aggies")
41. ___ off (comes in from a rainy practice)
42. Nickname of Marc Anthony's singer wife
46. Drink served with marshmallows
48. Most vile
51. Come up again and again, as with a musical theme
52. TV geek played by Jaleel White
53. Rolling ___ (music magazine)
54. Pumbaa's friend, in "The Lion King"
55. Reads a bar code
56. Health resorts
57. Part of the foot that may need support when standing a lot
59. State with the first primary elections of 2008
61. Genesis singer Collins
63. ___ Moines (river flowing to the Mississippi)
65. "___ It Be" (Beatles song)
Wait, don't peek yet. Here come the solutions.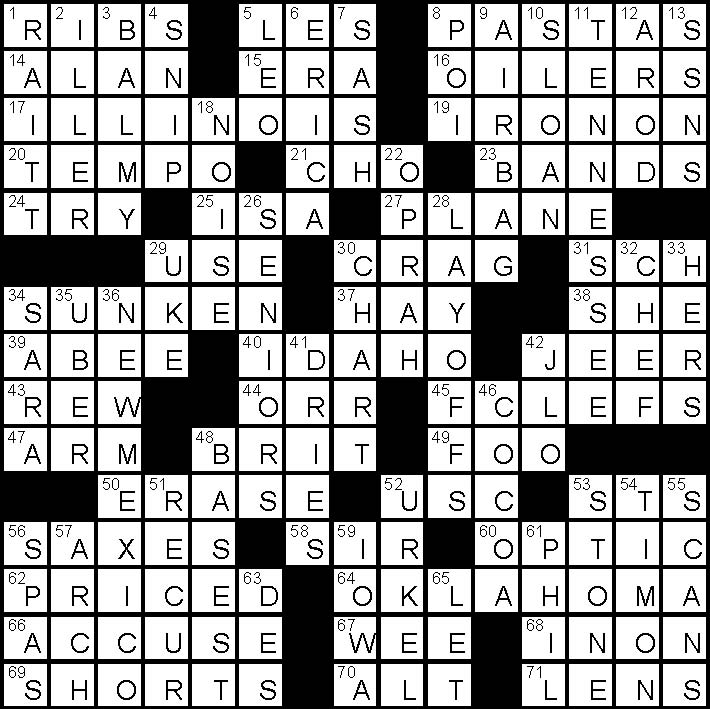 About the Author
Matt Jones is a 1998 graduate of Willamette University in Salem, Ore., where he majored in music education. Since 1994, he has also written crosswords for venues such as The New York Times, Games Magazine and Stagebill. He currently writes a syndicated weekly puzzle for more than 50 alternative newspapers across the country.