ACROSS

1. Dog in the movie "The Thin Man"
5. Postgrad degrees in fine arts (abbrev.)
9. Take a little drink
12. Do really hard physical labor
13. Cowboy of South America
15. Fair ___ laws
16. Former president and member of Kappa Kappa Psi (2 words)
18. Treasure hunt need
19. Prefix before "crats" (or "cats," in a Disney movie title)
20. Country between Iraq and Saudi Arabia
22. Campground shelters
23. Trendsetting
24. "When Harry Met Sally" writer Ephron
27. Sonic the Hedgehog's former home
28. Congressional vote
29. Pediatrician or surgeon, e.g.
31. R&B singer and member of Tau Beta Sigma (2 words)
34. Digital camera variety, for short
37. Got first prize
38. Abbreviation meaning "friends 'til the end"
39. "Viva ___ Vegas"
40. Rapper/singer/actress and member of Tau Beta Sigma (2 words)
44. Say it has to be a certain way
45. Twisted, like a smile
46. Linear, unlike holographic images (hyph.)
50. Broadway light
51. Pea holder
52. Put peanut butter on bread, maybe
53. Spiral galaxy, for instance
56. Icky feeling
57. "Burn Notice" network
59. Tough-guy actor and member of Kappa Kappa Psi (2 words)
61. Yoga practice need
62. Pee-wee's girlfriend, in "Pee-wee's Big Adventure"
63. Salt Lake City college athletes
64. Lumberjack tool
65. Throw a party
66. Likely to pry

DOWN

1. Slugger's stats (2 words)
2. Fancy nighttime party
3. Decorating a bathroom floor, perhaps
4. Type of game with the best players of the league (hyph.)
5. ___-tai (fancy cocktail)
6. More like a James Brown song, perhaps
7. Malfunction (2 words)
8. Word after art, game or halftime
9. Redundant way of saying "result" (2 words)
10. "Love ___ Battlefield" (Pat Benatar) (2 words)
11. Rally subject
13. Day___ paint
14. "Cat ___ Hot Tin Roof" (2 words)
17. Dollar divisions (abbrev.)
21. Abbreviation on packages meaning "contained"
23. Laughing animal
25. Almond ___ (confection in a pink can)
26. Boats like the one Noah had
28. Like ___ from the blue (2 words)
29. Bugs Bunny's duck friend
30. "Take a long walk ___ short pier" (2 words)
32. Takes control of
33. Car mentioned in The Beach Boys' "Fun, Fun, Fun" (hyph.)
34. Measurement unit for some baking pans (abbrev.) (2 words)
35. Debussy's "Clair de ___"
36. Ring out, like a trumpet's sound
41. "___ Kleine Nachtmusik"
42. Pretty short duration for a play (2 words)
43. Big baseball score (2 words)
47. "It's something that's ___ my heart" (2 words)
48. After "speak," they were places where alcohol was sold illegally, during the Prohibition
49. Unlike Casual Fridays
51. It used to be one of the nine planets, until a few years ago
52. ___-cone (state fair cooler)
54. Letters after A
55. "That's not good" (hyph.)
56. One, in French
57. Actress Thurman of "Kill Bill"
58. Adolphe who invented a marching band instrument
60. Model maker's need
Wait, don't peek yet. Here come the solutions.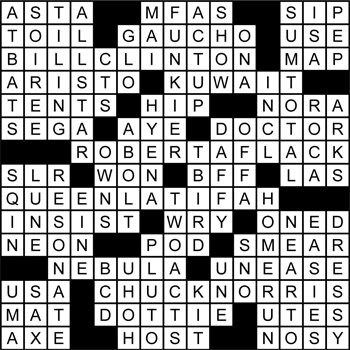 About the Author
Matt Jones is a 1998 graduate of Willamette University in Salem, Ore., where he majored in music education. Since 1994, he has also written crosswords for venues such as The New York Times, Games Magazine and Stagebill. He currently writes a syndicated weekly puzzle for more than 50 alternative newspapers across the country.