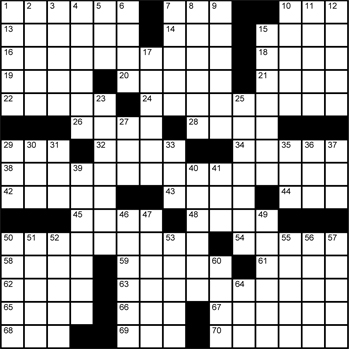 ACROSS

1. "Why Wait" country group ___ Flatts
7. Donkey Kong, for one
10. Earth Day prefix
13. Spanish fleet that tried to attack England
14. Like scales with a flatted third (abbrev.)
15. Kele Okereke indie rock band ___ Party
16. High-pitched NBA team? (2 words)
18. Helper (abbrev.)
19. It may be built at a campsite
20. Upscale, like a hotel
21. Bug that causes some allergies
22. Prefix before "red" or "structure"
24. Syncopated NBA team? (2 words)
26. Unwanted e-mail
28. Cross-country hauler
29. "Oh, that's adorable" noise
32. Ballerina's bend
34. Slang term for a treasury bill (which also can't be played on an instrument) (hyph.)
38. Brassy NBA team? (3 words)
42. Insurance company with a lizard mascot
43. Head, in French
44. MapQuest offering, perhaps (abbrev.)
45. Competitor of Hertz
48. "March," "play" or "step," in grammar class
50. With 63 Across, really low-pitched NBA team?
54. Patronize, as a restaurant (2 words)
58. It takes up about 30% of the world's land area
59. Apple music players
61. Country singer McCann
62. Beach volleyball surface
63. See 50 Across
65. "See ya later!"
66. Raw metal source
67. You, me or somebody else
68. University, for short
69. B major or Bb major, for instance
70. Got through the course

1. "Baby Beluga" children's singer
2. Former San Diego Padre Steve
3. Little blue cartoon creature from the 1980s
4. Makes food for a party
5. Oklahoma city that's the same forwards and backwards
6. Bert who played the Cowardly Lion
7. Last name associated with expensive Italian violins
8. Delivery meal orders, often
9. Type of protein that breaks down food
10. Cow on the Borden label
11. ___ Rica (San José's country)
12. Group of eight musicians
15. Boston Red Sox's "The Curse of the ___"
17. NASCAR racer Johnson
23. Give the thumbs up
25. "You can count on me to show up!" (2 words)
27. "It's ___ on the line!"
29. "Crouching Tiger, Hidden Dragon" director Lee
30. Sound made by the last little piggy
31. Conflict from 1914 to 1918 (abbrev.)
33. Chow down
35. Hockey legend Bobby
36. Blasting stuff
37. Direction opposite WNW
39. Anthem heard at Toronto NBA games (2 words)
40. Reno's state
41. Sault ___ Marie Canals
46. "Did I do a good enough job?" (3 words)
47. Flawless 1998 song from Alanis Morissette (2 words)
49. Vegas casino that started as the MGM Grand
50. Sailing ship's posts
51. Sci-fi author Asimov
52. Interval that's one step larger than an octave
53. Actor Maguire of "Spider-Man"
55. Some digital video recorders
56. Coeur d'___, Idaho
57. Hit with a stun gun, perhaps
60. Trade
64. "Snakes ___ Plane" (2 words)
Wait, don't peek yet. Here come the solutions.
About the Author
Matt Jones is a 1998 graduate of Willamette University in Salem, Ore., where he majored in music education. Since 1994, he has also written crosswords for venues such as The New York Times, Games Magazine and Stagebill. He currently writes a syndicated weekly puzzle for more than 50 alternative newspapers across the country.