ACROSS

1. 6-point football scores (abbrev.)
4. Like the third between C and E
9. Use your teeth
13. Giggling noise
14. It can go to voicemail if you don't pick it up
15. Type of power-generating panel used to heat the reviewing stand at Carter's 1977 inaugural parade
16. Animals in Eisenhower's 1953 parade, the longest ever (at 5 hours and with 73 bands)
18. They were first included in Woodrow Wilson's second inaugural parade in 1917
19. "___ Believe" (2007 Robin Thicke single) (2 words)
20. Attacks (2 words)
22. Vice president Cheney's home state, home of Worland's All-State High School Marching Band, which marched in George
W. Bush's 2001 parade
25. Type of street covers that were welded shut (as a
security measure) along the parade route of George W. Bush's 1989 parade
29. Guy friend, to another guy friend
30. TV network based in London
31. "The ___ the limit!"
32. Home state of Obama's
high school, the Punahou School, which marched in the 2009 parade
35. Moose relative
36. Cards with your picture on them
37. Name created to hide one's identity
38. Uno plus due, in Italian
39. Musical with a redhead singing, "The Sun'll Come Out Tomorrow"
41. Ousted governor
Blagojevich
42. "Oh, ___ is me!"
43. The only president to skip an inaugural parade (his second one), due to below-freezing temperatures (7°f at noon) and strong winds
44. Baseball stadium whose
demolition ended Feb. 18, 2009
46. Rock band Fall ___ Boy
47. Actress Derek and guitarist Diddley, for two
48. First president to ride in the parade in an automobile
(in 1921)
50. First president to include African-Americans in his parade
54. 20th century expressionist painter Mark
56. Length times width
57. Exiting president who
was not present at Ford's
inaugural parade in 1974
60. He's considered the first president to have an inaugural parade
63. type of impersonators that marched in a group in Clinton's 1993 parade
64. Available, like some drinks (2 words)
65. "Cat ___ Hot tin roof" (2 words)
66. Long narrow cut
67. ___ nova (style of Brazilian music in 2/4 time)
68. Rapper married to R&B singer Kelis

DOWN

1. Television network that airs "Gossip Girl" (2 words)
2. Slow down
3. "___ evil, hear no evil…" (2 words)
4. Abbrev. after a speed limit
5. "I've got it!"
6. Mah-___ (Chinese game played with tiles)
7. "Hold ___ your hats!" (2 words)
8. Look like
9. Seating along the walls of a restaurant, sometimes
10. Special effects company Industrial Light & Magic, for short
11. ___ kwon do
12. Suffix after north or south
15. "the Ugly duckling" bird
17. Timon's warthog friend in "The Lion King"
21. Lunch bag
23. Part of the eye that defines eye color
24. "There's ___ in 'team'" (2 words)
26. Giving an approval, for short
27. Woman's first name that's also an anagram of "daily"
28. German city on the Ruhr River
30. Marching ___ (flat hat often worn by drum corps members)
32. Irritating, like rough winds
33. Hello, on Oahu
34. Less narrow
38. "It's a ___, but somebody's gotta do it" (2 words)
39. "___ flux" (2005 Charlize
Theron film)
40. Auto racing association
42. "This ___ hurt a bit"
43. Baseball batting stat
45. Skillful
49. Charged particles
50. Spacious upper floors
51. "Citizen Kane" star Welles
52. "Bleeding Love" singer Lewis
53. Nicknames for some grandmothers
55. Lottery game similar to bingo
57. Super Mario Bros. console, for short
58. Under the weather
59. IV times IV, in roman numerals
61. Notes that follow dos, res and mis
62. Environmental Protection Agency (abbrev.)
Wait, don't peek yet. Here come the solutions.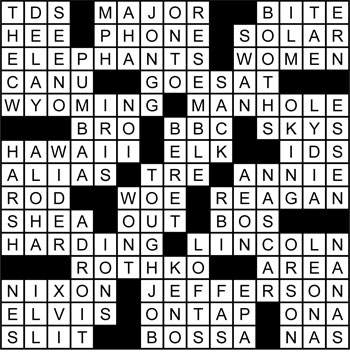 About the Author
Matt Jones is a 1998 graduate of Willamette University in Salem, Ore., where he majored in music education. Since 1994, he has also written crosswords for venues such as The New York Times, Games Magazine and Stagebill. He currently writes a syndicated weekly puzzle for more than 50 alternative newspapers across the country.