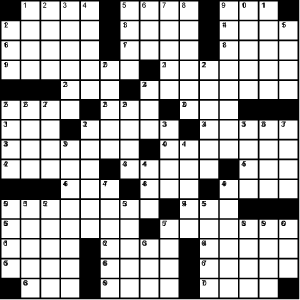 ACROSS
1. A type of sandwich
spread, familiarly
5. Sports field judges
9. Buddy
12. Screen___ (program
running on an idle
computer)
13. ___ breve (cut time)
14. Located at the highest
point
16. Got up
17. 12 p.m.
18. Prefix meaning "sound"
19. City where the Macy's
Thanksgiving parade runs
through Times Square
21. Measure once more
23. "That," in Spanish
24. Big percussion instrument
on the field (2 words)
25. Throw, like a baton or flag
28. Spelling competition
30. John Philip Sousa, aka
"___ March King"
31. Gator___, a drink name
32. Bell noises
34. Figure with a harp and
halo
38. Fife and drum group
40. Adapt a song for a band
42. Constellation also called
"The Hunter"
43. Misbehave (2 words)
45. "A long time ___…"
46. Do some massaging
48. School that's home to
the Pride of Mississippi
Marching Band (abbr.)
49. The Terrible ___
(toddler's stage)
50. Sport with a halftime break
54. Rowboat paddle
56. Texas university city
where The Big Purple
Marching Band plays
57. Florida city where the
Citrus Parade runs down
Orange Avenue and up
Rosalind Avenue
61. In ___ land
(daydreaming, 2 wds.)
62. Verify to be true
64. Stay away from
65. End-of-sermon word
66. Seahawks wide receiver
Burleson
67. Winnie the Pooh creator
A.A.
68. Use the plus key
69. Curved formations
70. Capitol of Norway
DOWN
1. Female horse
2. Declare with assurance
3. Enthusiastic agreement
(2 wds.)
4. Cookies introduced in
1912
5. ___ and file
6. "Hold on Tight" band of
the 1970s, for short
7. ___ and fauna
8. Least likely to go crazy
9. California city where the
Tournament of Roses
Rose Parade runs down
Colorado Boulevard
10. Take ___ (do some sightseeing)
(2 words)
11. The first vowel sound in
"tuba" (2 words)
12. ___ Francisco 49ers
15. Haiku, for example
20. Actor Williams of "August
Rush"
22. The enharmonic note of
A flat (2 words)
24. "I ___ your pardon?"
25. Food eaten in a shell
26. Smell
27. Prefix for "quaver" to
denote a sixteenth note
29. One-named Irish singer
with the album "Shepherd
Moons"
32. Johann Strauss waltz "The
Blue ___"
33. Some high school tests
35. Chew, like a dog with a
bone
36. Toaster waffle brand
37. Some with summer
horoscope signs
39. Oregon city where the
Rose Festival Grand
Floral Parade runs past
Burnside Street and MLK
Jr. Boulevard
41. Something not nice to
spread around about
others
44. ___-de-sac (dead-end
street)
47. Fruit in an ice cream split
49. Blink-182 drummer
Barker
50. Franklin Roosevelt's dog,
or two notes a major
third apart
51. 2008 presidential hopeful
Barack
52. Did a trumpet valve task
53. "Reading Rainbow" host
Burton
55. San Antonio landmark,
with "The"
57. Rocks where minerals are
extracted
58. Former Steelers coach
Chuck
59. Fred Flintstone's pet
60. Beethoven's "___ to Joy"
63. Abbr. meaning "and so
forth"
Wait, don't peek yet. Here come the solutions.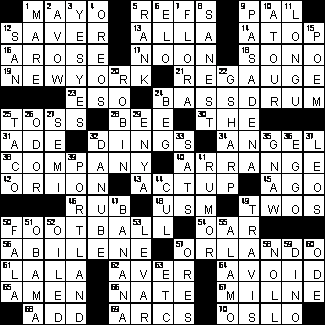 About the Author
Matt Jones is a 1998 graduate of Willamette University in Salem, Ore., where he majored in music education. Since 1994, he has also written crosswords for venues such as The New York Times, Games Magazine and Stagebill. He currently writes a syndicated weekly puzzle for more than 50 alternative newspapers across the country.