A major new player has entered into the marching arts activity. See how Varsity Spirit, known for cheerleading apparel, competitions, and camps, has already made an impact to elevate the student experience.
In February, at least eight marching bands will be at Walt Disney World taking part in Varsity Spirit's 2020 Universal Cheerleaders Association National High School Cheerleading Championship (NHSCC). Though the overall event focuses on the spirited sights and sounds of competitive cheer squads, the 2020 rendition will also showcase and score how pep bands work alongside their cheer teams to create a game-day environment.
Varsity Spirit, known for cheerleading apparel, competitions, and camps, has entered the marching arts industry. In 2018, Varsity Brands—parent company of Varsity Spirit; Herff Jones, producer of yearbook and school graduation products; and BSN Sports, a sports equipment and uniform company—was purchased by Bain Capital for $2.5 billion.
"We've been in the cheerleading and dance space for 40 years, and we've really seen how they interact with their band and what they do in terms of driving engagement inside of the schools," says Bill Seely, president of Varsity Spirit. "We felt like it was a natural fit to get those three groups working together."
Incorporating bands into the NHSCC is just one piece of Varsity's move into the band world. Varsity Spirit acquired three companies in the marching band industry: Director's Showcase International (DSI), Stanbury Uniforms, and S.A. Feather. Seely explains that moving into the marching world is all part of Varsity's mission to get more students involved in school spirit activities.
"When kids are engaged in their school, when school spirit is high, student achievement is high," Seely says. "They do better in classrooms. They feel more connected to their peers."
A Game Day Experience
At NHSCC, the Friday-night band performances are part of a larger Varsity initiative called Game Day Live. The competitive format includes judging of the following elements: band chant, situational sideline, crowd leading, and fight song.
This year will be the first time that Varsity incorporates pep bands of up to 40 musicians into its annual championship. In past years, cheerleaders at championships and at Varsity's camps would perform game-day routines to pre-recorded music. This year's addition of live bands allows everyone to focus "not only on the connection between the performer and their audience, but also between different groups," says Ben Schroeder, Varsity Spirit's manager of performing arts and athletic band division.
Bands and cheerleaders will be scored separately in the various elements as well as receive an overall score on their collaborative performance. The bands and cheerleaders will "have to respond to live cues and see what kind of game-day environment they create," Seely says.
Camps on Campus
Though 2020 will be the first year that Game Day Live is an official part of NHSCC, Varsity has spent 2019 trying out similar collaborative experiences at their camps, which take place on campuses of high schools and colleges as well as at independent venues across the country.
This past fall at Ramona High School in Riverside, California, the marching band, cheer squad, dance team, and student section all gathered to take part in one of Varsity's first Game Day Live leadership camps.
Students all wore identical white T-shirts reading "Rams Game-Day Team," a reference to the school's ram mascot. According to Brian Gallagher, instrumental music director at Ramona High School, Varsity brought about 10 total clinicians for band, cheerleading, and dance.
The day started off with students doing icebreaker activities in the school theater, then splitting up into groups. After lunch, all groups gathered in the gym to practice game-day cues.
Gallagher feels that the one-day camp helped unify the various school spirit groups. "We got some dialogue going between all the coaches," Gallagher says. "Sometimes we're so worried about our program, we don't see everybody else. It helped us see the big picture."
Creating that feeling of unity is Varsity's goal with these camps. "We want students to feel like they belong to something bigger than themselves," Schroeder says. "School spirit is a pathway to that. It ties to their community, which drives attendance and graduation rates."
Winter Showcase
Also at Disney World in February 2020 but separate from the NHSCC, Varsity's first winter showcase event features winter guards and indoor drumlines in exhibition.
The winter showcase had no official audition process; instead, the first 50 groups that registered on Varsity's website were able to participate.
According to Schroeder, the winter showcase is a work in progress. "We're doing some proof of concept ideas," Schroeder says.
Educational Initiatives
Varsity is also in the process of developing other music-related educational programs in line with its mission of elevating student experiences.
According to Schroeder, one of Varsity's initiatives is delving into ways that music educators can avoid professional burnout. "We're doing a lot of exploration with the average rate of turnover for music educators compared to educators in other areas," he says. "The longer somebody's in their position, the more support they have. … It's better for everybody."
Varsity is working on adding resources for music educators into Varsity University, which is an online platform with courses and information currently targeted at school and athletic programs.
In addition, Varsity has worked with the National Federation of State High School Associations (NFHS) to create an online band safety course. For this course, Varsity sought input from Drum Corps International, WGI Sport of the Arts, and Music for All. "It took a number of online meetings and a good part of a year to work on the details of the course," Schroeder says.
The band safety course, which includes modules on injury prevention, sudden and severe weather, and other topics, is now available for free online through the NFHS website.
Part of the Varsity Family
While Varsity's move into the marching arena involved the acquisition of three family-owned businesses, the companies welcome the change with open arms.
"An immediate feeling we had joining the Varsity family [was that] we couldn't be more thrilled," says Steve Roberts, former CEO and current general manager of Stanbury.
According to Roberts, Varsity has fostered the family-oriented environment at Stanbury. "[At] one of the first meetings we went to as an integration, we put our hands in and [said], 'Family on three!'" Roberts says. "It made us feel so comfortable that we knew it was the right move."
Varsity's commitment to "elevate student experience" was what sealed the deal for DSI, according to Jeff Dyson, vice president of marketing at DSI. "It's not just a marketing slogan,'" Dyson says. "That is truly what the organization is all about."
Dyson says that he was especially impressed by Varsity and DSI's shared commitment to philanthropy. "One of the big things that's part of their culture is giving back to the community, both for whatever industry they are in [and] also from a charity standpoint," Dyson says.
Because DSI has worked with United Sound, Free Players Drum and Bugle Corps, and various not-for-profit organizations, Dyson was impressed with Varsity's involvement with fundraising for St. Jude Children's Research Hospital. Varsity's connections with St. Jude helped DSI get involved with the same charity. "Because Varsity has such a tight relationship with St. Jude, … they were able to introduce us to more people [there]," Dyson says.
This year, DSI will be hosting a fundraiser for St. Jude with a guard room makeover as the prize. "We are partnering with WGI to create a guard room makeover contest for the color guard world," says Dyson.
Like Roberts, Dyson plans to continue operating like a family company, which he sees as being in line with Varsity's values. "We're still a very close-knit company, a close-knit family," Dyson says.
Different and Yet the Same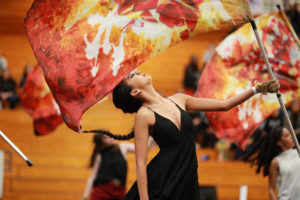 Seely is hoping that DSI, Stanbury, and S.A. Feather's passion for band will help assimilate Varsity into the marching world. "We don't know the band space like we need to, but we want people who are passionate about band to guide and direct this process," Seely says.
 Access to big-business resources means growth for both Stanbury and DSI. "By having the resources from Varsity, DSI is now able to create products faster," Dyson says. "We have … the budget to do research and development much quicker."
Though a major new player is entering the marching band arena, most people involved do not foresee substantial changes to current company operations.
DSI has retained the same company management and day-to-day operations as before the acquisition.
Music for All, which benefits from DSI as a sponsor, also views the acquisition positively. "We welcome this strong new player in the music education field," says Eric Martin, president and chief executive officer of Music for All.
For Stanbury, keeping the same ownership was one of the reasons the company was on board with the acquisition in the first place. "We've been a Missouri company, an American company, for more than 100 years," says Jeff Elliott, marketing and media specialist for Stanbury. "We have three plants of employees in Missouri; we're responsible for those people and their jobs and their families."
Stanbury plans to remain in Missouri. "When Varsity came in, they made it clear to us that they don't want us to change what we're doing; they want us to take their resources and enhance what we're doing," Elliott says.
The three acquired companies will continue to operate separately, which Roberts says is important for maintaining company identity. "Each of our companies has been successful on our own and [will] still operate as independent companies," Roberts says.
From Varsity's perspective, keeping company operations separate helps each company continue to influence its own community. "S.A. Feather is down in Florida. They will stay there. DSI is in Indiana. They will stay there. Stanbury is in Missouri. They're involved in their communities right now," Seely says.
While operations won't change much for these family-owned companies, everyone involved is looking forward to the ways that Varsity can help expand the marching arts industry. "[Varsity] just wants to be part of the industry and help it grow to something bigger," Dyson says.
Varsity is currently immersing itself into the music and marching arts world. "We're talking to leaders and experts in music education and the performing arts and finding ways to get them to more people," Schroeder says. "We're really excited about it."
We covered Varsity's acquisition of DSI here.
Photos courtesy of Varsity Spirit.