Several new groups have been welcomed onto the drum corps field over the past several seasons. Find out how the Southern Knights, The Battalion, Shadow, and the Erie Thunderbirds have launched successful organizations.
When the all-age Southern Knights Drum and Bugle Corps from Birmingham, Alabama, took the field in its first competition in Huntsville, Alabama, in 2016, few members had ever attended a drum corps show, let alone competed in one. While John Hoekstra, the corps' founder and executive director, discussed the need to rehearse with intensity in order to compete at the highest level, many of the group's participants didn't grasp the gravity until they witnessed the high-calibre performances by Crossmen, The Cadets, and Bluecoats later in the evening.
"Holy cow—we get it now," Hoekstra says about his corps' response to these performances.
Seeing the best of the best provided the fledgling Southern Knights a higher level for which to strive.
While longstanding ensembles amaze their audiences and other corps year after year, the past three seasons have seen the birth or rebirth of several new corps in Drum Corps International (DCI) and Drum Corps Associates (DCA) competition. The Southern Knights, The Battalion, Shadow, and the Erie Thunderbirds are a few of the new groups that bring added excitement, fresh traditions, and unique identities to DCI and DCA.
This summer, three out of the four groups will compete in their corresponding championships.
Establishing a Mission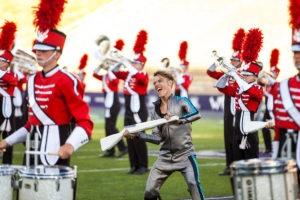 As many reasons exist to establish a new drum corps as there are corps themselves. Dallin Hatch, executive director of The Battalion Drum and Bugle Corps in Salt Lake City, Utah, recognized a void and seized an opportunity. Until The Battalion was accepted into DCI in 2016, Utah had no junior corps. "If students here wanted to march, they had to travel at least seven hours each way to audition," Hatch says.
The Battalion offers a positive, wholesome environment for students to learn and grow. Because many members are devoutly religious and wish to attend services, Hatch created a touring model that gives members Sunday mornings off.
While Hatch saw a need for a regional Open Class corps in Utah, Hoekstra recognized an abundance of musical talent in his area of Alabama. Hoekstra moved to Birmingham in 2011 and started the Southern Knights in 2015. "I felt that the talent in the area could make a great drum corps," Hoekstra says.
His mission is to provide performers of all ages the opportunity to engage in music, dance, and visual arts. He named his corps the Southern Knights to honor the legendary knights of England. The Southern Knights passed the DCA evaluation earlier this year.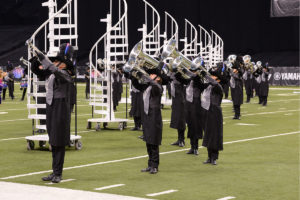 Unlike The Southern Knights and The Battalion, Shadow Drum and Bugle Corps from Oregon, Wisconsin, spawned from a well-established program.
Since 1972 the Oregon High School Summer Marching Band had been performing competitive field shows. In 2008 Nick Lane, executive director, turned the group into a drum corps and changed its name to Shadow Armada. As the corps grew and improved, Lane decided to give participants the opportunity to participate in "the most vibrant summer marching arts community available," he says.
He shortened the name to Shadow, which was accepted into DCI Open Class in 2016. Shadow's mission is based on five core values—Musicianship, Unity, Sacrifice, Integrity, and Courage—M.U.S.I.C. "These terms are really just shorthand for all of the complicated facets we sometimes term simply as 'Building Better People,'" Lane says.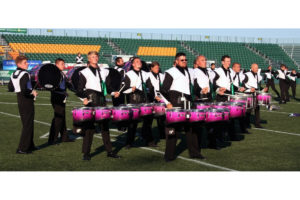 The Erie (Pennsylvania) Thunderbirds Drum and Bugle Corps, dating back to 1956, disbanded for a time and reorganized in 2014. A mixture of alumni and new membership helped the corps build a solid foundation and start a color guard. "We decided that it was time to pursue the dream of taking the Thunderbirds back to the field," says Sean Bartlett, director.
In 2015 the Thunderbirds corps was accepted into DCA.
Building a Strategy
Choosing a location, creating a mission, and naming a new corps are easy. Putting a plan with countless moving parts into action is more daunting. Some groups enjoy smooth sailing during the initial startup while others encounter stormy seas.
Shadow enjoyed clear skies and calm waters. The organization had the equipment it needed and experience with summer marching band or, as Lane calls it, "drum corps lite."
"We were more or less a turnkey operation right out of the gate," Lane says.
Though Lane built upon an existing infrastructure, Hatch didn't have that luxury. "So much had to go into starting The [Battalion], … I still can't believe we got it all done," he says.
Knowing he wanted to build the corps slowly, Hatch consulted with other directors, then developed his own 20-year organizational plan. He assembled his education team and board of directors, built the branding and marketing materials, incorporated as a not-for-profit, designed a multichannel fundraising effort, and hired a financial expert to create bulletproof budget and forecast models.
To get members into Shadow, Lane recruited on social media, at schools, and at marching band and guard competitions. "You need enough students to have a viable organization," Hatch says. "You have to be scrappy, pound the pavement, and recruit like crazy."
Hoekstra agrees and says that his biggest challenge with the Southern Knights has been retention. "We've had hundreds of people come through the organization these first two years," he says. "Some can't even make it past lunch on the first day."
The Southern Knights are new to Birmingham, and the students it attracts may not be accustomed to the mental focus, physical effort, and discipline needed for corps. Some would-be members have even taken a wait-and-watch approach. They say that they will join "after we are big and awesome instead of sticking around and building us to that level," Hoekstra says.
Because he was reestablishing a corps with new goals, Bartlett originally worried about membership in the Thunderbirds. At first he had trouble convincing the corps alumni to follow his vision and accept his modern approach. In 2015, he attracted a significant number of new members who fell in love with drum corps. "Introducing our area to drum corps and seeing the organization grow as a family has truly made everything we have done since 2014 worth it," Bartlett says.
Creating Traditions
Groups who compete in DCI and DCA distinguish themselves through their on-field performances and their unique traditions that get passed down to each generation of members. New corps are looking to establish a unique culture right out of the gate.
Bartlett says what distinguishes the Thunderbirds from other corps is its traditional style. It plays on G bugles, and its front ensemble is not amplified. He is also trying to build an atmosphere that is different than anywhere else. "As a family, we truly treat each member like they are immediately accepted as they walk through the door," Bartlett says. "This has been passed on from member to member through the years and has truly become the atmosphere that we have created as a whole, as a family."
Hoekstra started a corps tradition in which members of the Southern Knights produce a talent show. "Everyone can let their hair down and show off," he says. "Last year's winner shocked us all with some serious rap skills—this coming from one of the most quiet kids in the corps."
Unlike the Southern Knights, Shadow is not filling a void but rather building on the distinction already established by the Oregon High School music progam. Shadow's association with the school district alone sets it apart from other groups. "Seniors who graduated this year are eligible, but they will be our oldest members, aging out of Shadow often three years before their eligibility for DCI will end," Lane says.
Among the traditions that Shadow members already cherish is the "Band, Who Are You?" chant in which a group of supporters yell, "Band, Who Are You?" while the corps is at attention. They respond with, "OREGON!"
The Thunderbirds corps has a special chant as well. "We have kept the tradition of the 'What's the Word?' cheer," Bartlett says. "Of course, the answer is: 'Thunderbird.' It really helps us end a rehearsal and pumps us up when it's go time," says Bartlett.
Though traditions take time to develop, corps can begin distinguishing themselves right away. This season, for example, The Battalion is approaching show design differently than in the past. "We decided to take a big risk this year and create an entire show from scratch with in-house talent," Hatch says. "With the way music licensing is going, we wanted the ability to feature our corps in any medium we choose without legal restrictions or huge financial obstacles."
The Battalion has a few traditions baked into its organization. At the end of each season, corps members receive a dog tag that serves as a totem, forever tying them to the corps. The corps motto, "Onward," is another tradition that Hatch has established.
"We know we'll only have these students for a short time, and for whatever our members face in the future—whether that's a music audition, a future career, being a community leader—we want them to tackle those challenges with the same tenacity and passion that carried them through our organization," Hatch says.
Going on Tour
The common touring strategy for most new corps is to limit travel until the organization grows. "We never want to bite off more than we can chew, and we never want to go into debt," Hatch says.
Last year The Battalion completed a 2,000-mile, nine-day, five-competition tour beginning in Seattle and ending in Ogden, Utah. This year it will do the same with only one addition.
Since joining DCA, touring has been difficult for the Thunderbirds since the closest show, other than finals, is five hours away from Erie. "In 2017, we have the most shows we have ever done between DCA and DCI," Bartlett says.
Unlike the Thunderbirds, the Southern Knights can attend six shows within a three-hour drive. Hoekstra will focus on these shows for the next couple of years. As finances get stronger, he plans to get his corps to the Midwest and upper East Coast.
Shadow is a regional drum corps with a variety of show options within six hours of Oregon, Wisconsin. "This enables us to rehearse and live in Oregon through most of the season and travel out to shows from that home base," Lane says.
In addition, DCI World Championships is an easy drive for the corps. "The best part about it is that [Open Class] finals in Michigan City is a mere four hours from here while Indy is just a short jaunt south of that," Lane says.
This season the Southern Knights, Shadow, and the Thunderbirds will attend their corresponding championships; however, The Battalion will not.
The Southern Knights have been preparing for championships like champions, with rehearsals beginning seven months prior to the first competition, Hoekstra says. "We don't want [our members] to get complacent and settle for just being here," he says. "Although in today's age, that is still quite an accomplishment to start a corps from scratch."
Hoekstra says that competing against the best in its all-age circuit will bring his corps together as a family. "It will be nice to see how we finish against world competition," he says.
Lane calls the championships the culminating event of the most vibrant marching arts community in the world. "Our members will experience the show, the excitement of the large finals crowd, and the opportunity to watch and interact with the best performers in the activity," he says.
But going to championships is not cheap. Hoekstra added a championship fee into his corps members' tuition. Both Lane and Hoekstra are preparing for the championships like any other corps: They're fundraising like crazy.
Though individuals start a new corps for any number of reasons, Hoekstra says that the Southern Knights' first show illustrates the reason that he continues. The Southern Knights took the field in Huntsville, where they were unknown to the crowd. "But when they announced us from [nearby] Birmingham, the crowd went nuts in support," Hoekstra says. "This fired the corps up like never before. When we got to our ballad, it started to sprinkle rain. When we got to the main chorus and let it loose, so did the clouds," Hoekstra says.
It poured for the rest of the performance, and the crowd continued to cheer. "The roar and cheers from the crowd had us in the clouds the rest of the show and still to this day," Hoekstra says.
No one remembers the score that night, but they all remember the performance and the love they received from their new fans. "And that is why I started the Southern Knights," Hoekstra says.
Photo of the Southern Knights Drum and Bugle Corps by Ken Martinson/Marching.com.
Photo of The Battalion Drum and Bugle Corps courtesy of the Battalion Drum and Bugle Corps.
Photo of Erie Thunderbirds Drum and Bugle Corps by Larry Eckert/DCA Staff Photographer.
Photo of Shadow Drum and Bugle Corps by Ken Martinson/Marching.com.