The Blue Knights Drum and Bugle Corps is celebrating its landmark 60th anniversary with two firsts: an alumni corps performance and the induction of the inaugural class into the Blue Knights Drum and Bugle Corps Hall of Fame.
On July 14 at the conclusion of the corps' annual performance at Drums Along the Rockies, an alumni group took the field. The original goal was to attract 100 alumni; almost 200 signed up to participate, according to GM Kuzma, director of operations at parent organization Ascend Performing Arts.
Every decade of the corps' history was represented as the group performed "Chaconne" from "First Suite in Eb for Military Band" by Gustav Holst, "I Go On" from "Mass" by Leonard Bernstein and Stephen Schwartz, and a Percussion Ensemble piece.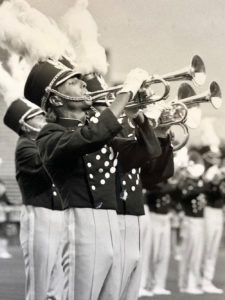 The inaugural class of the Blue Knights Drum and Bugle Corps Hall of Fame was inducted at a reception on July 13. The inductees comprise the following individuals:
Fred and Fae Taylor, the corps' founders
Robbie Billings, a former visual designer and color guard caption head
Ralph Hardimon, a former educator and designer and ongoing consultant for the group
Dave Marvin, an alumnus, former arranger for the corps, former designer for the Blue Knights Percussion Ensemble, and current director of the Denver Broncos Stampede Drum Line, which is affiliated with Ascend
Raymond Route, the corps' first executive director
Andy Smart, an alumnus and former brass caption head
The goal, Kuzma emphasizes, is to set the bar high as new submissions, nominations, and inductees will be added each year going forward.
Photos courtesy of Ann Huffman and Blue Knights Drum and Bugle Corps.