Two all-inclusive, all-abilities drum corps shine in the spotlight during the 2018 Drum Corps International World Championships.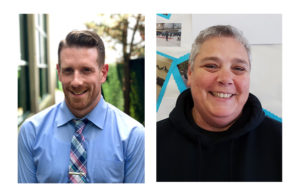 Spreading awareness of inclusion and acceptance while also performing memorable shows, special needs drum corps FREE Players Drum and Bugle Corps in Old Bethpage, New York, directed by Brian Calhoun, and Community Living Hamilton (Ontario) Drum Corps, directed by Robyn Garnier, will take to the international stage at the 2018 Drum Corps International (DCI) World Championships.
Halftime: What is your background?
Calhoun: I've been a professional drummer for [more than] 25 years. … I had the opportunity to record and tour with different rock and metal bands.
Garnier: I marched for 30 years total, [including] playing quads in Royal Airs Drum and Bugle Corps.
Halftime: Why did you create this program?
Calhoun: We're based out of a not-for-profit Family Residences and Essential Enterprises (FREE). We provide services to people with intellectual and developmental disabilities, mental illness, and traumatic brain injury. When I was hired by FREE [in 2009], it was for its theater and performing arts program. … I first started giving drum lessons on drum set, and everyone responded tremendously to that. … One day, one of my coworkers came in with a tape of his high school marching band, … and the lightbulb went off, … so [in] 2010, we were established, and [in] 2011, we began performing in the community. [It has] 80 [members] with a drumline, color guard, front ensemble, and brass section debuting at DCI.
Garnier: Our agency is Community Living Hamilton, an accredited, not-for-profit organization that works with individuals that have an intellectual disability. … [The drum corps] was created in 2003, so we're currently in our 15th anniversary season, and I [had] created [it] to celebrate our agency's 50th anniversary. [It has] 50 [members], and it's drums and flags.
Halftime: What are the benefits to the members?
Calhoun: Everyone that's involved in the corps has intellectual or developmental disabilities. We have people on the autism spectrum, Down syndrome, cerebral palsy. It's benefited everyone tremendously, not only musically but understanding the importance of teamwork, hard work, sacrifice, dedication, coming together as a group to achieve a goal that's bigger than oneself. It's helped them develop their life skills, their job skills, their social skills, and most of all inclusion and acceptance.
Garnier: We are an all-inclusive drum corps. [It has] people who are deaf, people who seizure, people who have Tourette's, people who have allergies, lots of physical limitations, … [and] I march alongside my members. It's really helped them grow within themselves: social skills, emotional skills, musicianship.
Halftime: Tell us about your DCI performance this year?
Calhoun: [We] will be performing prelims and semifinals inside Lucas Oil Stadium. … Our 2018 production is called "Against All Odds" and is inspired by the movie "Rocky" and tells the classic underdog story of someone overcoming the impossible, … but instead of the story being told through the eyes of a boxer, it will be told through the eyes of a musician.
Garnier: To celebrate our 15th anniversary, we've been invited to compete in the DrumLine Battle. … People know about us in southern Ontario, but outside of that, people don't know who we are or [that] we exist, so we want to entertain and educate.
Halftime: What advice do you have for the marching community regarding inclusion?
Calhoun: Judge somebody by their talents, their passions, their interests, and their abilities, not by their disabilities. You may be very surprised by what you learn and how truly gifted and truly talented they may be. They just need somebody that's willing to give them a chance, willing to think outside the box. All they want to do, all everyone wants to do, is be accepted and find a place to belong.
Garnier: Inclusion shouldn't be difficult. It should just happen. It should be simple. It should be barrier-free. We are one. Everybody is equal. … There's no reason why someone with a disability or challenge can't do what you're doing.
Note from the Editor: From goals and proudest moments to teaching techniques and challenges, read more from our interviews with FREE Players and Community Living Hamilton on the Web Exclusives Magazine Extras section of our website.
Photos courtesy of Community Living Hamilton (Ontario) Drum Corps and FREE Players Drum and Bugle Corps in Old Bethpage, New York.