Professional marching bands really do exist. Learn about four well-known groups and how to perform with them.
The old saying, "Do what you love, and the money will follow" may seem impossible for those in the marching arts. While we'll always need band directors and instructors to teach the next generation, what if your passion is to play and march every day as a performer?
You may already know that the U.S. military employs hundreds of musicians, but outside of that, professional marching bands are more difficult to find—though not impossible. Take heart in knowing that your 8-to-5 stride can get you a 9-to-5 job that is professional, full-time, and paid.
Main Street Philharmonic
Seeing the 12-piece band of smiling, mostly middle-aged men marching out on cadence in Walt Disney World's Magic Kingdom in Orlando, Florida, one might be tempted to think they look "cute" or "quaint." That is, until they bust out the opening notes of "Under the Sea" from "The Little Mermaid," and the trumpets hit a note that practically shatters every window on Main Street U.S.A. That's when you know you're in for a truly magical experience.
"What I think is cool about our job is that I think we're mostly unexpected by people," says Michael Scialabba, a drummer who has been with the Main Street Philharmonic for 12 years. "We want to not only surprise them but also to really wow them and have them walk away from here and think, 'One of the best and most exciting things about my trip was that band.''
The Main Street Philharmonic performs six times a day, five days a week in different locations around the Magic Kingdom. The brass and percussion ensemble primarily performs Disney music but also incorporates non-Disney jazz, Dixie, Latin, and rock tunes. Their sets don't include much choreography but instead focus on complicated licks and many featured solos/soli in the arrangements as well as moments of comedic interaction with the audience.
"Every day we're confronted with people who are very excited to see us and kids who are just going crazy and dancing, and we see a lot of smiles and a lot of people who are really having a great time," says percussionist Thomas Damon. "We really cherish that."
All the performers are full-time employees (or "cast members" as Disney calls them) with benefits and a regular schedule that allows them to do other gigs in their spare time. They also have a list of qualified substitutes that can fill in. Many of the subs work in other performing groups on property at the Walt Disney World Resort. Vacancies are usually filled by someone with experience as a sub.
"I think the best part of being a musician here at Walt Disney World is that we get to have a typical 9-to-5 schedule where we get to play our instruments," Damon says. "We have typical things that people have in a career like vacation, sick days, and a life outside of this with pretty stable employment, which is a luxury that most musicians don't have."
Many of the members are alumni of groups like the Disneyland Resort All-American College Band and Epcot's Future Corps. Nearly all of them marched in a high school band, some at colleges such as the Universities of Florida, Tennessee, and Wisconsin, and some in drum corps like The Cadets.
"I think the job requires a really well-rounded musician," Scialabba says. "You kind of have to have a little bit of chops from the marching band side, but you also have to have a little bit of groove from the big band and jazz side to be able to kind of fit squarely into what we do. You would really struggle if you thought that all you had to do was to be a very accomplished person at marching band and drum corps and then try and get this job."
The Royal Hawaiian Band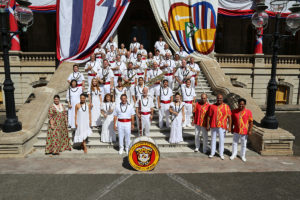 Legendary Hawaiian hospitality and the spirit of "Aloha" are alive and well in the Royal Hawaiian Band, which entertains both tourists and locals with Hawaiian music at more than 350 performances, including 20 to 30 parades, per year. The only remaining full-time municipal band in the United States, it is also the only one founded by a monarch, King Kamehameha III, in 1836.
"We're functioning almost as a moveable park," says assistant administrator Dennis Nagamine. "We go out to the public, and they can find us at all different places as we travel across the island all the time playing. And even when we do play at places like hospitals, nursing homes, retirement facilities, we go out to the audience when they can no longer get around."
The band functions as a department of the city and county of Honolulu. The mayor appoints the bandmaster, but all other band members and staff are full-time civil servants. Currently, the band has 35 members (full staffing is 40 members) and includes woodwinds, brass, and percussion. Depending on the performance, the group sometimes includes a steel guitarist, male and female vocalists, and hula dancers.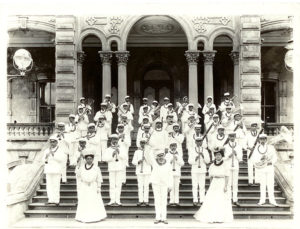 "The majority of our music is Hawaiian music, dating back to the monarchy up until contemporary Hawaiian music," says Nagamine, a French horn player in his 34th year with the band. "That's our emphasis that gives it that flair. But we also play standard march repertoire, contemporary pieces, and a lot of ethnic pieces for the different festivals."
While the Royal Hawaiian Band is a full-time gig, musicians don't have a 9-to-5 schedule. Many of their concerts are on evenings and weekends when locals are out of work and tourists are out and about to enjoy the music at locations such as Waikiki Beach and Iolani Palace. The varied schedule can include as many as three performances in a single day.
"The best part is we get to play music for a living, and there are no gripes about that," Nagamine says. "Normally people working in government only hear complaints, but this situation is really different, and you're making people happy!"
While the band started out only admitting Hawaiian musicians, these days any musician with an advanced degree and a willingness to move to Hawaii is welcome to audition.
"Always be open, never limit yourself to one genre of music," Nagamine says. "The more flexibility you can have in your performance, the more opportunities will avail themselves to you. We do classical to contemporary to show music and everything you can think of, so you need to be very versatile and flexible."
According to Nagamine, he and his fellow bandmates truly love their job. "Most people who get into the band stay until they retire or pass away," he says. "It seems like it's a good situation to be in."
The Patriot Brass
What started as Manhattan School of Music students forming a small group to play for veterans has grown into a massive professional marching organization with more than 1,000 members in nearly 50 cities. The goal of the Patriot Brass is to pay professional musicians to play free concerts at veteran's care facilities.
"We didn't intend to make it a professional marching band, but we just kept getting asked to do it," says Steven Behnke, founder and horn player. "One of the most fun parts of this whole thing is that we're bringing kind of classical people and people without a lot of experience marching and putting them in a marching band uniform for the first time."
Over time, more clients wanted the group dressed in traditional band uniforms, which the organization began purchasing in small quantities as needed. Now, the Patriot Brass uses its earnings from the professional marching band gigs to fund its mission of performing for veterans.
"Our goal is to make a better quality of life for veterans, and veterans love music," Behnke says. "The connection that they have with their music is like no other demographic in the United States. It's incredible how every veteran is connected by the same music."
While there aren't usually enough gigs for the Patriot Brass to be a full-time job for anyone except Behnke, many performers can avoid or reduce the amount of time spent on non-music jobs.
"We always pay our musicians no matter what," Behnke says. "They're always paid because we want them to be able to be great professional musicians, and the only way that's going to happen is if they can afford to do it and not have a second or third job."
The unique structure of the Patriot Brass allows musicians to participate as little or as often as they like in the group's 200 events per year. Since all the members are world-class professionals, including performing in Broadway musicals and at Lincoln Center, no rehearsal is needed except for maybe some quick staging. All the gigs go through Behnke in New York, but each city has a group lead for the local logistics.
While a typical performance is a six-piece band performing at a veteran's home, the Patriot Brass has done television shows such as "The Voice" and "The Late Show with Stephen Colbert" as well as marriage proposals, surprise corporate events, and even marching around in underwear at a screening for "The Wolf of Wall Street" film.
"We do 30 events just on Memorial Day," Behnke says. "That's kind of where we came from because we wanted to bring good musicians to these little small-town ceremonies. That's really at the heart of what we're doing."
With a background in The Cadets, Raiders, and Bushwackers Drum and Bugle Corps, Behnke says the corps alumni in Patriot Brass bring invaluable experience, particularly when it comes to uniforms.
"Our goal is to just get the best people," Behnke says. "It doesn't matter if you have any experience marching; we just want the best players. But the drum corps people help me do simple things like telling people how to put on shakos. With some [of our members], it's just a disaster. They have no idea how to put [them] on and do it wrong or even backwards."
The Disneyland Band
As part of its 60th Anniversary Diamond Celebration, the Disneyland Resort completely revamped the Disneyland Band to add some extra dazzle to the festivities. Sit-down concerts became a thing of the past, and high-energy, constantly moving medleys welcome guests daily.
"The Disneyland Band is … timeless in the songs that they play," says William Shandling, production stage manager. "It's the quintessential Disney experience."
The 18-piece band features saxophones, brass, and percussion in several sets daily. In the "Main Street March Along," Mickey and friends join the band as they teach a simple dance step and encourage people to march down Main Street U.S.A. together. In most other sets, they perform drill and choreography-heavy moves in one area.
"We wanted the band to tell a story," says Linda Love-Simmons, director of the Disneyland Band shows. "Their welcome set is 'Welcome' [from the film 'Brother Bear'], and these are the things that we do in our family. The Frontierland set was all based on playing wild music [such as 'Zorro' and 'Woody's Roundup']."
Overall, the band's roster includes 60 musicians for a combined total of 107 parts (as some can double or triple). A five-day group and a two-day group ensure that the band performs seven days a week.
"My goal for this band is to create the next generation of us," Love-Simmons says. "I hope that the little girl dancing in front of the band in an Elsa costume goes, 'I want to play the trumpet like that girl right there.' I hope that there's a boy that says, 'I like the way that bari sax sounds,' or, 'That person looks just like me.'"
Love-Simmons marched flute in junior high but in high school chose to go with dance and cheer. After her time as a trained ballerina, she went to work at Disneyland as a dancer and eventually as a choreographer. She worked with the Disneyland Resort All-American College Band and the marching bands in the 2002 Winter Olympics in Salt Lake City before the Disneyland Band.
"My vision board was 'Blast!,' and I watched hours of [Drum Corps International]," Love-Simmons says. "I knew that I didn't want it to be [like the All-American College Band], and I knew I didn't want it to be straight drum and bugle corps drill, so I really tried to make the staging fun and accessible."
With just a year and a half under its bibbers, the Disneyland Band is still growing and evolving. But with so many members, adding a new chart can be costly as performer safety is the number one priority throughout the rapidly moving drill.
"To learn a new song costs over $30,000 just to add four minutes," Love-Simmons says regarding training and rehearsal. "If one player doesn't know his part solidly, it's dangerous for the rest of the band."
According to Shandling, the band will continue to update to reflect the overall goals and initiatives of the Walt Disney Company.
"Guests come to Disneyland to live within the magic we create," Shandling says. "You go to one of our films or theatrical shows to be immersed in that experience. It's the same thing that we do at the Disneyland Resort. We bring those stories to life, and it actually surrounds you in 360 degrees."
The photos of the Main Street Philharmonic are courtesy of Disney Performing Arts.
Photo of the Patriotic Brass courtesy of Tayla Nebesky.
Color photo of Royal Hawaiian Band courtesy of the Royal Hawaiian Band.
Sepia photo of the Royal Hawaiian Band courtesy of Hawaii State Archives.
Photo of the Disneyland Band courtesy of ©Disney.