Drum major Morgan Davis has overcome barriers by being the first female of color leading The Ohio State University Marching Band.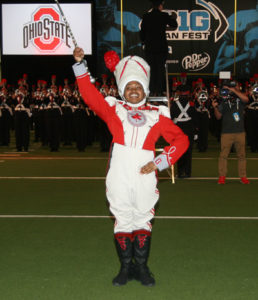 April 21, 2018 is a day that I will never forget. After a two-hour-long drum major tryout process, I was announced as the assistant drum major for the 2018 season with The Ohio State University Marching Band.
As the first female of color in a drum major position at Ohio State, I felt an immense amount of pride and accomplishment. After dreaming about hearing my name announced in front of all of my peers, family, and friends, it happened—and it was great. Little did I know that it was just the beginning.
From Near and Far
I picked up my first baton at 10 years old and quickly began performing with it. I spent about four years marching in parades with The Deputies Baton, Flag, and Drum Corps in my hometown of Elyria, Ohio, and then continued my twirling journey at the competitive level. Starting in middle school and throughout high school, I twirled on a competitive team, traveling nationwide and internationally.
In the Elyria High School marching band, I became assistant drum major during my junior year and assumed the position of head drum major for my senior year.
Some of my favorite memories from high school involve performing with the band—from catching my first big tricks on the field to touching my plume to the ground during the pregame backbend.
Thankfully, friends and family cheered me on at every single game, and I am forever grateful. They always encouraged me to reach higher and to do better each time that I performed.
Deep Dive
I attended winter and summer training sessions offered through the drum major program at Ohio State during and after my senior year. One of my former teachers voluntarily drove me two hours in each direction to and from Columbus each week.
She became one of my biggest supporters. She videotaped the training sessions for me to watch and reflected on each session with me afterward.
Those sessions and debriefs helped me develop as a potential member of The Ohio State University Marching Band. I tried out and made the band as a D Row member for my first and second years at Ohio State.
Last April when I won the position of assistant drum major, I felt that all of the time and effort— put in not only by myself but also by everyone who encouraged me—had finally paid off.
Best Moments
When I think back to the 2018 marching season, two memories stand out from the rest.
The first was the alumni football game when more than 600 Ohio State marching band alumni came to march "one more time." It was amazing to see how this organization has impacted so many people and to share the joy of being a part of the band family.
I had the honor of leading one of the four Script Ohios that were simultaneously marched on the field. Script Ohio is one of the many traditions at Ohio State that make our school and marching band special.
My second standout memory is from the Rose Parade in Pasadena, California. It was without a doubt the longest parade I've ever marched in, but also the most fun. It was special to me because my first twirling experiences were marching in a parade, and 10 years later I was marching in one of the most elite parades of them all.
Twirling and performing has always been an outlet for me, and getting to do what I love on such a huge scale was otherworldly.
And to top off an already exciting trip, the Buckeyes won the Rose Bowl Game!
Outside the Norm
While I have had a journey filled with support and excitement, I have had my share of struggles.
Trying out for drum major for the first time in high school was especially tough because females didn't commonly pursue the position—and to win? It had only been done once before me.
I received some pushback, but I was encouraged by my family to ignore anyone who doubted me. I'd be lying if I said I never doubted myself, but I couldn't let myself give up on something I wanted so badly.
Part of why I pursued the drum major position at Ohio State was because I wanted to be a role model for young people who want to do something outside of the norm. I know the struggle of being the first. It's scary and confusing, and you sometimes don't know if it's worth it to keep going. From my experience, I can say that it is worth it if what you want to accomplish is important to you.
Fiercely believe that you believe in yourself and keep going!
Photos courtesy of Kenneth May Photography and Crockett Photography.