Though not in a typical inaugural parade, many marching bands were still honored to come together in celebration of the 46th President of the United States.
When the Presidential Inaugural Committee (PIC) contacted the University of Delaware (UD) and Howard University marching bands to participate in the 2021 inaugural parade for Joe Biden and Kamala Harris, both bands faced a similar predicament: Neither had performed since COVID-19 lockdowns began in March 2020.
Heidi Sarver, director of the UD Fightin' Blue Hens Marching Band, recalls telling the committee, "The band hasn't existed for a year."
Fortunately, the PIC was looking for a smaller group—just the drumline. "Totally brilliant," Sarver says. "Everybody can be masked."
Biden and Harris had graduated from UD and Howard respectively. Howard's director of bands Kelvin Washington knew that he couldn't pass up the opportunity to accompany Harris on that day. When Harris was announced as the Vice-Presidential nominee in August 2020, the band staff at Howard began its preparations. "If by chance the Democratic ticket won, we wanted to give our students an opportunity to participate," Washington says.
The inaugural parade in Washington, D.C., is an American tradition dating back to 1805. On Jan. 20, 2021, the event pivoted dramatically to allow for COVID safety measures. UD and Howard were the only two civilian bands to perform in person among military ensembles. However, a variety of marching bands, drill teams, and other groups took part in a televised virtual "Parade Across America." In addition, on the night before the inauguration, a livestream performance called "We Are One" featured bands from various Historically Black Colleges and Universities (HBCUs).
Socially Distanced Drumlines
A few days before Christmas of 2020, UD and Howard began planning for the logistics of the parade. Sarver says that the process was fast-paced and chaotic but nothing out of the ordinary: "Anybody who's ever done one of the inauguration parades knows that it's flying by the seat of your pants," she says.
UD gathered a total of 35 drumline members and four drum majors, starting on the Friday before the inauguration. Because the band had not assembled in person all season, band staff spent that night fitting the performers in uniforms. The group then rehearsed the entire weekend and left on buses for D.C. on Monday.
Howard University, which is local to D.C., brought its drumline plus six dancers, six flag members, and two banner carriers. Washington held rehearsals for the group on the week before the performance.
For the parade, Delaware's drumline alternated its usual 112-beat-per-minute cadence with a cadence written by one of its former grad students who now plays for "The Commandant's Own," The U.S. Marine Drum & Bugle Corps. Howard's drumline also performed a cadence written by an alum.
Sarver's only regret for the day is that, due to COVID restrictions, her students did not have the opportunity to mingle with Howard's drumline. "We didn't get to let the groups intermingle, which [is] the most important thing when there's another college group," Sarver says. "But they did let us have a practice run of the parade on the side streets, so we got a little bit of a connection with them."
Regardless of the restrictions in place, Sarver and Washington felt honored to celebrate their most notable alumni. "To know you're there with one of your most famous alumni who's now sitting in the highest office in the land is pretty special," Sarver says. "That's a humbling honor, to be one of only two college civilian groups."
Washington, who is in his 27th year teaching at Howard, adds, "We're just thankful we had that one week together to make
something happen and represent the university."
Virtual Parade Across America
While the UD and Howard drumlines performed live for the inaugural parade, many other groups put together video performances to enter into the virtual "Parade Across America," seen on television and streamed.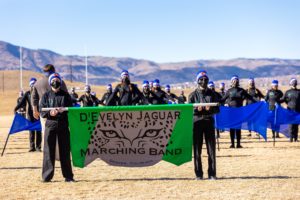 Bands applied like they did for previous inaugurations. "We had to apply pretty much right when the election was happening," says Becky Paschke, band director at D'Evelyn High School in Denver, Colorado. "It had been a goal of ours for a long time to do a big parade like this, but with COVID happening, we didn't know what was going to happen."
Paschke and her students reached out to various Colorado senators and representatives with information and videos about their band. Senator Michael Bennet recommended D'Evelyn for the parade. "I was so excited when he wrote a letter," Paschke says.
The Kenton Ridge High School band in Springfield, Ohio, had an abbreviated season, performing at only three football games. Jim Templeton, instrumental music director, had guessed that the inaugural parade would be virtual. "They called me on New Year's Eve to let me know that we had made it in," Templeton says.
To keep the planning efficient, Templeton chose The Beatles' song "Come Together," which Kenton Ridge had performed that fall. "I also felt like the lyrics fit with the country right now," he says.
Paschke, who was also notified of her band's acceptance on New Year's Eve, themed her band's performance around the country coming together as well. With a video submission deadline of Jan. 8, the band had only one week to prepare after winter break. "We chose to play 'American Patrol' [by Glenn Miller]," she says. "It really showcased the abilities of the musicians; it was something they were able to learn in a short amount of time but sound really good at," she says.
For its drill, the D'Evelyn marching band finished its set with a formation that spelled "USA." The guard added patriotic colors with red, white, and blue silks. To represent Colorado, guard members wore Colorado beanies, and staff chose to film the performance from an angle that featured the blue mountains behind the band.
On the first Thursday after winter break, D'Evelyn did a "studio recording" where audio was the only focus. Then, the following Friday, the band recorded the video component, which they then compiled with the audio before submitting.
Kenton Ridge recorded its performance at Wittenberg University's indoor football facility. "We have a videographer who works with us every year," Templeton says. "I think he used three different cameras and a drone."
During the recording sessions, the videographer spoke on a Zoom call with a member of the PIC's production team, who provided suggestions for additional camera angles and recordings. "It was a long process," Templeton says.
For a full list of "Parade Across America" participants, click here.
We Are One
As part of the 2021 inauguration, six HBCU marching bands participated in the "We Are One" program that celebrated Black culture and resilience in America. The virtual event was livestreamed on social media and a few TV channels on the evening of Jan. 19.
Jackson State University's Sonic Boom of the South didn't have a 2020 marching band season; to film its performance for "We Are One," it held a band camp in January. "We had to work on general things like musical technique and making sure the students were apt to actually march," says Roderick Little, director of bands at Jackson State.
The Sonic Boom of the South filmed its video submission in its downtown stadium. Its musical choices were both popular and patriotic. "What we
wanted to do was choose literature that paid homage to America," Little says. "We chose 'Living in America' by James Brown."
The band also played "America the Beautiful" and Stevie Wonder's "Happy Birthday [Martin Luther King Jr.]."
"Around the inauguration time was [Martin Luther King Jr.'s] birthday," Little says. "In my opinion, we would not be where we are today as a nation, especially the first Black female vice president, without the work and the dedication that Dr. King had."
Harris is the first woman, first Black person, and first person of South Asian descent to become the Vice President of the United States.
The "We Are One" performance put the national spotlight on HBCU bands. "The legacy of HBCU band programs—that's been something that's been ov
erlooked for too long," Little says. "Whenever we get to share the stage with such great programs is always good to heighten the awareness of HBCUs."
Here is a list of the other HBCU bands that performed in "We Are One":
COVID Safety Precautions
Regardless of whether bands performed in person or virtually, everyone had to observe safety precautions to prevent the spread of COVID-19.
At D'Evelyn, all rehearsals and recordings were done outdoors, even in bad weather. "It was cold too," Paschke says. "It was [about] 30 degrees at one of our rehearsals."
Students used musician's masks and bell covers to contain the airflow through their instruments. "In our band program, we've had zero problems with COVID," Paschke says.
While traveling by bus to D.C. might sound nerve-wracking, Sarver says that she and her band "never felt more safe" due to all the rules put in place.
The PIC allowed a maximum of 15 people per bus; students sat in every other row and alternated seats. When they arrived in D.C., students received N95 masks, which they could not remove until their departure later in the day. Because all the performers were drummers, drum majors, dancers, and twirlers, everyone wore their masks while performing.
The PIC kept students distanced before, during, and after the performance. "The most grueling process of the entire day was just getting through the checkpoints," Washington says.
Sarver says that all the precautions felt like "a dome over the city."
Bright Side to a Dark Season
Along with the safety of D.C. came a beautiful opportunity—the ability to experience the city without its usual bustling crowds. "I tried to impress upon [my students], when we're going up the street, take a look at the buildings, take a look at D.C.," Sarver says. "You don't get to do that in a normal setting that's mobbed with people."
For UD, performing at the inauguration was a silver lining around its previously canceled season. Sarver noted the students' joy at being able to play together for the first time in a year. "To not be able to [perform] in a social setting, it's truly depressing," she says. "To finally do it, they were so focused on wanting to be good and on never taking this experience for granted again."
For schools performing virtually, the parade brought some light to their seasons. Paschke says that this performance opportunity was important for graduating seniors. "I had 16 seniors in the program this year, and we didn't get to have a competitive season," she says. "Having everything getting canceled, this was a huge deal and a way for them to cap off their high school marching experience with the biggest performance they've ever done."
Templeton says that Kenton Ridge's acceptance into the parade brought some positive press to the community. "It hit the local news stations and the newspapers," he says. "It brought a lot of attention to the band."
Paschke has a group photo of this year's band students out on the field wearing their face masks. "I'll be able to keep that picture up on my wall and think about how we persevered through something so difficult," she says. "[This performance is] going to be one of the top highlights of my career."
Feature photo of the University of Delaware drum majors and director Heidi Sarver, courtesy of the band. Photo of the UD drumline by Connor Rydland. All rights reserved.
Photo of D'Evelyn High School band by Jason Shin. All rights reserved.