From the most efficient way to transport instruments to handling sick kids, marching ensembles and their individual members plan for every detail and prepare for the worst in order to experience the best travel and performance experiences.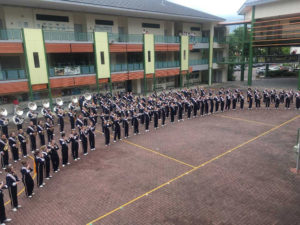 For the Blugold Marching Band at the University of Wisconsin-Eau Claire, band trips aren't limited to traveling alongside the football team. In the past few years, the band has toured Southeast Asia and several places in Europe.
"I'm an advocate of cultural education," says band director Randy Dickerson. "I always try to pick somewhere to get them out of their comfort zone."
Dickerson, an avid traveler, likes to take the band to places he's been before, creating comprehensive travel booklets for them up to eight months in advance. He also offers students a class called Music and Culture Abroad to coincide with the trip.
While Dickerson advises other band directors, "Don't be afraid of international travel," he also emphasizes the importance of preparing for a trip or a tour well in advance.
Plan a Year Ahead
Although some band trips may take only a week to complete, band directors should aim to plan their tours about a year in advance, advises Ron Simmons, executive director of Music Festivals and Tours, adding that he has already been working for several months on tours that will not happen until 2019.
For a performance at Walt Disney World, bands can apply up to a year in advance, so that they have enough time to settle their itineraries.
According to Betsy Ervin, team leader of Disney Performing Arts at Disney World, planning ahead allows bands to take advantage of as many opportunities as possible in the Disney parks. "I'd tell them to apply for their performances and workshops first before planning the rest of their trip," she says. "We have busy days throughout the year that can reach peak capacity."
She recommends that bands schedule their performances for the early portion of their trips "before they go to the beach or the water parks, before the kids get tired or dehydrated or sunburnt."
Think Through Details
Planning a trip in advance can also help bands think through any logistical issues that may arise. "It's always an eye opener [to bands] that it costs $500 to transport a sousaphone," Simmons says. "Don't think this is something you can raise funds [for] at the last minute."
Dickerson recommends shipping instruments rather than transporting them on an airplane. He arranges for a shipping company in Minneapolis to send the instruments to the band's destination two weeks ahead of time. "It costs the same, but it was a lot safer, and it kept students from having to lug around drums and sousaphones at the airport," Dickerson says.
For Tottenville High School in Staten Island, New York, 20 years of Disney touring experience has helped the band fine-tune its traveling skills. One simple strategy it implemented was reducing the number of students on each bus.
When the band first started traveling to Disney, it would pack each bus with about 55 students, almost reaching capacity. However, the leaders soon discovered that the cost of an extra bus was worth the price to be able to spread the students out. Each bus is now filled with about 40 to 45 students, leaving 10 seats open. "If a student becomes ill on a trip, you can isolate them on the bus," says band director David LaMorte.
For Michael St. Ores, a drum major with Carolina Crown Drum and Bugle Corps, visualizing the upcoming trip helps him mentally prepare. "Going through the itinerary is what I do," he says. "I visually walk through the entire process and think about things that might pop up along the way."
Alex Plum, a trombonist for the Madison Scouts Drum and Bugle Corps, notes the importance of strategic packing. "With drum corps, you have laundry days every two weeks, so I have to have enough rehearsal clothes for two weeks," he says.
Build Up Finances
Whether touring domestically or internationally, travel can easily become expensive. Many bands are taking steps to make sure that all students can still participate, regardless of financial situations.
At Tottenville High School, fundraising and the alumni network have been crucial for financial assistance. "Our alumni network has been really helpful," says assistant band director Laurie D'Amico.
Often, band alumni and parents of alumni will sponsor trips for students who cannot otherwise afford to go. "One parent who graduated two kids from our band comes back every January and says, 'Okay, I'm having a good year. Who needs to go to Florida?' and he writes two checks," LaMorte says.
Additionally, the school offers fundraising options for individual students to raise money for their trips. These include chocolate their parents can sell at work, Yankee Candle profit shares, and yearbook ad sales.
At the University of Wisconsin-Eau Claire, Dickerson knows how expensive international trips can be, so he price shops. "We use cruises [which] significantly lower the total price," Dickerson says. "Before I decide on any location, I go through months of legwork to research airfares [and] how the U.S. dollar is holding up against the Euro or [the currency from] wherever we're going."
Cruises allow the band to tour multiple countries in one trip without the additional costs associated with traveling to more than one country. This past year, the Blugold Band went on a tour of Asia that included Singapore, Thailand, and Malaysia. "The main thing is getting the best deals we can," Dickerson says.
Expect the Unexpected
Even after planning a trip in advance and carefully budgeting each expense, unexpected issues can still arise. Severe weather and transportation malfunctions can seem daunting in the moment. However, if a band has done a good job of getting ready, they will likely have the necessary resources to deal with the problem.
As a safety net against potential disasters, Music Festivals and Tours recommends trip insurance. "In case of things like [severe weather] and days that are canceled on the tour or flights [that] can't be rearranged and the whole trip is canceled, trip insurance would cover a lot of that expense," Simmons says.
Popular performance venues like Disney World have contingency plans in place for severe weather. "Safety is our number one goal," Ervin says. "We're always partnering with our park weather stations to watch for any storms coming in. We do everything we possibly can to make the show happen [even] if it needs to happen early or late."
Ervin adds that out of the several hundred marching bands Disney hosts each year, it only has an annual average of one canceled performance due to weather.
The Blugold Band subverted a potential weather challenge two years ago when on a trip to Barcelona. "There was a major snowstorm in New York, so our flight back to the States was canceled," Dickerson says.
With the help of a tour host through Music Festivals and Tours, the group was able to get the logistics sorted out, so that everybody got home although a few people returned a day or two late.
Dickerson also recalls a time when the band had to spend an extra night in Rome after its cruise ship didn't unload the equipment on time, causing the group to miss its flight. The band's host booked hotels for the night and arranged bus transportation to and from the hotels. "It's really important you have a host with you who can take care of things like that," Dickerson says. "There are a lot of things you don't think about that could go wrong until they do."
Similarly at Tottenville, plans made ahead of time solved an unexpected crisis. Usually all five of the band's buses stay together for the entirety of the journey from New York to Florida. One year, an engine issue caused one of the buses to break down. "Because we leave that extra room on each bus, we were able to condense to four buses and continue our trip," D'Amico says.
Encourage Commitment
A successful tour would be impossible without a group of committed and dedicated people working behind the scenes to make it happen. At the high school level, those people often include band parents.
Last year at Tottenville, the 153-member band had 30 parents chaperone the trip. Chaperones attended meetings ahead of time and took a week off of work for the trip itself. "The parents sometimes become so close that they become best friends," LaMorte says.
Part of creating this culture of commitment stems from fostering a sense of camaraderie among the band members, staff, and parents. That can be as simple as making the bus ride itself fun and memorable. "One year, on the way home, we watched the entire 'Star Wars' saga from the first episode to the last," LaMorte says.
For drum corps, the sense of commitment comes from the competitive nature of the activity as well as the thick skin members develop early on. "You sleep on gym floors rather than hotels, and you eat out of a food truck instead of a dining hall," Plum says. "It's focused on rehearse, perform, and perfect the show. The Madison Scouts is very focused on brotherhood."
That sense of commitment is also what keeps drum corps performers going strong in the face of an unexpected issue. Whether it's a bus breaking down, causing members to show up hours late to a housing site, or accidentally standing on a fire ant hill, causing a two-week leg burn, or just an average day of being sweaty and sore, Plum says that he and his fellow drum corps members have learned to laugh off any problems that arise. "In a way, we kind of enjoy putting ourselves into what other people would view as stressful situations," he says. "There is so much value in what the experience gives us. We're all there together."
Photos courtesy of the University of Wisconsin-Eau Claire band