For 2021, WGI Sport of the Arts created a virtual season for large competitive groups as well as soloists and small ensembles. We showcase group winners and finalists in this year's WGI recap.
Winds
The Winds category announced champions and scores in almost all classes, similar to past years. Here are the winning programs.
Scholastic Regional A          
Kent City (Michigan) HS Winter Winds
Score of 78.000
Director: Jonathan Schnicke
Outdoor Serenade: Representing the wonders of an evening outdoors, the new Kent City Winter Winds program performed "Butterfly" by Rajaton and arranged by Alex Thode. The performance showcased high reeds, low reeds, and high brass as well as incorporated campfire sounds at the beginning and end of the show. The program used a new digital sound system and backing track. Its tarp showed the vibrant colors at night when the moon peeks through the clouds and illuminates the world. Performers wore black pants and purple tops to pop out the color from the floor. Director Jonathan Schnicke says that he had wanted to have a winter winds program for a while, and this year's lack of a competitive fall season led to the right timing to start it.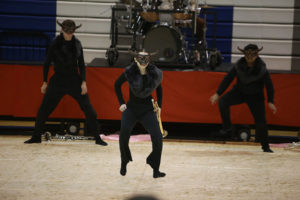 Scholastic A              
Joshua (Texas) HS Indoor  
Score of 90.500
Director: Bryan Bass
The Matador: With original music composed by Rob Stein, the production by Joshua High School Indoor showcased the aggressive nature of the bull, the finesse of the matador, and the various tapestries created when the two interplay. The hyper-syncopated "shout section" in the final movement created a dramatic climax. Wind musicians wearing masks of bronze horns portrayed the bulls while color guard member portrayed the matadors. Front ensemble performers, dressed in historic Spanish streetwear, portrayed the audience members who would typically watch the fights. The show also featured a drum-set player. The tarp showed a sandy landscape with a red oval encircling the center to portray the inside of an arena. A stage with ramps and red tarps hung along the front added to the colosseum atmosphere and created a second level to showcase performers.
Independent A          
Daviess County Indoor Winds and Guard from Owensboro, Kentucky
Score of 87.250
Director: Nathan Clark
Birds of a Feather: With original music by Jeremy Thompson and Shane Gwaltney, the program presented by Daviess County Indoor Winds and Guard presented themes about birds in flight and working as a flock. The flute, clarinet, and French horn small ensemble provided strong musical features in moments that would normally have been transitions between larger impact points, so that viewers would always be engaged with both musical and visual interest. Performers wore digitally printed bird costumes with built-in masks. The program also featured rolling birch tree props that could be rotated to look like birds in flight.
Scholastic Open
Keller Central HS from Fort Worth, Texas                                                     
Score of 93.750
Director: Kevin McNulty
The Stone: Playing the song of the same name by Dave Matthews Band, Keller Central High School musicians wore gray and blue patterned costumes and performed on a plain gray tarp. They rolled, pushed, and carried around a large round gray prop, but in a surprise ending, the stone turned into the Earth.
Independent Open
Horizon Winds from Auburndale, Florida
Score of 86.750
Director: Patrick Miller
Taking Flight: Recording its WGI finals video inside an actual airplane hangar with a P-51 Mustang Redtail plane on the floor, Horizon Winds honored the Tuskegee Airmen in its show. The tarp showed a dirt airplane runway with 18 runway lights and an airsock as additional props. The original composition by Alex Thode portrayed the characteristics of flying during peace and wartime. Musicians were dressed in green aviator jumpsuits to portray the Airmen. The show also included a drum-set player in the back.
Scholastic World                  
Avon (Indiana) HS Indoor Winds 
Score of 97.500
Director: Matt Harloff
Dimensions in Time: Avon Indoor Winds explored the concepts of time and dimension through Chaos, Reflection, and Celebration using the music "Reflections of Earth" by Gavin Greenaway. The journey was filled with dimensionality, represented by a variety of metal shapes as props as well as shapes created by the performers' movement. The tarp also appeared multidimensional and provided patterns to enhance the drill, staging, and choreography. The costume was motivated by the design of the tarp with a bright pop of color to help the performers stand out.
Guard
For Guard, WGI recognized top groups with Master Ratings, the highest honors for the 2021 WGI Virtual Season. Here are a few of the groups, presented in alphabetical order. Other Master Rating recipients are Florida International University Gold, McCullough Junior High Varsity, and Onyx.

Scholastic World      
Avon (Indiana) HS World Guard  
Director: Daniel Wiles
In the Stars: With the song "Gran Torino" by Jamie Cullum and Clint Eastwood, the Avon World Guard created a show about leaving behind your legacy to future generations. With white costumes, the guard members represented stars. The use of scarves and equipment, including flags laying on the floor throughout the show, allowed the performers to utilize the stage in a unique way.

Scholastic Junior     
Badger Middle School Varsity Cadets from West Bend, Wisconsin      
Directors and Founders: Kathy Nienow, Cami Janzen-Guare, and Lindsay Guare
Twinkling Variations: Inspired by the "Seven Levels of Twinkle Twinkle Little Star" by pianist Hayato Sumino (aka Cateen), the Badger Middle School Varsity Cadets brought many styles of the classic melody to life. The show had eight distinct segments with the ballet section and the two flag features as highlights. Nine starry-sky backdrops helped set the scene and create a smaller stage for the young 13-member group. Star props were used in a dance sequence in the middle of the show. Performers wore white jumpsuits that stood out against the star backdrops and black tarp. The West Bend Winter Guard organization was founded in 2013 with one middle school team and has since developed into a program with four teams ages 1 to 18.

Scholastic A  
Blue Springs (Missouri) HS Varsity          
Director: Marisa Barzee
Designer and Program Coordinator: Lindsey Vento
You.: Encompassing many emotions—the obsession with someone, the obsession with something, the refusal to give up, feeling lost and desperate—the winter guard program by Blue Springs High School Varsity combined Whitney Houston's "I Have Nothing" and "The Unanswered Question" by Charles Ives for its music. The floor had a distinct woman's face to draw the audience in through her eyes and tilt of her head. Printed plexiglass props created a backdrop, and performers wore sleek, monotone unitards.

Scholastic World      
Center Grove HS from Greenwood, Indiana
Director: Keith Potter
The Sound of Rain: In aqua-colored costumes, the winter guard members from Center Grove High School depicted raindrops in the song "Raindrop Prelude" by Frederic Chopin. White piano benches on a black tarp mimicked the visual elements of a piano to appear as if the raindrops were dancing on piano keys in a sonic fantasy.
Scholastic Open
Laguna Creek HS Winter Guard from Elk Grove, California  
Director of Bands: Jeffrey Edom
The Tree: The Laguna Creek High School Winter Guard performance enacted the song "The Hanging Tree" by James Newton Howard featuring Jennifer Lawrence intermixed with the version by Beowulf and JRDN. Performers represented multiple roles during two contrasting sections of the program. First, they depicted branches, leaves, and wind and then the murderer and executed one from the song lyrics. The program used an actual tree fallen by a local windstorm from one of its member's yards as a major prop with the shadow of the tree painted onto the tarp. It also used boxes to create dimension and a variety of heights.

Scholastic Regional A          
Lubbock-Cooper Winter Guard from Lubbock, Texas
Director of Bands: Nicole Baxter
Color Guard Directors: Brian and Cindy Gruben
Saloon Showdown: In a sequel of its 2020 cowboy-themed show, the Lubbock-Cooper Winter Guard combined Varsity and Junior Varsity performers to add saloon girls to its cast of cowboys. During the show, the cowboys courted the girls during a rowdy poker game. The soundtrack with "Breaktime" by Kevin MacLeod, "Saloon Fight" by Chad Olivera, "Cindy" by Ricky Nelson and Dean Martin, and "Celebration/Wild West Finale" by Chad Olivera evoked varying moods, requiring performers to adapt their characters' emotions from serious to playful. For props, the program utilized functioning saloon doors, a moveable bar, a poker table with chairs, and a whiskey barrel to showcase a variety of dancing sequences and equipment features, including nine rifle performers executing skills on and around the poker table. Its brown tarp showed a variety of wood grains with a longhorn skull in the center.

Scholastic Open
Milford (Ohio) HS Winter Guard
Director: Drew Steinbrecher
The Art of Chaos: According to musical theater composer Stephen Sondheim, "Art, in itself, is an attempt to bring order out of chaos." With the uncertain feeling of the last 12 months, the Milford High School Winter Guard created a show about finding order in chaos. Drawn to the music "Choros" by Ludovico Einaudi, the program designers realized that the contemporary piece of music had a very similar feel to guard director Drew Steinbrecher's artwork, which he describes as "controlled chaos." Like a frustrated artist creating a piece of art, the guard members slowly revealed the tarp as the main visual element throughout the show. The front of their costumes comprised various patterns of digitally printed artwork that matched aspects of the floor tarp while the back of their uniforms appeared black, making performers practically disappear when facing backstage.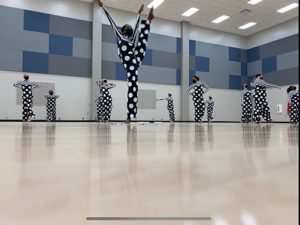 Independent Regional A
Spring (Texas) ISD  
Director: Chad Berkstresser
Thank You, Etta James: In a tribute to the singer Etta James, the Spring ISD winter guard—comprised of students from three schools—performed to James' "At Last" with a spoken introduction by Beyoncé. The program included a silent flag feature. Digitally printed props with ombré bubble patterns were used for smooth staging changes. Performers wore costumes with black and white stripes and polka dots to pop off a black floor tarp.
Percussion
In the percussion category, WGI listed finalists but not rankings, ratings, or scores. Here is a list of World Class finalists. For the full list, visit wgi.org. Also, here is a peek at the show by Walled Lake Consolidated Schools in the Percussion Scholastic World category.
 Scholastic Marching World Class
Avon HS
Broken Arrow HS
Centerville HS
Dartmouth HS
Franklin Central HS
Lambert HS
Lebanon HS
Milton HS
Timber Creek HS
Walled Lake Consolidated Schools
Independent Marching World Class

Blue Knights
Breakthrough Indoor Percussion
Cap City Percussion
Infinity
Matrix

Scholastic World      
Walled Lake (Michigan) Consolidated Schools                
Directors: Nick Pourcho and Seth Williams
Only: On a journey to explore uniqueness, creativity, and peace—often found through solitude—Walled Lake (Michigan) Percussion created a show only possible in this unique virtual season. With three 50-foot by 90-foot black floor tarps, the program set up the largest set ever used in a competitive show in order to spread out on the floor. Four stages of varying heights, a two-story scaffolding for a drum-set player, 20 large archways covered in fabric, and six large chime stands with just a single chime were all used as props to isolate, hide, or highlight various performers. With a full color guard group in addition to percussion members, performers chose their own costumes to fit their individual personalities and to highlight the concept of being the "only" one. The show also used lighting to create "fireworks" and energy. Musical pieces comprised "Wednesday Is the New Friday" by Floex and Tom Hodge, "Never Count on Me" by Haywyre, "Details in the Fabric" by Jason Mraz, and "Who We Want to Be" by Tom Day.
Photo of Kent City Winter Winds by Jake Szetela.
Photo courtesy of Daviess County Indoor Winds and Guard.
Photo of Joshua HS Indoor by Rebecca Couey.
Photo of Avon HS Indoor Winds by Brad Poreda.
Photo of Avon HS World Guard by Blake Dutton.
Photo of Blue Springs HS Varsity by B. Johnson Photography.
Photo of Badger Middle School Varsity Cadets.
Photo of Milford HS Winter Guard by Carley Metsker by Cami Janzen-Guare..
Photo courtesy of Spring ISD guard.
Photo of Center Grove HS by Bateman.
Photo of Lubbock-Cooper Winter Guard by Aaron Baxter.
Photo of Walled Lake Consolidated Schools by Debra Starrs.