Dubbed by its author, Savy Leiser, as an LGBTQ Back to the Future, the young-adult science-fiction novel '90s Kids features time travel as a way to explore the evolution of punk rock, interracial relationships, and LGBTQ+ acceptance. At the same time, the story weaves in the complexities of friendship, love, family dynamics, and mental health.
The novel releases on June 8, 2021, to correspond with Pride Month. It will be available on Amazon.com as an e-book, paperback, and hardcover. The e-book is now available for presale.
'90s Kids features two teenage protagonists, who are sent back in time.
Bex, born in 1990, is the most popular sophomore in the marching band and a somewhat hopeless romantic. Nicole, born in 1999, is a cynical science nerd and Star Trek fan fiction author. After two separate time-travel accidents—one in 2006 and one in 2015—the girls meet each other in 1989, both at age 16.
Now living in a different decade, Bex gets to have the John Hughes-inspired teen fantasy that she's always imagined while Nicole gets to examine time-travel technology straight out of her favorite fictional universes. But when government officials attempt to contain them at, of all places, the Department of Motor Vehicles, the two find themselves on the run.
Will they avoid a paradox and find their way back to their own time periods, or will the adventure and romance of the '80s and '90s keep them stuck in the past?
'90s Kids is the second book from Cincinnati-based Muse Media, LLC, longtime publisher of Halftime Magazine for marching arts participants and fans. According to Christine Ngeo Katzman, CEO, student performing arts is an underrepresented topic in the mainstream press. "After 13 years of publishing a marching arts magazine, I wanted to branch out into publishing books about the performing arts as well," Katzman says.
It is the 10th book but 1st traditional publishing experience for Leiser, a Chicago-based author,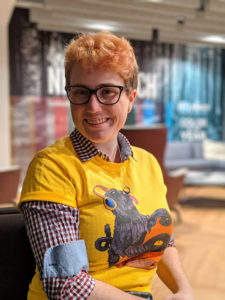 entrepreneur, and artist. "This book combines so many topics that I'm passionate about, from Back to the Future references to bisexual visibility," Leiser says. "I also loved getting to explore the nuances of a few time periods that are chronologically close but culturally diverse. 1989, 2006, and 2015 may seem like a short time in the grand scheme of the universe, but the cultural shift in the way that society at large views the LGBTQ+ community has come so far during that time."
Retro pop culture references ranging from '80s to '90s video games, songs, and movies will make all readers nostalgic for the past while sci-fi aficionados will appreciate specific mentions of "Star Trek" and "Star Wars" characters and story lines.
Adding to the allure of the book, the cover illustration by Erik Evensen spoofs Back to the Future movie posters. Evensen, a professor in the School of Art and Design at the University of Wisconsin-Stout, has contributed to officially licensed Back to the Future and Ghostbusters comic books from IDW Publishing.
Visit the official Goodreads page for '90s Kids.
About Muse Media, LLC
Muse Media, LLC, publishes books and magazines about the performing arts. Muse Media has published Halftime Magazine for the marching arts since 2007 and written and edited articles in Yamaha SupportED for K-12 instrumental educators since 2016. To learn more about its books and submission guidelines, visit musemediapublisher.com.
About Savy Leiser
An author, entrepreneur, and artist living in Chicago, Savy Leiser is the founder of Furever Home Friends, a small business producing picture books, plushies, and merchandise based on real rescue dogs. '90s Kids is Savy's 10th book. In addition to the writing five books in the Furever Home Friends series, she is the author of the young-adult and new-adult novels One Final Vinyl, Sculpt Yourself, and Beauty King, as well as the entrepreneurial self-help book #SavvyBusinessOwner. Savy has written for Halftime Magazine since 2015 and has run the successful YouTube channel SAVY Writes Books since 2018. Savy graduated from Northwestern University with a bachelor's degree in communication in 2015 and from DePaul University with a master's degree in writing and publishing in 2019.
Press Contacts
Muse Media, LLC
Savy Leiser, Author
savy@musemediapublisher.com