Safety first! Both host and visiting bands must join forces with administrators and security personnel to create a positive event experience.
When fans and marching band members enter a stadium to experience the spectacle of athletic competition, they rarely consider the complicated logistics implemented by security personnel, game day operations staff, and band directors to ensure their safety throughout the day. Until, that is, an incident occurs.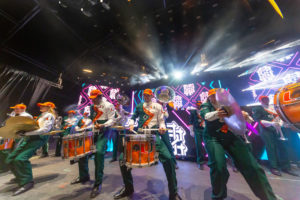 On Aug. 24, 2019, following a game versus the University of Miami, Jay Watkins, director of the University of Florida Marching Band, was injured. According to media reports, Watkins was grabbed from behind and pushed to the ground after attempting to stop a woman from getting through his band's ranks as it exited Camping World Stadium in Orlando, Florida, to get to the buses.
Less than one month later, University of Iowa marching band members reported that they experienced physical and verbal abuse from Iowa State University fans as the band exited onto a crowded pathway at Jack Trice Stadium in Ames, Iowa, following the rivalry game on Sept. 14.
News reports reveal that the opposing marching bands were not involved in the incidents and showed empathy and support to the individuals who were hurt.
No matter its size, every academic institution has an emergency action plan that includes public safety at athletic events, says Justin M. Eberly, an Emergency Medical Technician and firefighter with a background in public emergency management and with experience working with marching bands.
Considering recent events in Florida and Iowa, colleges and high schools should review and revise their game day security plans and procedures to keep everyone safe.
"As directors we have to put our kids in safe environments, and we have to advocate for our guests with our own people on our campuses," says Jeffrey Fuchs, director of university bands at the University of North Carolina (UNC) at Chapel Hill.
Shared Responsibilities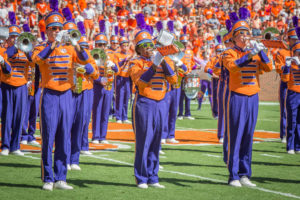 Mistreatment of visiting bands goes back decades. By the mid-2000s, Dr. Mark Spede, director of bands at Clemson University and the current national president of the College Band Directors National Association (CBDNA), had seen enough. Alarmed by the deterioration of fan behavior toward visiting bands, he convened and chaired a task force to address the issue. He and seven other band directors drafted the College and University Athletic Band Guidelines in May 2008. The goal was to provide information and recommendations on best practices for athletic bands.
Spede implemented the guidelines at Clemson immediately. More than 10 years later, he says that he's happy with the results. "We've noticed a marked difference in fan behavior here," Spede says. "Is it perfect? No. But better? Yes."
The responsibility of keeping a visiting band safe falls squarely on the shoulders of both the host and the visiting band, and it all begins in the parking lot. The most likely time for an altercation between a visiting band and a home team's fans is during transit, directors say.
Stadium operations should choose a parking lot and transit routes that steer the visiting band clear of home fans. "If you have to go through the student area to get into the stadium, that's a lot more dangerous," says Fuchs, who was a member of the CBDNA task force.
Jay Rees, director of bands at the University of Miami, agrees that schools need to examine the logistics of ingress, egress, and staging to assure that band members are safe and to clearly communicate their procedures to guests. Rees did not comment on the specific situation with the University of Florida at the game against Miami.
Visiting bands should never be in a situation in which they are fighting through crowds, Rees adds. "Athletic departments and stadium security would never allow that type of scenario for athletes," he says. "This should be equally true for bands."
Traditionally a band travels in block formation and marches to a cadence. Sometimes directors decide to rethink that tradition. "[It's not] safe for students anymore," Fuchs says.
Game day operations at UNC encourages visiting bands not to block up and cadence, so that they don't put their kids in travel lanes with cars and fans that are antsy. Directors who want to lead their bands into stadiums in the traditional way should wait until crowds thin out before starting their transition.
If the host band allows, a visiting band should enter through the same gate as its host. "If that's not possible, the band should be escorted by security/game personnel that are uniformed," says Chad Simons, director of the Spirit Marching Band at the University of New Mexico and also a member of the task force that drafted the CBDNA guidelines.
Following the game, band directors should delay the band's exit for 15 to 20 minutes. "It could make all the difference in making the exit a smooth and non-confrontational experience," Rees says.
Security and Welcome Hosts
A marching band that visits UNC is welcomed by a host, a trained individual who is well-versed on game day procedures and charged with keeping the group safe. Constantly in radio contact with Fuchs and security, the host briefs the parking attendant about when the visiting buses will arrive, informs vendors about food deliveries, and alerts gate attendants about where the visiting band will enter. "When the visiting band gets here, they are hosted from the time they arrive until the time they're back on the buses, so they're not left to fend for themselves," Fuchs says.
At Clemson, security surrounds the bands that visit Death Valley, especially during their transition from the stadium to the buses following the game. And like UNC, Clemson provides an escort from arrival until departure. To demonstrate solidarity, members from Clemson's band service fraternity also accompany the bands as they exit the stadium. "This shows our fans that our own band members have bonded with the visiting band and want to make sure [the members] are treated as guests, not the enemy," Spede says.
While most clashes occur when bands are in transit, unwelcome incidents can also happen in the stands. Fuchs says that his band is most vulnerable at away games when surrounded on all sides by home fans. Host ensembles should ensure that the visiting bands sit in a section surrounded by their own fans and should be under the watchful eye of a uniformed police officer.
When his band travels, Simons hires a uniformed reserve officer to accompany them for the entire trip. When cheering at games, Simons encourages his band to follow the statement on sportsmanship in the College and University Athletic Band Guidelines. "Keep your presentation and cheering positive; be for your team, not against your opponent," Simons says. "I appreciate cleverness in cheering, never vulgarity."
Since September 11, 2001, venues have beefed up security at entrance gates. Venues should carefully consider what objects to ban from events and take punitive action when incidents occur. "Make the penalty for throwing objects at participating students a legal matter," Simons says. "It should be seen as battery/assault and prosecuted. Deterrence can work, especially if it is appropriately publicized by the site/university."
Alcohol Policies
Venues have varying policies and cultures regarding alcohol consumption. Band directors believe that most game day altercations are fueled by alcohol. To reduce squabbles with inebriated fans, visiting band members should avoid tailgate areas. "Intoxicated spectators can engage in behaviors that, when sober, they would never contemplate, much less act upon," Simons says.
Rees would like universities to think seriously about their alcohol sales policies at events. "Inebriated fans are most definitely at the heart of this issue," he says. "My hope is that universities and stadiums would begin to make policies that address the environment and the safety, rather than only being concerned with revenue."
After the state of North Carolina passed a bill allowing the sale of beer and wine at sporting events throughout the UNC system, UNC Chapel Hill conducted research and made the sobering decision to begin selling alcohol at Tar Heels football games this 2019 season. The school's rationale is as follows: When fans smuggle alcohol into a stadium, it's typically hard liquor in flasks, airline bottles, or bladders strapped to their torsos. They're not waltzing past gate security with six-packs of beer and bottles of Merlot. Knowing they can purchase beer and wine at stadium concessions, fewer fans would smuggle in hard liquor, and fewer would binge drink in the parking lots. "When beer is accessible, people typically won't drink beer for four hours on end … especially $12 beers," Fuchs says. "But when they're bringing in airplane bottles of liquor, they'll keep drinking all day."
Constant Communication with Operations
Band directors and band members should build strong relationships with operations and security personnel. Simons reviews security details and touches base with the operations personnel frequently, so the band is never blindsided by changes.
Operations professionals don't have the same personal attachments to band culture as the director or band members. "Operations professionals are hired to care about different things than a marching band director, coach, or band member," Simons says. "When we understand that fact, we can avoid adversarial relationships that don't advance anyone's interests."
On the Tuesday prior to a home game, Fuchs meets with operations and shares his band's as well as the visiting band's game day schedule. Operations should know, for example, when the bands will be crossing streets, so they can block traffic.
Fuchs also meets with on-field security personnel stationed at either end of the field to ensure that photographers and kickers don't come out onto the field before his band is set at pregame. "We work hand-in-hand with our operations people and with the visiting band," he says.
Then following each home game, everyone involved in operations receives an email soliciting their thoughts on the positives and negatives at the previous event. "If [I] identify a problem, like students cutting through the band area, [I] report it to the operations crew, and it is escalated to security," Fuchs says.
No Need to Reinvent the Wheel
High school football games are attended by a fraction of the fans that attend college games, but these venues need to be safe and secure too. Each state has statutory requirements, recommendations, and athletic conditions for stadium safety. In the state of Pennsylvania, for example, a football game can't commence unless there is at least one ambulance on site. "If for any reason that ambulance leaves, the game has to stop," Eberly says.
For comparison, at a rivalry game between two large college bands, upwards of 30 ambulances might be on site.
High schools don't employ a game day operations staff or a security force the size that most colleges do. Typically, the school resource officer determines the number of uniformed officers needed for a particular event based on the activity and anticipated crowd size.
Not every band director, whether managing a high school or college program, is an expert in stadium safety, but there is always someone at the school who is. For directors who want to get trained on stadium security, the Federal Emergency Management Agency offers an online, self-study class on mass gatherings and safety preparedness.
Eberly advises band directors to determine the pre-existing procedures and protocols that the school has in place and see how the band fits into them. "Don't feel that you need to recreate the wheel," Eberly says. "There are resources out there; it's just a matter of finding them."
CBDNA Athletic Band Guidelines
The College Band Directors National Association (CBDNA) created the College and University Athletic Band Guidelines in 2008. Here are summaries of two sections, "Visiting Bands" and the "Statement on Sportsmanship," that help bands be the bests hosts possible.
Visiting Bands
Visiting bands should be allowed to perform at least six minutes at halftime or during pregame. Refusal to allow their performance unnecessarily sets up an adversarial relationship.
The home institution should provide a safe environment for the visiting band students, including a seating area that allows for convenient field access and a buffer from home fans. The host institution must assist in the safety of students who are visible representations of the opposing college or university.
Statement of Sportsmanship
Because bands are visible representations of the opposing school and are frequent targets of ill will, the CBNA offers the following suggestions to promote good sportsmanship when hosting visiting bands:
All band members should recognize that respect for self and others will create a more conducive environment for college sports teams and spirit groups.
Ticket managers should seat the visiting band in a place where it is insulated from the home fans.
Each member NCAA institution should allow visiting bands to perform at halftime, demonstrating real respect and sportsmanship.
The host university should provide security to the visiting band from arrival until departure.
The host band should show a video or make an announcement that welcomes the visiting band.
An additional security measure bands can take is to know what to do if there's an active shooter. Read important tips here.
Photo of the Clemson University band courtesy of Christopher Sloan/Imagine Studios.
Photo of the University of Miami band courtesy of Kirk Sibley.