For a drum major in 2020, facing ever-changing obstacles led to unexpected opportunities.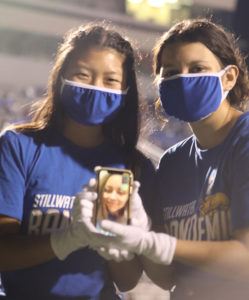 Ever since I could remember, I have been involved in many activities. When I was a toddler, my mother filled up my free time with extracurriculars, so at 4 years old, I was already doing dance, Tae Kwon Do, and gymnastics. I was always drawn to physical activity that required technique, and so I sought out the most challenging of arts: dance, Brazilian jujitsu, yoga, Kali, you name it.
I also began playing the alto saxophone in the school band. I had been a full-time gymnast with daily four-hour practices up until my freshman year of high school when I started to realize that academics were becoming more serious and time-consuming. That's when I had to make a decision between musical arts and gymnastics.
At my first football game and halftime performance with the Stillwater (Oklahoma) High School Marching Band, I realized that I was truly drawn to the marching arts. Although gymnastics is a taxing sport that requires both physical strength and mental fortitude, it lacked the sense of camaraderie and community that I was seeking. Gymnasts were always competing against opponents, even if they were on the same team. Marching band proved to be a complete contrast. Even just at band rehearsal, I felt more needed as an individual than I did anywhere else.
Unanticipated Adjustments
As time went on, I slowly worked my way up to the position of drum major. I think the staff members spotted my drive to share my revelation with others. I anticipated the pinnacle of my high school band career to take place this fall 2020, but I didn't anticipate having that experience during a pandemic.
For years now, I had been envisioning what this year would've looked like, and I wasn't remotely close. Last year, I had served as one of the three drum majors for the 2019 to 2020 school year, making this my second year conducting. Not knowing how the 2020 marching season would pan out, I felt like my season was over before it had begun.
I didn't get back into the marching band mentality until we started having leadership team meetings prior to the first band camp rehearsal. That's when I knew that it was time to take initiative and be proactive.
Never before in the history of the Stillwater High School band had there been an obstacle of this magnitude. Due to the daunting global pandemic, we made accommodations to reduce the transmission of aerosol droplets. These adaptations included flute shields, bell covers, temperature checks, social distancing, masks while not playing, no indoor rehearsals, no high fives, and no early sectionals. In addition, drum majors had to replace their annual Drum Major Academy camp with an exclusive conducting seminar.
The staff members worked relentlessly to adapt to the situation, but unfortunately, some things just couldn't be done safely. By early September, marching competitions across the state were canceled with the fear of increasing COVID-19 numbers and potential outbreaks that could arise from large, traveling congregations.
Our own annual marching contest had to be postponed due to our minimized practice and underdeveloped marching technique. Any time it rained, we would have to cancel or end rehearsal early. We eventually replaced our standard multipart show with a stationary, two-part, repeat show, called "God Save the Queen," which current seniors had performed as freshmen in 2017.
So much had changed from the past! Even trying to breathe in time with the band was in need of adjustment since inhaling too forcefully could cause your mask to suction to your mouth. With no competitions, we also missed the bonding that occurred during late-night celebratory dinners.
All of these changes seemed quite discouraging in the beginning, but I quickly realized that I needed to take a step back and think about how lucky all of us were. After all, we still had the luxury of meeting with each other face to face and playing our instruments on the football field whereas the school district wasn't allowed to have in-person classes at the time. I was just grateful to have some form of a marching season at all. I was more than relieved to get to see both familiar and new faces every morning.
Proactive Connections
To ensure that connections among band members stayed strong, the student leadership team got together online and hosted trending games over social media platforms. As for in-person activities, we added extra hype to our football games, knowing that our number of performances had been reduced.
But most importantly, I made sure to remind the leadership team that we were the most equipped to handle this pandemic. Otherwise, we wouldn't be the ones taking care of this job in the first place.
Fortunately, we haven't had any positive COVID-19 cases in the band, but we have had multiple instances when a large portion of the band membership had to quarantine due to contact exposure with another person who tested positive. As an organization dependent upon the contribution of each and every individual, we needed to maintain versatility and adapt to the absences of some of our strongest players.
Changes in Perspective
Overall, the drastic adjustments we made this year greatly influenced my leadership style. As a student leader, I had originally been so terrified of messing up that I absolutely refused to be vulnerable with band members and staff. I quickly realized that a year like 2020 left no place for that type of mentality because everyone needed to be able to trust in one another effortlessly.
Because I had a tendency to hold myself to a certain standard, I shied away from those who could help. My greatest fear was being perceived as flawed or incapable. That was no longer the case after experiencing a marching season in 2020.
To be honest, I'm not sure if any other circumstances could have given me the same kind of growth. My guidance to rising drum majors would be: No matter how much you believe you're not allowed to fail in front of your subordinates or superiors, you need to learn how to be vulnerable and authentic.
Being able to confide in my band directors comfortably and show transparency within my leadership has, by far, been the most valuable shift in perspective this year.
Photos courtesy of Lelan Powers and Barry Fuxa.