Bands and corps have become more adept at helping students manage chronic health conditions and injuries while marching.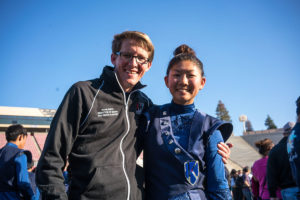 Ryan Bortz is director of instrumental music at The King's Academy in Sunnyvale, California, and a former marching musician. He also happens to have cystic fibrosis. Bortz knows firsthand the difficulties of managing a chronic medical condition. "It can sometimes be a part-time job just to take care of yourself," he says.
Bortz speculates that marching in high school may have actually helped his health—both physically and mentally. Not only did marching help keep his lungs clear, but it also gave him a social outlet. "My high school band program, I believe, saved my life," he says.
Still, Bortz definitely remembers challenges with managing his cystic fibrosis while training and performing with his band. He had to carefully monitor his physical condition, so he would not pass out. "I always struggled with becoming dehydrated," Bortz says.
His experience of marching with cystic fibrosis influences his teaching at The King's Academy, allowing him to see past the surface. For example, he knows that students have struggles that cannot always be seen on their faces. "I can appreciate that there's more than what meets the eye when I'm dealing with students," Bortz says
Participation in the marching arts is an intense and monumental physical, mental, and emotional commitment. While the hours spent practicing, performing, traveling, and more are not easy on anyone's health, performers dealing with a chronic condition such as diabetes, asthma, cystic fibrosis, allergies, or other health challenges have even more to consider before setting foot on the field. However, performing arts organizations have prioritized the health and safety of all their members including those with existing medical concerns, allowing their talents to stand on their own.
Resources for Marching Health
The Drum Corps International (DCI) Marching Music Health, Wellness, and Safety Project (MMHWSP) is a key resource for both performers and drum corps organizations. The MMHWSP covers chronic conditions, mental health, and injuries, advising corps on how to handle health situations within their ranks.
Physical injuries, such as fractures, may start small but can worsen over time if not treated, potentially causing performers to lose entire seasons unnecessarily, according to Dr. Deborah Seeley, an MMHWSP advisory board member and the health and wellness director with BD Performing Arts. With therapy and other treatments given early, participants who suffer physical injuries can recover and continue with their marching seasons, she adds. MMHWSP has worked with staff on various corps in the past to keep injured members performing throughout the season.
Touring groups should develop a process for helping performers refill medications while traveling, says Jessica Schloemer, MMHWSP general medicine subcommittee chair and a registered nurse who also works with BD Performing Arts. If a performer runs out of a certain medication, the individual can call his or her doctor to get a prescription filled and sent to a pharmacy wherever the corps is at that time. Then, the corps ensures that the member gets to that pharmacy to pick up the needed medication.
Marching Health, launched in 2017, also assists marching performers and organizations. The organization travels across the country to visit and train medical teams and volunteers who work with high school bands as well as groups in DCI and WGI Sport of the Arts. Marching Health quickly transitioned from in-person clinics to virtual clinics during the COVID-19 pandemic. Though its clinics currently cover a broad overview of wellness topics, Marching Health is currently working on videos to help marchers manage specific conditions, so they can take control of their own health, according to owner Dr. Elliot Cleveland.
In 2019, the Bluecoats Drum and Bugle Corps consulted Marching Health when a couple of musicians were injured. With Marching Health's advice, the corps' medical team helped the students continue rehearsing and performing while simultaneously recovering on the road. The students did not need to be sent home, and they were able to finish the season.
Accommodations and Growth
Seeley advises all drum corps to have a medical team to help staff decide who would be successful during the marching season. She wants instructors and directors to remember that they are experts in marching, not medical professionals. "Be careful not to discriminate based on a diagnosis," Seeley warns.
Still, Seeley notes that even medical experts should be wary of assumptions as the same conditions can vary from musician to musician. She has been amazed at who can finish a season when given the proper support. "It's very much case by case," she adds.
Cleveland notes that the medical accommodations offered by drum corps have improved over time. For example, corps are now very adept when dealing with Type 1 diabetes, utilizing apps to monitor blood sugar levels. In his own youth, Cleveland recalls that his gluten intolerance ended his marching career. However, corps now have alternative food options available, so intolerances or allergies would no longer be a problem.
Dr. Jacob Levy, the MMHWSP mental health subcommittee chair, has also seen changes over time. "There's definitely a lot more awareness of the issues," he says. Now, he believes, corps can accommodate "most things."
When a corps encounters a health situation that it has never dealt with before, the corps can reach out to MMHWSP, whose personnel can advise staff on how to handle the issue. Thus, the corps will continue to grow, adapt, and welcome more participants of all different backgrounds.
Schloemer advises corps that musicians with chronic conditions can perform just as well as those without. "And sometimes they perform better because they have something to prove."
Transparency, the Best Policy
Each performer with a chronic condition faces an additional decision when going through the audition process: whether or not to disclose a medical condition to the corps or band. Understandably, the participant might fear that the disclosure could affect the decision-making process, leading to lesser roles or outright rejection.
Seeley and Schloemer agree that being transparent with the ensemble's medical team is the safest and most beneficial route for the individual's short- and long-term health. "Your safety and your health have to be your first priority," Seeley says. Whether dealing with a chronic condition or an acute injury, "your body needs to be able to last your entire lifetime," she adds.
Seeley speaks from experience. In 1999, her second year of marching with the Blue Devils Drum and Bugle Corps, she suffered a knee injury and hid the pain. Her knee became worse, to the point where she was sent home and missed out on the rest of the season, one in which the Blue Devils ended up being DCI champions. Seeley says that she does not want any other corps member to lose his or her entire season unnecessarily.
Having dealt with asthma and allergies during her time in marching band, Schloemer also has experience to back her advice. Performers with allergies should carry EpiPens and make sure that someone on the sidelines, such as a staff member, knows what is going on with their health. Staff should have medication on hand, so performers have peace of mind and confidence to make it through a show without worry.
Professional clarinetist Jim Snyder, a sectionals columnist for Halftime Magazine, did not have to deal with a chronic condition growing up but has a whole set of issues to tackle after suffering a stroke in 2019. Snyder says that part of having a chronic condition is "teaching the outside world how to handle you."
Snyder says that he now has a heightened sense of self-awareness. "You know your limitations better than anyone else does," he says. "Don't be afraid … to let the people who … take care of you know, and don't be ashamed of it."
Because everyone can have a place in the marching arts, Bortz offers simple advice for participants with chronic conditions. "Go for it," he says. "Participating in music is part of the human experience."