Portraying ghosts and The Beatles with journeys to the cultural underground and under the sea, the 2019 Drum Corps International winners took fans on a wild ride of evolution, transformation, and the pursuit of happiness.
The 2019 Drum Corps International World Championships saw a close World Class competition between the Blue Devils and the Bluecoats, several milestones among Open Class medalists, and innovative uniform concepts and set-piece surprises.
World Class
World Class Scores
| | | |
| --- | --- | --- |
| 1. | Blue Devils | 98.325 |
| 2. | Bluecoats | 98.238 |
| 3. | Santa Clara Vanguard | 96.600 |
| 4. | Carolina Crown | 96.563 |
| 5. | The Cavaliers | 95.400 |
| 6. | Boston Crusaders | 94.488 |
| 7. | Blue Knights | 92.050 |
| 8. | Blue Stars | 91.225 |
| 9. | The Cadets | 89.838 |
| 10. | Mandarins | 89.300 |
| 11. | Crossmen | 87.550 |
| 12. | Phantom Regiment | 87.238 |
World Class Awards
| | |
| --- | --- |
| Donald Angelica Best General Effect Award: | Bluecoats |
| John Brazale Best Visual Performance Award: | Blue Devils |
| George Zingali Best Color Guard Award: | Boston Crusaders |
| Jim Ott Best Brass Performance Award: | Carolina Crown |
| Fred Sanford Best Percussion Performance Award: | Santa Clara Vanguard |
| Dr. Bernard Baggs Leadership Award (Director of the Year): | Brad Furlano, Blue Stars |
| Jim Jones Leadership Award (Best Drum Major): | Claire Wilcox, Phantom Regiment |
Blue Devils Commanded the Stage
With a score of 98.325, the Blue Devils Drum and Bugle Corps from Concord, California, took home the gold at Drum Corps International World Championships, finishing less than a tenth of a point ahead of the Bluecoats after a tight season-long race. The Blue Devils also received the John Brazale Best Visual Performance Award. This victory continues the Blue Devils' streak of finishing in the top two every year since 2007 and serves as the corps' 19th championship.
The Blue Devils' 2019 show, "Ghostlight," was based on a theater legend. Historically, theaters have kept a light on at the stage each night. While this tradition began for safety purposes, so that anyone who enters the theater can see, the practice also created a superstition.
"Theaters say they're haunted; the legend behind that light [is that] the spirits come out at night," says Patrick Seidling, the Blue Devils corps director. "Our show is … what happens at night when the theater is empty, and the spirits come out."
Theater in Motion
This theme gave the Blue Devils room to play with different theatrical traditions that have risen throughout history. "At the beginning of the show, you see references to the Greek chorus, which is our first theater," says Scott Chandler, visual designer for the Blue Devils. "Then we worked through Elizabethan theater, which is Shakespeare. We sample that through the music and have a character portraying Hamlet."
The show then progressed through elements of commedia dell'arte, which is a form of Italian improvisation, as well as Theatre of the Absurd and epic theater.
The color guard uniforms represented various time periods. For example, performers had comedy/tragedy masks digitally printed onto their clothing and wore neck ruffs during the Elizabethan theater section. "We were able to reference different areas of theater history that the spirits might have come from," Chandler says.
The costumes of the instrumentalists also transformed through the course of the show. While they took the field wearing traditional marching uniforms, including long coats and shakos, corps members later removed pieces of their uniforms and placed the discarded garments on ladders to become colorful set pieces. "Just as the spirits of the theater would change costumes—it was their time to play—we wanted to reveal something more form-fitting," Chandler says. "It reveals the choreography in a different way."
Evolving Set Design
Just as props play key roles in theatrical shows, they were integral to the Blue Devils' performance. Much of the program used a large, multi-purpose wall as a stage backdrop. "We wanted a prop that worked in multiple ways," Chandler says.
The corps initially designed the wall with a few requirements: It had to fit inside a semi-truck for ease of transportation, and it needed to have doors that corps members could open and close during the performance. As a result, the wall consisted of 14 pieces.
Though the wall was built to have many uses, the corps discovered more and more purposes for the prop throughout the season, enjoying spontaneous moments of innovation. "Not everything was planned," Seidling says. "We found a surprise, the way we could tilt them at different levels. … [It was] a really fun discovery process."
From Sickness to Top Form
While the Blue Devils had a triumphant season, they also faced many challenges, including a roving illness. "We had a flu bug going through the corps," Seidling says.
The corps' health and wellness team made sure everyone got medicine as soon as they displayed symptoms of illness and stressed hygiene to keep the sickness from spreading. "When you think back to a season, you have some image that jumps out in your head," Seidling says. "The image I'll have of the 2018-2019 corps is … everybody walking around with a facemask."
Despite the physical setbacks, the Blue Devils gave a triumphant final performance. "Our performance on Saturday night was as good as any Blue Devils performance in the last 45 years," Seidling says. "Before we got the score, you could sense they knew that they had achieved everything they set out to do as Blue Devils."
Presenting The Bluecoats
During DCI championships weekend, all throughout Lucas Oil Stadium, Bluecoats fans walked around sporting T-shirts with the iconic lettering associated with The Beatles logo. The shirts read simply, "The Bluecoats." At the end of Saturday night, the Bluecoats Drum and Bugle Corps from North Canton, Ohio, walked away with a silver medal and the Donald Angelica Best General Effect Award for its show, "The Bluecoats," which featured Beatles music. The Bluecoats received a score of 98.238.
The idea to model a touring season after The Beatles dates back to 2016 when the Bluecoats won its first gold medal for its innovative show, "Down Side Up." "The corps ended up in the newspaper," says Mike Scott, Bluecoats CEO. "Dave Glasgow, the director at the time, said, 'We felt like The Beatles tonight' because the crowd was fantastic."
A Day in the Life
Beatles music has long been an inspiration for the Bluecoats repertoire. "For years, there have been lots of moments in Bluecoats shows that [were] influenced and motivated by The Beatles," Scott says. In addition Bluecoats composer Doug Thrower "is a Beatles expert; he could go head to head with any musicologist as far as The Beatles," Scott adds.
Adding to the overall success of 2019, Thrower was inducted into the DCI Hall of Fame this year.
While the Bluecoats' 2019 show featured songs like "Strawberry Fields Forever," "Eleanor Rigby," "I Want You (She's So Heavy)," and "Hey Jude," the performance was far from a standard Beatles tribute show. "One way you could look at the show was us doing a Bluecoats concert through the lens of the music of The Beatles," Scott says. "We wanted the show to be a celebration about drum corps, … so many moments in the show were inspired by the Bluecoats more than The Beatles."
The Bluecoats treated its 2019 competitive season as a concert tour. The group launched a tour website featuring all the appearance dates and produced Beatles-inspired merchandise for fans to wear.
Come Together
Another identifying factor for this show came from its unique costuming; corps members wore multiple combinations of checkered, solid, paisley, and patterned pants and tops. However, all of the coats were blue. "We decided if we're going to call the show 'The Bluecoats,' we have to play off that," Scott says.
Though innovative uniforms, a comprehensive show theme, and a high final score all made this season special, the crowd reception and engagement made the Bluecoats feel like rock stars. "The crowd stood up halfway through the second to last production," Scott says. "They stayed standing for two whole songs at the end of the show."
The excitement of the crowd made Scott think back to 2016 when Glasgow said, "We felt like The Beatles tonight."
"That was true this year, too," Scott says.
Underground with Santa Clara Vanguard
The Santa Clara (California) Vanguard Drum and Bugle Corps went underground, physically and figuratively, for its 2019 program. Titled "Vox Eversio," the show celebrated underground countercultures including 1950s Beat poets, 1960s hippies, and 1980s punk. The program used set pieces of various heights to make members appear as though they were performing underground.
Though counterculture in its presentation, the show pleased judges and fans, earning Vanguard a score of 96.600, a bronze medal, and the Fred Sanford Best Percussion Performance Award.
The inspiration for "Vox Eversio" came from the corps' membership demographic and target audience: teens and young adults. "We were trying to think of what is currently relevant to high school students, who are the majority of watchers for DCI," says Andy Toth, visual coordinator for Santa Clara Vanguard. "We were thinking [about] how they might feel outcast at times."
Emerging Voices
For the show's title, the corps used a Latin phrase that translates to "voice of a revolution." "We wanted to say that they have a voice," Toth says. "Voice can be in any language. Your voice can be heard through writing, speaking, singing."
To bring this underground theme to life, Vanguard stationed 24 18-foot tall poles throughout the field, which corps members could slide down like firemen. The corps also had stages at two different levels, allowing the corps to start high and move downward.
"You can imagine there's this level 18 feet above where the members are," Toth says. "When you think of poets from the Beat generation, all of these things took place not only metaphorically underground but literally in club basements."
The repertoire of "Vox Eversio" featured a version of Metallica's "Nothing Else Matters" but with a jazzy twist.
"The idea of playing Metallica music for a drum corps show is counterculture," Toth says. "It was also treated as a jazz/swing style. We took the tune itself and turned it around."
Moment of Self-Actualization
For this show Vanguard also premiered a new costume, which was a major shift from its traditional red-and-green uniform. The instrumentalists' grey outfits featured a red "V" in the center of their shirts while the color guard wore chartreuse yellow-green uniforms. "The guard's version was the pop style," Toth says. "You're getting two aspects of the early 80s pop genre and also punk."
At the end of the season, Santa Clara Vanguard felt proud not only for its competitive placement but also for the meaning behind the show and the way the members connected to it. "They're having a personal conversation with the audience as opposed to playing a role," Toth says. "That's a moment of self-actualization. Seeing how they can relate to what they're performing is so special to me."
Open Class
Open Class Scores
| | | |
| --- | --- | --- |
| 1. | Spartans | 81.050 |
| 2. | Legends | 79.400 |
| 3. | Gold | 79.250 |
| 4. | Louisiana Stars | 75.850 |
| 5. | Southwind | 75.638 |
| 6. | 7th Regiment | 73.750 |
| 7. | Guardians | 73.575 |
| 8. | River City Rhythm | 73.300 |
| 9. | Golden Empire | 70.650 |
| 10. | Shadow | 69.525 |
| 11. | Colt Cadets | 65.600 |
| 12. | Raiders | 64.250 |
Open Class Awards
| | |
| --- | --- |
| Best General Effect: | Spartans |
| Best Visual Performance: | Spartans |
| Best Color Guard Performance: | Spartans |
| Best Brass Performance: | Spartans |
| Best Percussion Performance: | Legends |
| Most Improved Corps: | Southwind |
| David Kampshroer Leadership Award (Director of the Year): | Katherine Steinacker, The Battalion |
| Jim Jones Leadership Award (Best Drum Major): | Rhianna Zaidan, Southwind |
Celebrating "10 Years" of Spartans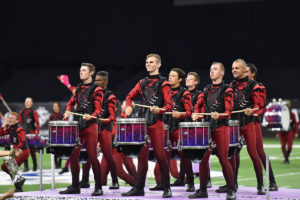 2019 was a victorious year for the Spartans Drum and Bugle Corps of Nashua, New Hampshire, in more ways than one. Not only did the group place first in DCI Open Class Championships with a score of 81.050, earning its first gold medal since 2007, but it was also the 10th consecutive year the corps had been active since its one-year hiatus in 2009.
Though founded in 1955, the Spartans celebrated its new 10-year anniversary with a show titled "Experiment X." The X refers to the Roman numeral for 10, which became apparent in the first set of the show's drill; the corps formed a giant X on the field. "We had that motif going through each production," says Richard Rigolini, corps director for Spartans.
The Spartans' program featured an array of innovative new props and costuming. For props, Spartans used a series of stages that moved throughout the field and built upon one another. "The stages moved to create stages upon other stages," Rigolini says. "The members were into making it staging and not just drill."
For the Spartans, the concept of theatrically staging its show inspired a change in corps uniforms as well. The decision to experiment with new uniforms started last year in 2018. "We sat down in a design meeting in early September two years ago and said, 'It's time to change our look,'" Rigolini says. "It got us out of the typical marching gear into a stage ensemble."
This year's uniforms included a one-piece outfit with a vest over the top. Rigolini describes the 2019 uniforms as "extremely lightweight, easy to care for, very durable."
A major factor in changing the uniform was ease of movement, making room for more complicated choreography. "The way you teach now is so dance- and choreography-based," Rigolini says. "You need to wear the clothes that make it happen."
A gold medal, a 10-year celebration, and the Best Brass Performance, Best Color Guard Performance, Best Visual Performance, and Best General Effect caption awards meant a very successful Spartans season. "We've been building up to it the past few years," Rigolini says. "We knew it was a special year for us."
Legends and Underwater Myths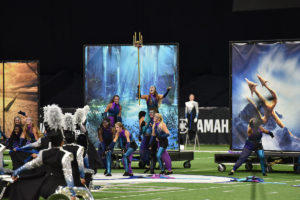 Legends Drum and Bugle Corps of Kalamazoo, Michigan, took its show underwater in 2019. The creativity of its "Song of the Siren" program, which featured scenes on land and under the sea, earned Legends a silver medal at Open Class Championships with a score of 79.400.
"Song of the Siren" presented the ancient Greek myth of the sirens, who would lure in sailors with music. To represent that myth, color guard members played the siren characters while corps members acted as sailors.
The repertoire featured a wide range of music, from classical pieces like Claude Debussy's "La Mer" to pop songs like Christina Aguilera's "Genie in a Bottle."
"We are very orchestral in terms of our acoustics and our playing techniques, so we end up looking at the classical influence," says Ibe Sodawalla, executive director/CEO and corps director. "The pop culture [has] been something that we've started to explore."
Legends used six large field frames with two-sided images to transition the scene from land to sea.
Show-specific costuming also contributed to the show's nautical feel. "We had an undergarment shirt that had an attached cape, and we were able to have a blue paisley pattern on the inside," Sodawalla says. "Whenever we were just marching, it did not give that color change, but then there were times when the performer would open up the cape."
For this show, Legends celebrated more than a second-place win; it also won Best in Percussion. "We've gotten Most Improved Corps a few times, but this is the first time we've landed a caption award," Sodawalla says. "Needless to say, it was a very exhilarating experience."
In 2020, Legends—founded in 2006—will celebrate its 15th drum corps season.
Gold Found Happiness
In 2019, Gold Drum and Bugle Corps from Oceanside, California, celebrated its crystal anniversary and received the Open Class bronze medal with a score of 79.250. During this 15th season, the corps fielded the aptly titled show, "The Pursuit of Happiness."
Over the past few years, Gold has seen rapid growth. According to executive director and corps director Donald Flaherty, this year Gold had 156 members, nearly double its membership from four years ago.
In addition, the corps introduced a health and wellness program called Body by Gold, which teaches members about proper nutrition and workout routines to get in shape starting the fall before corps season. "We realized we were seeing a lot of kids that would have such a miserable time when they got to the summer because they physically weren't ready," Flaherty says. "We needed to step in and get them to start that process earlier."
In June, the corps revealed a new financial scholarship program made possible by the Patti's Way Foundation. The new fund is "enabling us to give scholarships to a lot of kids that would not normally be able to afford drum corps," Flaherty says.
Gold's 2019 show comprised four movements exploring the meaning of happiness in career, love, finance, and within oneself.
For the final movement, "we shifted down to the basic equipment: flags, rifles, [and] sabres, with gold silk, reinforcing the theme that happiness is finding your golden place," Flaherty says.
The show resonated with many corps members. "A lot of kids are starting to figure out what makes [them] happy," Flaherty says. "They are pursuing their happiness."
All photos are courtesy of Ken Martinson/Marching.com.