Brad 
Furlano
, recipient of
 the Dr. Bernard 
Baggs
 Leadership Award
,
 continues to push the envelope and create lasting memories for members of the Blue Stars.
In 1982 at 10 years old, Brad Furlano started his drum corps experience by joining the Blue Stars Drum and Bugle Corps. Through the past 37 years, he has grown within the organization, becoming executive director/CEO in 2006. In August 2019, Drum Corps International (DCI) honored him with the Dr. Bernard Baggs Leadership Award. In addition, the Blue Stars—an original founder of DCI—placed eighth in World Class with a score of 91.225 this year. Furlano reflects on his varied experiences with the corps. 
Halftime: What is your educational and musical background? 
Furlano: I joined the Blue Stars in 1982 … when I was 10 years old. Everybody in the group at the time was 10, 11, 12, 13 years old, and I started out playing as a percussionist, but they made me the drum major early in that season, … and I just kept being the drum major until I aged out in 1993. … After I aged out, I joined the visual staff, and I became the visual caption head. I wrote the drill for a number of years. I had a brief stint on the board of directors, and I was actually the interim director for one year in 2003. … I had lots of roles with the Blue Stars over the years, but I took my current position as executive director in 2006.  
My degree is in mass communications, and I worked for a handful of Fortune 500 companies as a communications manager.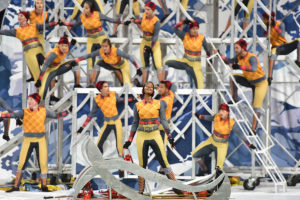 Halftime: What drove you to the Blue Stars, and how have your past experiences helped you as executive director? 
Furlano: There was a small ad in the newspaper, and some of the neighborhood kids that I grew up with … [were] talking about how they were going to do this [with] my brothers, and I insisted that I tag along. … It's interesting in that there's a lot of talk about drum corps being different today than what it was "back in the day." Obviously there are some major structural differences in how the shows are put together and how we tour and how we take care of members, but I don't think that the actual experience that a young adult takes away from the Blue Stars today is that much different than what I took away in the '80s. It's all about … going through a process of realizing and discovering who you are and what you're capable of, having that experience with others and … getting to know people on a personal level, and setting goals and reaching them. … I still think we try very hard to have that be consistent. 
Halftime: How does it feel to receive DCI's Dr. Bernard Baggs Leadership Award? 
Furlano: I'm honored and very appreciative. … There are so many great people running drum corps today, and certainly any number of them were equally deserving of that recognition. … While I'm honored to receive it, it does take an entire community of people … who for $0—or not a lot of money—show up, do the right thing, and put their lives on hold or dedicate their lives to giving 154 or 160 young adults this experience.  
Halftime: Tell me about the Blue Stars' show this year. 
Furlano: The "Call of the Wild" show … came from the Jack London book of the same name. … [It] was about a group of explorers that were in a winter wilderness and the struggles and triumphs that go along with that and the journey to the mountain. … One of the things we focused on pretty extensively over the last few years is characterizations of our members, and we have a story to tell, and they all have a role to play in that story. Their characterizations, their mannerisms, their facial expressions all help to communicate that story. 
Halftime: The Blue Stars was founded in 1964 but has gone through a couple of iterations. How has the corps evolved, and how has it been consistent?  
Furlano: The corps motto is "Finis Coronat Opus," or "The end crowns the work." That's been our motto since day one in 1964. … It's really hard to understand the journey until it's done. [On] any isolated day at 105 degrees [with] a 12-hour rehearsal, … it's impossible to know the journey. … I think that if you go to the parking lot during championship week and watch the members come off the field, … you see the realization of what has been accomplished and the friendships that have been made and what an amazing experience it was. … It really takes the full season to understand the arc of the journey. 
Halftime: What are your proudest moments? 
Furlano: In 2006, when we took the field in Madison, [Wisconsin,] as a World Class drum corps [again] for the first time since 1982, … that was a special moment. [In] 2008, returning to finals for the first time since 1979—that was a very special, emotional moment for me and for the entire drum corps and alumni base. 
Halftime: What are the corps' current strengths? 
Furlano: We don't spend a lot of time at the Blue Stars focusing on competition. Obviously we are competitive people, and they keep score, … but we really focus on the experience here. … I think we try to bring something different to the field each year and hope we have a unique spot in the activity. 
Halftime: What are the biggest challenges facing the corps? 
Furlano: We have seen insurance and … the cost of certain items grow rapidly over the last five years, and it's a challenge to do this, to do it in a safe and healthy manner, and yet try to keep it somewhat affordable for the members. At the Blue Stars, we focus on fundraising … [and] on cost control.  
Halftime: What are the corps' goals for the future? 
Furlano: Our goal every year is to be the best Blue Stars that we can be. Usually when that's our goal, we control that outcome ourselves. We don't let 11 judges … determine our success and failure. 
Halftime: What advice do you have for other marching directors? 
Furlano: First, … the No. 1 goal … [is] that the members have an awesome experience in their organization. No. 2, you can't do it alone. It really does take an entire army of people and volunteers and support folks. Take a critical look at yourself and what your shortcomings are, and then find the people who can help you overcome those shortcomings. 
Halftime: What advice do you have for marching musicians? 
Furlano: Find your place in [the] activity, whether that's marching band or drumline or winter guard or drum corps. … There's a spot for everybody, for any economic situation, for any time, [any] situation, or any talent situation. Make the most of it. 
Photos of Blue Star courtesy of Ken Martinson/Marching.com.
Photo of Brad Furlano courtesy of Harrison Heinig.