The annual HBCU marching band showcase, which took a hiatus in 2019 due to Super Bowl being LIII in the same city, will be reimagined for its comeback next year.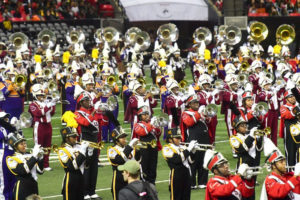 Although the Honda Battle of the Bands (HBOB) Invitational Showcase took a hiatus in 2019 due to Super Bowl LIII being in the same host city of Atlanta, organizers say that the event will return in 2020.
"As the largest and most widely known showcase for HBCU [Historically Black College and University] marching bands, HBOB offers talented young musicians an opportunity not only to perform on a national stage but also to experience personal growth and create lifelong friendships," say Erik Wedin, American Honda manager of corporate community relations.
The Honda Battle of the Bands grant program and Power of Dreams have continued in 2019 though. Honda annually awards approximately $200,000 in grants to participating marching bands during the program period.
Wedin notes that Honda also incorporated HBCU musicians on its 2019 Rose Parade theme float.
The Super Bowl's presence in Atlanta for the game on Feb. 3, 2019 impacted the entire city. The preparation period for the Super Bowl extended through the date normally used for HBOB in late January and would have impacted the locations for the HBOB showcase and recruitment fair.
"We decided that, rather than focusing on shifting the event to a temporary location in 2019, we should use the situation as an opportunity to reimagine HBOB, so that it comes back even better for fans and the schools in 2020," Wedin says.
Photos courtesy of Honda.