Congratulations to the 2011 WGI World Champions. This year's championships sought to be "the most amazing show on Earth"; with newcomers to finals as well as old favorites, the groups did not disappoint. Of special note, Santa Clara Vanguard took home gold for its World Class guard as well as its Open Class percussion unit. Halftime Magazine's fourth annual photo spread
depicts each of the winning guard and marching percussion performances.
Photos by Dan Scafidi and Sid and Linda Unser, courtesy of WGI Sport of the Arts
World Class Champions
(from left to right in photo)

Guard Scholastic World: Carmel (Ind.) HS; score of 97.10
Guard Independent World: Santa Clara (Calif.) Vanguard; score of 97.20
Percussion Scholastic World: Arcadia (Calif.) HS; score of 97.525
Percussion Independent World: Music City Mystique from Nashville, Tenn.; score of 97.050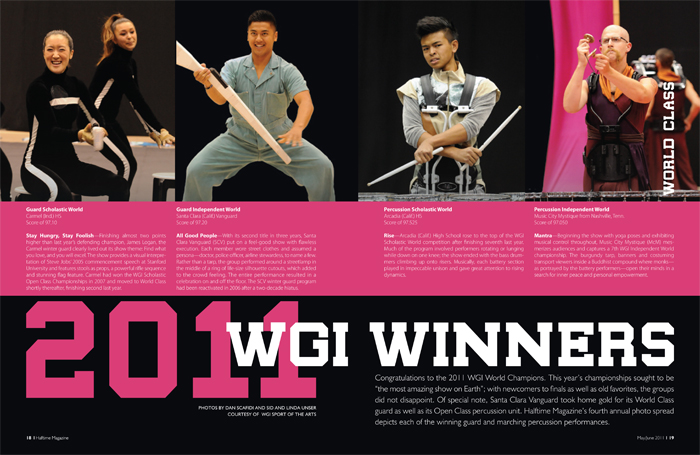 Open Class Champions
Guard Scholastic Open: Oak Ridge HS from Conroe, Texas; score of 94.45
Guard Independent Open: Pacificaires from Surrey, British Columbia, Canada; score of 96.85
Percussion Scholastic Open: Pacifica HS from Garden Grove, Calif.; score of 97.550
Percussion Independent Open: Vanguard from Santa Clara, Calif.; score of 93.875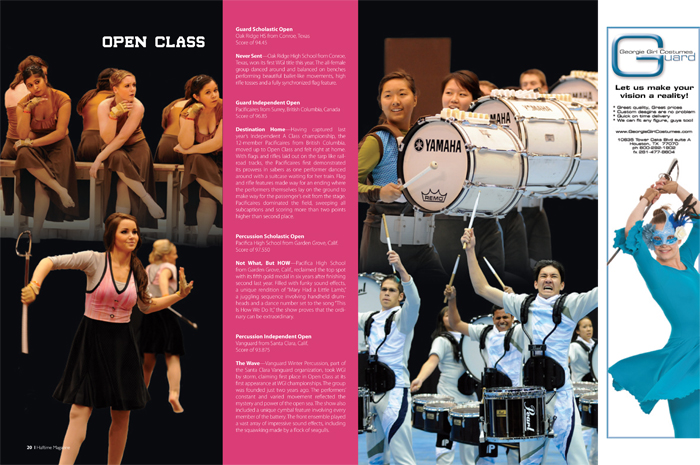 A Class Champions
Guard Scholastic A: O'Fallon (Ill.) Township HS; score of 95.70
Guard Independent A: South Shore from Chicago, Ill.; score of 95.55
Percussion Scholastic A: Chantilly (Va.) HS; score of 94.65
Percussion Independent A: Madison Independent from Madison, Ind.; score of 94.913
To read the text, go to pages 18 to 23 of our Digital Edition or subscribe now to our print magazine.