The 2015 season will go down as one of the most competitive finishes in Drum Corps International history—with the top three groups all within a point of each other during the last two weeks of the season. Find out how the best drum corps fared with a review of this year's top performing ensembles, award winners and special recognitions.
The Blue Devils found a way to "Ink" a fairy tale ending while Carolina Crown raged with "Inferno" and the Bluecoats electrified the crowd with "Kinetic Noise" in Drum Corps International (DCI) World Class competition. In Open Class, the Vanguard Cadets were "On Cloud Nine" as they went head-to-head with Blue Devils B performing "Prismatic" and the Spartans "At the Gate."
The Blue Devils "Ink" #17
The Blue Devils, based in Concord, Calif., captured its 17th DCI World Championship before a venue-record audience of 24,638 fans at Indianapolis' Lucas Oil Stadium with a score of 97.65.
But it wasn't easy.
Despite finishing in fourth place after the DCI World Championship prelims competition, The Blue Devils fought its way back up the ranks to second place beneath a red, hot Carolina Crown at DCI semifinals before taking the title at DCI finals. The Blue Devils also picked up caption awards for best visual performance, percussion and color guard.
"Bringing 'Ink' to life was an incredible experience because it was so relatable," says Matthew Barkley, a baritone player. "We all have a beautiful imagination, so performing a show that is designed around our imagination made it that much more special."
In what has been described as one of the most competitive seasons in recent memory, The Blue Devils struggled to achieve dominance as it has typically done in past seasons. In addition, The Blue Devils received a 0.5-point penalty at DCI prelims for a "warm-up zone infraction" that dropped the ensemble behind Carolina Crown, Bluecoats and The Cadets going into semifinals. The penalty was assessed for using a metronome during warm-up outside the stadium.
"While this was a younger drum corps with a high number of first-year members learning their way through the summer, they found a way to overcome much adversity," says David Gibbs, executive director. "The next morning, I asked the members how they would react to the penalty, how high they wanted to raise their performance level, and they exceeded my expectations."
Despite these plot complications with 'Ink', The Blue Devils rose to the challenge and finished with a happy ending on finals night in Lucas Oil Stadium. A drum corps has not won the championship after placing fourth or lower in prelims in nearly 20 years. Phantom Regiment was the last drum corps to pull that off in 1996, tying with The Blue Devils for first place that year.
"Today's ensembles are pushing the limits of what is possible physically, musically and emotionally at a level that is simply remarkable," says Jeremy Thompson, a Blue Devils alum. "This championship is a continuation and reflection of the principles The Blue Devils organization has been personifying since the start of their existence in 1957."
World Class Scores
Carolina Crown Forges Silver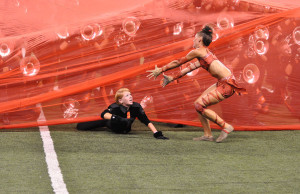 Carolina Crown took its 2015 production to the brink with a warning to onlookers: "Abandon all hope, ye who enter here."
"This show was about going through our deepest, darkest times in our lives, such as losing a family member, struggling with an addiction or facing depression," says Matt Harloff, brass caption head. "As depicted midway through the show during the ballad, some people are able to escape and move on to more positive times stronger than before while others are pulled back down and never recover. Fortunately, our show depicts an ending that is positive with our 'Ode to Joy' closer."
While Carolina Crown's show progressed into the lighter side of life from the depths of darkness, it was not enough to overcome The Blue Devils' storyline and placed second overall with a score of 97.075.  The drum corps captured the overall caption award for general effect over The Blue Devils but only by a narrow margin of 0.10.
"The competitive results weren't what we expected or wanted, but at the end of the day, that's not what we set out to do," said Carolina Crown drum major Hunter Bown in a DCI.org interview. "Our goal as Carolina Crown is to meet our own standards, and we did that tonight. It took a lot of hard work, and we went way further than we ever thought we could."
Carolina Crown added 0.30 to its semifinals score and placed second in best visual proficiency, color guard and brass but came in fourth in visual analysis and fifth in the percussion caption.
"The most challenging thing was to develop strategies to teach the more difficult parts of the show," says Travis Peterman, Carolina Crown's snare instructor. "The drum line had some extreme environmental and physical demands; it was a show that required a high level of intelligence and concentration."
Bluecoats Cut Through Bronze
The Bluecoats elevated its use of electronics to another level in 2015 after its successful "Tilt" show in 2014. This year's production, "Kinetic Noise," involved the use of several giant on-field speakers providing a surround sound effect and earned the group a third-place finish with a score of 96.925. It is the third time ever the Bluecoats placed in the top three (2010, 2014 and 2015).
"This year's show took sound to a whole new level to create something noisy and new," says Aubrey Marlar, a second-year color guard member. "I interpreted this concept in a way visually that explored different types and speed of sound and the different possible variations."
The Bluecoats added 1.15 points from semifinals, the highest jump in World Class finals competition. The group closed the gap with Carolina Crown by 0.85, coming within 0.15 of matching Crown's score (despite not winning any captions).
"Overall it was a very well-designed, exciting show that pushed boundaries both musically and visually, and the performance levels of our members are what truly made it so competitive," says David Glasgow, executive director. "We tried things from a sound design standpoint that had never been attempted before in the marching arts arena, and every day was a learning experience. While our sound system worked amazingly 98% of the time, every hiccup taught us a new way to prevent the next issue. Given what we attempted, I couldn't be more proud of our sound team and their ability to create and manage the amazing soundscape we utilized."
But the Bluecoats wasn't the only corps vying for gold. Also in the hunt was The Cadets, which placed 4th with a 95.900 at finals and captured the Jim Ott award for best brass performance, an award The Cadets had not achieved since 2005. It is also the second consecutive year that a fourth-place drum corps earned a caption award.
World Class Caption Awards
Donald Angelica Best General Effect Award: Carolina Crown
Fred Sanford Best Percussion Performance Award: The Blue Devils
John Brazale Best Visual Performance Award: The Blue Devils
George Zingali Best Color Guard Award: The Blue Devils
Jim Ott Best Brass Performance Award: The Cadets
Dr. Bernard Baggs Leadership Award: Mark Arnold (Blue Knights)
The Battle in Open Class
The Vanguard Cadets rose to the top "On Cloud Nine," capturing the Open Class championship with a score of 81.225. With its four titles (2000, 2008, 2013 and 2015), the group now ties the Blue Devils B in number of championships (2009, 2010, 2011 and 2014). In addition, the Vanguard Cadets swept every caption award in Open Class, finishing with a 0.90 lead over Blue Devils B, up from a 0.325 lead in prelims. This year also marks the first time in seven years that Blue Devils B did not win the best percussion caption.
"When someone says they're 'on cloud nine,' it could mean a variety of things depending on the person and their situation," says Porfirio Gomez, visual designer and choreographer. "It could be a toddler's first taste of ice cream, your first cell phone as a teenager or finishing your last final exam as a college student and beyond."
The defending 2014 Open Class champion, Blue Devils B, was unable to catch the Vanguard Cadets with its final score of 80.325. In its 2015 production, "Prismatic," based on the refraction of light, Blue Devils B became one of the first groups to use wireless LED lights during performance.
"Our show was very difficult from a performer's perspective and took a great deal of maturity in knowing what each segment of each movement required," says drum major Brandon Wood. "In addition, our [pyramid-shaped] props added a lot to our show and gave a visual texture along with what the horn line and drum line were showcasing on the field."
Blue Devil B's huge 4.30-point lead over the third-place Spartans resulted mostly from a 2.10 lead in the total general effect caption and a 1.55 lead in total music, with total visual contributing another 0.65.
The Spartans, which won Open Class championships in 1997, 1998, 2004, 2005 and 2007, scored a 76.025 with its program, "At the Gates," good enough to move into third place by 0.275 points after trailing Genesis during the season.
"This was a special year for the Spartans because it was the 60th anniversary," says synth player Simon Freitas. "We dedicated this season to our founder, Albert Laflamme, who passed away earlier this [year]."
The third-place finish matches the best placement for the Spartans (2010) since its return from being inactive in 2009.
Open Class Caption Awards
Best Brass Performance: Vanguard Cadets
Best General Effect: Vanguard Cadets
Best Visual Performance: Vanguard Cadets
Best Percussion Performance: Vanguard Cadets
Best Color Guard: Vanguard Cadets
Dr. David Kampschroer Leadership Award: Ibe Sodawalla (Legends)
Most Improved Corps: Legends
Open Class Scores
Photos by Ken Martinson/Marching.com.