Everyone loves a parade. Participating in a parade for Martin Luther King Jr. Day is even more fitting to celebrate his message of inclusion.
"Yes, if you want to say that I was a drum major, say that I was a drum major for justice. Say that I was a drum major for peace. I was a drum major for righteousness." – Dr. Martin Luther King Jr.
In his last sermon before being assassinated in 1968, civil rights leader Reverend Dr. Martin Luther King Jr. spoke of the "drum major instinct" that may cause people to lead for the sake of recognition. He encouraged the congregation to achieve greatness through service and love instead.
King's legacy now serves as the inspiration for parades across the United States. These parades don't just honor his work for the African-American Civil Rights Movement but celebrate his status as a worldwide symbol of nonviolence, peace, diversity, and acceptance. These off-season events allow marching bands of all kinds to perform for fun and focus on service, camaraderie, and community.
Multicultural Celebrations
The march from Selma to Montgomery or the March on Washington where King made his "I Have a Dream" speech are some of the most iconic moments of his legacy—and years later his birthday is celebrated with more joyous marching in parades large and small.
"Dr. King's legacy is honored and celebrated in many ways, but in my opinion a parade is the perfect form to literally bring people together in harmony to celebrate his legacy and what it meant to them in their own way," says Charles Stamps, founder of the MLK Grande Parade in Houston, Texas.
While some MLK Day parades started out as primarily cultural celebrations of the African-American community, many have grown to include everyone in a multicultural celebration of this American icon.
"I think parades are used because it's a way to get a lot of members of the community involved," says Tracy Baskerville, communications director at the Baltimore Office of Promotion and the Arts. "One of the things his legacy stands for is community and togetherness, and I think it's good to not just have the residents who come out to watch the parade, but also for many in the community to be involved and to volunteer, and to do that on a holiday says a lot about his legacy."
The parades are typically held on the Martin Luther King Jr. Day national holiday on the third Monday in January, but many cities celebrate all weekend long.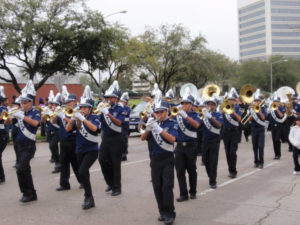 In Houston, the Grande Parade, founded in 1994, swelled to more than four hours—causing the organizers to split the groups into two parades beginning in 2004: the Grande Parade (featuring high school bands and older) and the Youth Parade (high school bands and younger).
"I wanted to create something that I thought was more reflective a representative of Dr. King's vision of diversity and inclusion," Stamps says. "[The parade is] inclusive of all religions, cultures, ethnicities, and it's beautiful. We've grown each year, and the event has really grown to reflect the face of America."
Large-scale events like Los Angeles' Kingdom Day Parade or Houston's MLK Grande Parade can attract bands to travel in from afar, showing the reach of Dr. King's legacy. The Grande Parade has showcased bands from Japan, Mexico, El Salvador, and the West Indies.
Celebrating King's impact is so popular in Houston that another parade organized by the Black Heritage Society takes place downtown. The Black Heritage Society parade is now in its 39th year.
Smaller local parades bring together bands from different levels (college, high school, middle school, elementary, and community groups) in their immediate area. "It's a nice opportunity for bands to meet other bands and to interact before the parade steps off," says Baskerville about the Baltimore event. "Then they head down the parade route. It's a good size audience that comes out to cheer, and some of their fans follow them as well."
Many parades also feature law enforcement, community groups, floats, and dance or drill teams. "It's typically about 10 high school bands, and then we have a lot of middle school dance and drill teams as well as cheerleaders," says Natashia Cooper, event service specialist of the Martin Luther King, Jr. Community Center in Dallas, Texas. "We really want people to come out and celebrate unity, diversity, and fellowship with their peers in honor of Dr. King and what he stood for."
Competitive Component
Unlike the local parades, some of the larger MLK parades do have a competitive aspect. The MLK Grande and Youth Parades in Houston are judged by a panel of university music professors who give out general awards for bands based on middle school, high school, and collegiate divisions.
In addition to the two parades, a Battle of the Bands occurs on Sunday night with awards given to bands based on size. Bands perform on the field in a local stadium. Any style of band is welcome and evaluated on entertainment value, visuals, and music.
"They compete in friendly competition for awards and prizes, and the adjudicators and judges are all from colleges and universities," Stamps says. "The seniors are recognized, and a lot of them receive scholarships. This is a show band competition, but we do get corps style bands to show up and participate. We don't have a separate category for them, but they participate anyway, and sometimes they win."
The Dr. Martin Luther King Jr. Parade in San Diego partners with the Southern California School Band and Orchestra Association (SCSBOA) for an official band review component if bands wish to be evaluated.
"It's a rich experience for the bands just listening to the music and then entertaining people," says Bill Gillespie, president of Alpha Phi Alpha, Zeta Sigma Lambda chapter, organizers of the parade in San Diego.
In Baltimore, the parade is strictly entertainment although bands will get their moment to shine. "We do have a reviewing stand, so as the marching bands pass, an emcee will talk about them and give a little bit of history about them," Baskerville says.
Healing Wounds
While the United States deals with racial tension and increasingly hostile political rhetoric, the organizers of MLK parades hope their events will bring people together and help heal some of the wounds caused by current events.
To reflect and address the current political climate, the theme of this year's Baltimore parade is "Love." "We're all in this together, and we just want to show love for Baltimore, for each other, for society, for humanity," Baskerville says.
Photos courtesy of Baltimore Office of Promotion and the Arts; the MLK Grande Parade in Houston, Texas; and the Martin Luther King, Jr. Community Center in Dallas, Texas.