In this crossword, each of the eight-letter answers are two words, made up of four letters
each.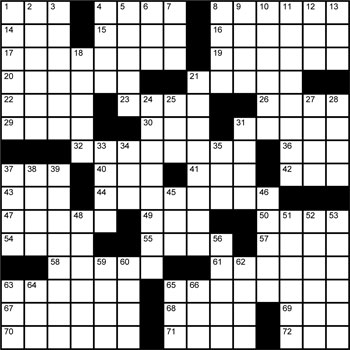 ACROSS

1. Gore and Sharpton, for two
4. 1201, in Roman numerals
8. Not suitable to (2 words)
14. Cheetah, for instance
15. Flatten out clothing
16. "Seeds" of an oak tree
17. Basic dance movement (left or right) that can be used
on the field (2 words)
19. Triple ___ (person skilled at three different fields)
20. Makes skim milk from regular milk, maybe
21. "Cuba" for "tuba," e.g.
22. "___ three ships come sailing in …" (2 words)
23. Cliff's only son, on "The Cosby Show"
26. Israeli Prime Minister Olmert, who will soon leave the position
29. "It's yours ___ extra charge!" (2 words)
30. 100%
31. Beyond angry
32. What you don't want to do, tonally or performancewise? (2 words)
36. Indian bread (var.)
37. Chemistry class place
40. Ump is to baseball as ___ is to football (abbrev.)
41. Direction opposite NNW (abbrev.)
42. U.S. Cabinet department that deals with terrorism and natural disasters (abbrev.)
43. George Gershwin's lyricist brother
44. Keep a beat by marching in place (2 words)
47. Untidy
49. Wide shoe size
50. "South Park" co-creator Parker
54. Huge party
55. Former NFL star Warren on "Dancing with the Stars"
57. Sharpen, like skills
58. Float along
61. "The Muppet Show" drummer
63. Where you may march along a route
65. Place to get your instrument practice during the summer, perhaps (2 words)
67. Apple online music store
68. Actor Alan of the 2008 movie "Flash of Genius"
69. Word used before a maiden name
70. Shortened nickname of celebrity couple Cruise and Holmes
71. Plumber's problem
72. "This ___ man, he played one …"

DOWN

1. Maine national park
2. Least strict
3. Former World No. 1 tennis player Edberg
4. Catcher's glove
5. Pizza base
6. ___ anglais (alternate name for the English horn)
7. Hotel
8. Rubber duckie's locale
9. Sore
10. Roof window
11. It's not holding the flag, if you're in color guard (2 words)
12. Stop ___ dime (2 words)
13. Letters after Q
18. Newton's First ___ Motion (2 words)
21. Movement technique used to minimize upper body movement while marching (2 words)
24. Symbol that denotes "stay silent for part of the measure" (2 words)
25. North Pole toymaker
27. The only state with a three-word state capital
28. Lions' homes
31. Piece of news
33. ___-Navy Game (annual college football game)
34. "Back to the Future" actress Thompson
35. "___ was saying…" (2 words)
37. Arm or leg
38. Length times width, e.g.
39. Big, heavy percussion instrument (2 words)
45. Mauna ___ (dormant Hawaiian volcano)
46. System of values
48. Got smaller in the laundry
51. "Everybody Loves Raymond" star Ray
52. Tooth material
53. Barked in a shrill way
56. Big bamboo eater
59. Notion
60. Suffix at the end of some multi-day concerts
62. Fargo's state (abbrev.)
63. Space where some orchestras perform
64. Get from point ___ point B (2 words)
65. Orioles' city, on some scoreboards (abbrev.)
66. Ginger ___ (carbonated beverage)
Wait, don't peek yet. Here come the solutions.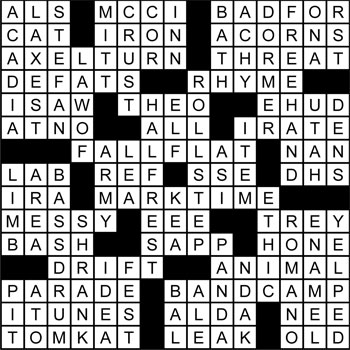 About the Author
Matt Jones is a 1998 graduate of Willamette University in Salem, Ore., where he majored in music education. Since 1994, he has also written crosswords for venues such as The New York Times, Games Magazine and Stagebill. He currently writes a syndicated weekly puzzle for more than 50 alternative newspapers across the country.