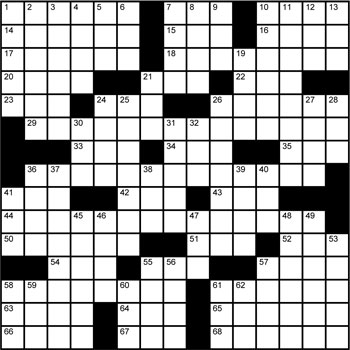 ACROSS

1. Provides the gear for
7. Markings that mean "very loud," on sheet music
10. Title for actresses Judi Dench and Helen Mirren
14. Day that the Rose Parade has never been held on
15. Ornamental vase
16. "(Sittin' On) The Dock of the Bay" singer Redding
17. Palin and Silverman, for two
18. Home state of the Alexis I. duPont High School Tiger Marching Band, the first non-California school band to appear in five Rose
Parades
20. Fruit-flavored drinks (such as a "Gator"-inspired drink)
21. Do some totaling
22. Anderson Cooper's network
23. They're made of 12 months (abbrev.)
24. Wrestling surface
26. Opposite of top
29. Disneyland ride that shares its name with the 1966 Rose Parade theme (4 words)
33. "Indiana Jones and the Raiders of the Lost ___"
34. Washington-based camping and sporting goods store
35. ___ in "uncle" (phonetic spelling hint) (2 words)
36. Charitable organization whose marching band has been in many Rose Parades
41. Actor Kilmer
42. Sorrow
43. Two-person musical act
44. "Star Trek" actor who was the 1994 Rose Parade
Grand Marshal
50. Like partially frozen precipitation
51. Organization that provides entertainment for the troops
52. Woodcutting tool
54. Great American Country music network, for short
55. What you rarely get to do while performing in a marching band
57. Shakespearean play opener (2 words)
58. Large animal that raced against a camel (and won), in a turn-of-the-century exhibition at Tournament Park
61. Notes that sound just like B's (2 words)
63. Female horse
64. Former NBA star Manute
65. Actress Shirley who was the Grand Marshal in the Rose Parade three times, spanning 60 years (1939, 1989 and 1999)
66. Moscow's country, before the 1990's (abbrev.)
67. Nocturnal bird
68. Takes another glimpse at

DOWN

1. Type of written test
2. "Four-sided" prefix before lateral
3. State of turmoil
4. Gilbert and Sullivan's title princess, and namesakes
5. Oom-___ bands (Oktoberfest brass groups, for example)
6. Part of GPS (abbrev.)
7. Elmer who chases Bugs Bunny
8. The dad on "The Flintstones"
9. Sketch show with Andy Samberg, for short
10. "It's ___ the wire!" (2 words)
11. Throw ___ (act like a mad toddler) (2 words)
12. Soviet orbiter that broke apart in 2001
13. Suffix after Vietnam or Japan
19. "Don't have ___, man!" (Bart Simpson catchphrase) (2 words)
21. Dispenser outside a bank (abbrev.)
24. Sportscaster ___ Albert
25. "I'm ready for any questions you've got!" (2 words)
26. ___ a bat (unable to see well) (2 words)
27. Oil of ___ (skin care brand)
28. Hospital workers (abbrev.)
30. E!'s "Daily 10" cohost Masekela, son of jazz trumpeter Hugh Masekela
31. Zodiac sign represented by a ram
32. Zodiac sign represented by a lion
36. Flag that wraps around itself, in color guard
37. People who make accusations
38. Actor Hanks
39. Car
40. Harry Potter's friend Weasley
41. Jettas and Beetles, for example
45. Jumping frog or kangaroo, perhaps
46. Satisfy a mosquito bite, maybe
47. "___, two, three, four" (military marching cadence)
48. Get away from
49. Noisy baby toy
53. ___ up (suddenly becomes aware)
55. Winter forecast
56. "___ never work!" (contraction)
57. "___ for the poor"
58. Bird related to the ostrich
59. ___ Vegas
60. Blood type letters
61. Middle (abbrev.)
62. Membership charge
Wait, don't peek yet. Here come the solutions.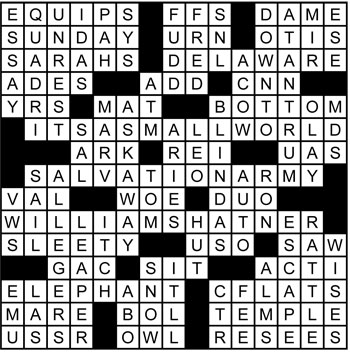 About the Author
Matt Jones is a 1998 graduate of Willamette University in Salem, Ore., where he majored in music education. Since 1994, he has also written crosswords for venues such as The New York Times, Games Magazine and Stagebill. He currently writes a syndicated weekly puzzle for more than 50 alternative newspapers across the country.