2021 New Year bowls incorporated marching bands as best as they could, using audio and video recordings to add to the game's atmosphere.
When the clock struck 12 a.m. on Jan. 1, 2021, no doubt many Americans felt elated to finally put 2020 in their rearview mirrors. As the new year dawned, though, 2020's gloom and the pandemic that will forever be linked to it, still cast a long, dark shadow upon the landscape. New Year's Day traditions, such as college bowl games and parades that generations of Americans have long taken for granted, seemed far different than what football and marching band fans have come to expect.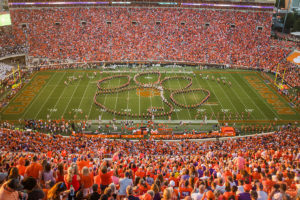 The management committee of the College Football Playoff (CFP) decided that it would not allow spirit groups, cheerleaders, marching bands, or mascots at any of the playoff games or the championship game. "It was easy to see that coming, especially late in the season as the number of virus cases continued to increase around the country," says Jeff Hundley, chief executive officer of the Allstate Sugar Bowl.
Although bowl organizers waited as long as possible to make their announcements, the bands knew the inevitable. Even before the Atlantic Coast Conference championship game, Dr. Ken Dye, director of bands at Notre Dame, knew his students would not go with the team to a possible CFP game for the Rose Bowl, which eventually moved from Pasadena, California, to Arlington, Texas. "It was a forgone conclusion," Dye says.
While several traditional bowl games had to be canceled, all of the New Year's Six and many other popular bowls forged on. "The safety of our participating players and coaches as well as team fans, media, stadium workers, and our staff was our top priority," says Gary Stokan, chief executive officer and president of the Chick-fil-A Peach Bowl. "We were very fortunate to be able to work with Mercedes-Benz Stadium, our partner conferences, and medical experts to create game-day protocols that ensured the safest environment possible for all those in attendance."
Game-Day Music?
Much of the college football atmosphere is created when opposing bands play pep music from the stands and march their elaborate pregame and halftime shows. Though nothing can take the place of a really good live marching band, bowls provided the home-viewing audience and those few football fans in attendance with a taste of that atmosphere by playing prerecorded music and videos, Hundley says. "That part of the game-day experience is hard to replicate and was certainly missed," he says. To fill that void, the Sugar Bowl played "a lot of canned music."
At the Outback Bowl, organizers played recorded fight songs periodically throughout the game. "We hoped that the fans that were able to attend or watch the game on TV could have a few hours of normalcy during a difficult year," says Mike Schulze, director of communications and sponsorships for the Outback Bowl. "We are proud of the many people that made the game possible in very difficult circumstances and that we were able to do it in a safe environment."
At the Peach Bowl, the University of Georgia and the University of Cincinnati bands were "integrated into the game-day experience" with a video pregame and halftime performance as well as audio after each score, Stokan says.
Prior to the Rose Bowl, presented by Capital One, and Sugar Bowl games, the CFP asked bands from the top teams to submit various video segments. The University of Alabama submitted prerecorded video and audio such as narrative blurbs and the National Anthem, according to Dr. Ken Ozzello, director of bands at Alabama. Notre Dame provided a newly recorded version of its Oct. 12, 2019, halftime show dedicated to the 1969 Apollo 11 Moon Landing.
To make the new video, his students physically marched to the drumline but mimed playing their instruments. Subsequently Dye dubbed audio that he recorded as his band played in concert formation. "They did not want us marching through aerosols," Dye says.
For the Allstate Sugar Bowl, Clemson University submitted an eight-minute pregame video and its "Legacy" halftime show from Oct. 30, 2020, honoring historical and inspirational Black figures. The Ohio State University submitted videos of its traditional ramp entrance and Script Ohio. It also provided its 2018 Queen show, a program that the band played at the 2019 Rose Bowl that season.
At halftime, however, the Sugar Bowl did not air the submitted marching band videos. Because of its ties to New Orleans, the Sugar Bowl paid homage to the city's musical legends in a 10-minute recording. Trombone Shorty introduced the segment, which featured a compilation of performances by Fats Domino, Irma Thomas, and Allen Toussaint.
The Ohio State and Alabama teams later squared off at the National Championship game, which not only played both bands' submitted halftime shows but also premiered a show by the College Band Directors National Association (CBDNA) Intercollegiate Marching Band (IMB). The IMB featured nearly 1,500 nominated performers from 200 college bands in 45 states and Puerto Rico, combining together virtually to play Beyonce's "End of Time."
"We are grateful to the CFP for including college bands in the semifinal and championship games even when we can't be there in person," says Dr. Mark Spede, director of bands at Clemson University and president of the CBDNA.
Reimagined Rose Parade
Like this year's bowl games, the Tournament of Roses "reimagined" the 2021 Rose Parade. Rather than featuring live marching bands and fresh floral floats as it has since 1890, The Rose Parade's New Year Celebration, presented by Honda, featured live-to-tape musical and marching band performances, segments about parade history, a look at floats from the past, and celebrity guests.
The Pasadena City College Tournament of Roses Honor Band accompanied Tori Kelly on the opening number, the "Gift That Keeps on Giving," and played for various transitions; the Southern University Human Jukebox performed via a recorded segment; and Kermit the Frog conducted a virtual segment of "Everything's Coming Up Roses," showcasing senior students from bands that had been invited to march this year.
The two-hour special also featured musical performances by Sheryl Crow, Lady A (formerly Lady Antebellum), and Rita Moreno, among others. Former Grand Marshals including celebrity chef Emeril Lagasse, actor Gary Sinise, and legendary baseball broadcaster Vin Scully also made appearances. For the broadcast, the Tournament of Roses teamed up with Feeding America to raise money for 21 million meals.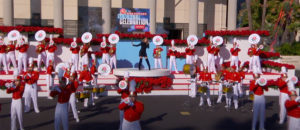 "It was a unique opportunity to not only entertain our worldwide audience in new, dynamic ways but also to honor the Rose Parade's 130-year tradition," says David Eads, executive director and chief executive officer of the Tournament of Roses. "It was a fun-filled entertaining special that we think helped people kick off the New Year with that hope of new beginnings and joy."
Eads calls the TV special a six-month labor of love. "As soon as we announced that we would not be able to host the Rose Parade this year, we began work with our broadcast partners to develop what this TV special could be," he says.       
A Welcome Distraction
Overall, bowl organizers and bands dealt with the ever-changing conditions with grace. "We all had to learn a number of lessons from the pandemic," Hundley says. "Chief among them is flexibility and the need to focus on what can be controlled and not so much on what can't."
Alabama's students demonstrated a flexibility and "stick-to-itiveness" that can't be overstated, Ozzello says. For six weeks before the regular season started, they practiced without knowing how the season would unfold. "Their commitment to the program is unbelievable," Ozzello says. "As the semester went on, I began asking students what percentage of their classes were online versus face-to-face, and [they said], 'Band is the only class I'm taking face-to-face,' The opportunity to get outside and gather with your friends, even though it was with a four-step interval and with a mask on, was an important diversion for our students."
Typically, The Million Dollar Band limits members to marching for only four years. Ozzello is waiving that rule and inviting seniors who are at Alabama for a fifth year to audition for the 2021-2022 band.
Dye shares Ozzello's view, calling band "a bit of normalcy in a time that was not normal."
Photo of Clemson University band from 2019 by Imagine! Studios.
Photo courtesy of the University of Alabama band.
Photo courtesy of The University of Notre Dame band.
Photo of The Ohio State University band from 2018 by Ed and Karen Crockett.
Photos courtesy of the Pasadena Tournament of Roses.