Halftime Magazine celebrates 10 years of covering the marching arts. Thank you to our readers, supporters, and staff.
Since 2007, Halftime Magazine has been the "sights, sounds, and spirit of the marching arts," reporting on and promoting marching groups and organizations in the United States and abroad.
For our 10th anniversary, we celebrate all of you who have read Halftime Magazine. Thank you to those who sent congratulatory notes via email or social media, shared how the magazine has helped the marching arts, and let us know what it means to you personally. Here are some of the submissions we received from readers, leaders, and writers commemorating the last 10 years.
READERS
The readership of Halftime Magazine spans all ages and levels of involvement in the marching arts—from aspiring young marching musicians to alumni keeping up with the latest news. Whether you're a student, band director, drum corps member, band parent, or just a fan of marching music, we thank you for reading!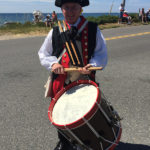 Hard to believe—10 years! I've followed Halftime Magazine the entire time. Even though I'm an old guy—I play tunes up to 250 years old—I love keeping current with high school bands and [drum] corps. Halftime is a great resource for marching band junkies everywhere.
– Bob Littlefield, Snare Drummer in the Chester (Connecticut) Fife and Drum Corps
Thank you for your continued topical, professional, and interesting coverage of the marching arts. We are lucky to have your continued support of this amazing activity. Here's to 10 more amazing years!
– Courtney Brandt, Author of "The Line" Series and "Confessions of a Teenage Band Geek"
Dear Halftime Magazine,
Without you, there would be no me. More than simply a print magazine, one of the things I found most valuable about Halftime was the opportunity to engage. It was in that sphere that I began blogging about marching/athletic music on my website 80 Minutes of Regulation.
You've been the go-to in marching media in your time, and you've covered the marching arts with a breadth and depth none can match. The magazine is at once for the student and teacher, the fan and the practitioner, the novice and the expert. You transition from Drum Corps International to Historically Black College and University bands deftly and are at ease talking color guard or drumline technique. While none can claim to be everything to everyone, Halftime does it as well as anyone in the marching arts, and I'm certain you have inspired others as you have me.
At some of the professional conferences I attend, it is tradition to adorn one's nametag lanyard with pins. Halftime Magazine always makes an appearance on mine!
Thanks for everything,
– Curtis Tarver, Founder/Blogger of 80 Minutes of Regulation – The Cadence of Gameday
I would like to thank and congratulate Halftime Magazine for all its support in publicizing and promoting pageantry and arts in the United States and abroad. It is the only publication that I can read to learn about all the accomplishments and honors of some of the greatest students and organizations in the world.
The Jackson (New Jersey) Memorial Jaguar Band had the honor of performing at the Tournament of Roses Parade in Pasadena and President Obama's inauguration within a two-week span. After you posted that story, we received hundreds of letters congratulating the kids. It was an awesome experience.
Your magazine would definitely receive a "standing ovation" from me and the thousands of people that have seen and read it. Bravo and congrats! Keep up the excellent work and looking forward to the next 10 years.
– Bud McCormick, Retired Band Director at Jackson (New Jersey) Memorial High School and
Inductee in the National High School Band Directors Hall of Fame
Halftime Magazine is an EXCELLENT resource to read about what is going on in the marching arts at ALL levels: high school, college, DCI, and WGI. It is nice to read informative articles not just about band but also about better performance/instructional techniques, the latest innovations, engaging the community, and so much more.
Thank you for the articles featuring the Kansas State University Marching Band and for your efforts to support collegiate marching bands all around the country. Here is to 10 years of success and to many more!
– Dr. Frank Tracz, Director of Bands at Kansas State University
Since the early '80s, I routinely believed that we needed to do a better job of telling the world about the marching arts. When Halftime Magazine first appeared, I was excited to see that someone had found a way to get the word out and to do it in a very professional publication both in content and in appearance. Halftime Magazine has provided an excellent platform to show the world the beauty, power, and effect of the pageantry arts and serves as an excellent professional tool.
In the fall of 2015, I noticed on the Halftime Magazine Facebook page that [the staff was] looking for stories about families of musicians. I decided to submit the story of my family and was pleased to have a photo and comments included in the November/December 2015 article titled "Family Matters." When the article was published, the magazine gave me an opportunity to share with school administration, family, and friends the joy that my family experienced being in the pageantry arts. Halftime Magazine helped to facilitate this recognition.
– Eric Dunn, Director of STRYKE Wynds, Director of Music at Somerset Academy Canyons in Boynton Beach, Florida, and Brass/Visual Staff at Palm Beach Central High School in Wellington, Florida
Happy anniversary to everyone at Halftime Magazine! Ten years ago Christine Ngeo Katzman's vision met a critical need in music education and specifically the marching band genre. To see the growth in the magazine's popularity and its ever-increasing impact and promotion of all things marching band has been really exciting.
I'm glad and honored to have been asked to lend my experience and opinions to a number of articles over the last decade. Congratulations and best wishes for even greater success the next 10 years!
– Dr. Brad McDavid, Director of Athletic Bands at University of Washington
Another day at work with the Notre Dame band staff!
Congratulations on reaching this milestone! The last 10 years have seen an explosion of positive media attention to marching bands, and Halftime Magazine has helped lead the way. Here's to many more!
– Dr. Mark Spede, Director of Bands at Clemson University and National President Elect of College Band Directors National Association
LEADERS
As a steadfast advocate of the marching arts and music education, Halftime Magazine is proud to have strategic partnerships with many marching organizations and businesses. Many leaders of these world-class groups took a few moments to send their congratulations.
I remember meeting with Christine at a NAMM show where she initially pitched the idea of Halftime Magazine before it launched. It was an ambitious undertaking at the time, but the vision turned to reality and has exceeded all expectations by far. Congratulations and thank you for 10 amazing years of covering marching music with integrity and professionalism.
– Dan Acheson, Executive Director/CEO of Drum Corps International – Marching Music's Major League
A big congratulations and a happy anniversary from all of us here at Drum Corps Associates!
Halftime Magazine has helped us communicate our brand to the general public. A lot of school educators receive this publication and pass it around the band room. People read and learn about our activity. The marching community is a small little piece in this big world, and anytime we can get information out about how critical music education is is great. I think Halftime Magazine helps spread that word. It's so supportive to our community. I think it's a spectacular publication, and the support to young audiences is wonderful.
– Allen Buell, President of Drum Corps Associates
Halftime Magazine has been a great addition to the marching arts community! I love that it provides an inside look to many of the groups that participate in the activity and highlights their accomplishments. It is a great resource, and I look forward to reading Halftime for many years to come.
– Bart Woodley, Director of Operations at WGI Sport of the Arts
Our partnership with Halftime Magazine continues to grow stronger all the time, and we look forward to the next 10 years! Congratulations on this milestone of 10 great years.
– Paul Smith, Executive Director of Cavalcade of Bands
Congratulations to Christine and all the Halftime Magazine contributors. Marching.com has been your biggest fan since the very beginning. We love partnering with you and are honored that many of our photographs have been published in the magazine and on the cover. Thanks for your important service to the marching community!
– Ken Martinson, Founder of Marching.com
It's great how Halftime Magazine covers all facets of the marching arts—from DCI to WGI and everything in between. Band Shoppe loves Halftime Magazine!
– Jay Pearison, President of Band Shoppe
Happy 10th! Here's a shot of the FJM front office [staffers] catching up on their favorite magazine! Lane Armey, Chase Sanborn, and Chris Dillon always have a new angle on training. Yay!
Thank you, Halftime Magazine, for telling the story of how music educators and other advocates can make a difference for music education. With the Every Student Succeeds Act (ESSA) naming music as part of a well-rounded education, together we can advocate access to quality music education for all students.
– National Association for Music Education
WRITERS
Halftime Magazine would not flourish without its many contributors. Drum majors and guard captains who shared their stories in our "Behind the Baton" column, expert columnists, featured writers, and editorial interns from colleges across the country have worked tirelessly toward our mission, and we thank them all! Here are a few thoughts on what writing for Halftime Magazine has meant to some of them.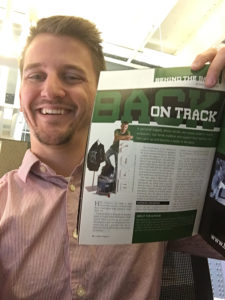 Crazy to think it has been 10 years of Halftime Magazine! I remember back when the publication started up, and I am happy to see y'all are celebrating your 10th anniversary.
I was featured in the May/June 2008 "Behind the Baton" section. A lot has happened since then! I am happy to say that the performing arts has still been an important factor in my life and now career. After high school I marched two years of drum corps: one with Revolution Drum and Bugle Corps and one with Spokane Thunder Drum and Bugle Corps, both as drum major.
From 2009 to 2015, I was on staff for color guard and visual programs across northern and central Indiana, and I currently work at Music for All in Indianapolis. Music and the arts are my daily life and have taken me all over the United States to experience the best ensembles in the country as well as [to get] to know directors from every state. Being able to see reactions of students, directors, parents, and fans to the events we put on is a dream job.
– Matt Mackowiak, Marketing Coordinator at Music for All
Four years ago, I wrote a "Behind The Baton" column called "Being the New Kid Again" about being a freshman in the Michigan State University Spartan Marching Band and how re-experiencing being new would inform the rest of my days in college band and beyond. These experiences certainly did illuminate what new members were feeling.
Now I'm "the new kid again" as I start my teaching career at Colonel Zadok A. Magruder High School in Rockville, Maryland. Halftime Magazine always got me excited about the marching arts and inspired me to what I could do in my band. I cannot wait to share Halftime Magazine with my own marching band this summer.
– Rachel L. Sze, Instrumental Music Director (Starting August 2017) at Colonel Zadok A. Magruder High School in Rockville, Maryland
Halftime Magazine has been a great way to stay connected all these years in the marching arts world. I have made a number of friends because of this publication!
– Gregory "GM" Kuzma, Director of Operations at Ascend Performing Arts in Denver, Colorado
Happy 10th Anniversary, Halftime Magazine!
Halftime Magazine has served as an outlet for musical people to connect and share their stories for 10 years, and that's something worth celebrating!
In my "Behind the Baton" article two years ago, I spoke about the integral role that music held in my life. Music continues to be an activity that I love and have immense passion for. I continue to practice and strengthen my love and passion through my work as a high school marching band visual and music instructor.
At the University of Illinois, I am pursuing a bachelor's degree in music education. I intend on getting a master's degree in conducting and a Doctor of Musical Arts degree. I hope to teach all levels of music and conduct a professional ensemble.
Writing a short article for "Behind the Baton" helped me develop as a student in realizing that I had the ability to create something myself and share it with others. It has also helped me organize my thoughts and plans for my future and reminded me of where I was in the past. Halftime Magazine has also assisted in opening doors for musical opportunities and positively impacted the results of job interviews.
– Christian Alcantara, Second-Year Undergraduate Student at University of Illinois at Urbana-Champaign School of Music
Halftime Magazine was the very first journalism internship I did when I was a student at the University of Southern California. The skills I learned as a reporter for the magazine helped me develop my skills to become a television news reporter in Palm Springs, California. It also helped that I was a member of the Trojan Marching Band at the same time. I am forever grateful for the opportunity the magazine has given me.
– Jeremy Chen, Reporter on KESQ-TV
Closing Remarks
I have been with Halftime Magazine for every issue except for the very first one. Although I wasn't the first editorial intern, I have stayed the longest, eventually being promoted to editorial assistant and then assistant editor. I have interviewed hundreds of marching students, directors, and professionals and learned that every single one has a fascinating story worth telling. I am constantly inspired by the stories of perseverance and artistry that the marching arts gives us a chance to express.
My favorite aspect of working for Halftime Magazine has been the ability to mentor editorial interns and work directly with "Behind the Baton" writers, helping them tell their stories in their own words. I am so grateful to everyone I have had the chance to meet, interview, and work with over the years.
Back in my days as a high school student constantly running between the band room and the newspaper room, I never thought it was possible to find work that so perfectly fit my two greatest passions. I am forever grateful to Christine Ngeo Katzman for dreaming a dream that didn't even occur to me and for letting me be a part of her creation.
With the support of our readers and the marching community, I hope Halftime Magazine will continue to promote and inspire all of us that love the marching arts for another 10 years and beyond!
Photo of NAfME courtesy of Mark Finkenstaedt.