While COVID-19 canceled tour, drum corps are finding ways to stay connected with each other and with fans until they can hit the field again.
After a watershed of cancellations in the spring, many drum corps quickly transformed their traditional plans with no precedent to guide them.
For most corps, 2020 marks the first time in their histories that their marching season was canceled.
From virtual 5K runs for fundraising to online camps and member-initiated movie nights, corps have found ways to keep busy and stay together from their own homes.
Camp in the Cloud
Cancellations came swiftly and took effect immediately, stopping in-progress physical activities abruptly. Thus, transitioning to online meetings became the first priority.
The Bluecoats Drum and Bugle Corps lost its drum corps tour as well as its Rhythm IN BLUE SoundSport season, its educational opportunities, and all of its fundraising events, recalls Chief Executive Officer Mike Scott. Despite the setbacks, the group wanted to "do our best to provide [our students with] … what we call 'the Bluecoats Experience,'" Scott says.
Thus, the group initiated a new three-pronged program, "Bluecoats in the Cloud."
Among the new offerings is some familiarity. The Bluecoats had previously created the "BluecoatStrong" series, online fitness programming focused on health and wellness. The series expanded this season to include sessions on mental health and mindfulness and has lasted longer than in the past.
In addition, the Bluecoats launched "Camp in the Cloud" starting in April for staff and performers to meet via video conferencing for educational content. The administration also uses the "Camp in the Cloud" meetings to give updates on the organization.
In the final component, "Bluecoats Connect," members can meet weekly to socialize, watch old corps shows and other movies, play games, and more.
The Blue Devils (BD) organization also took its educational programming online; however, BD made its System Blue Educational Events open to the public. Its two-day virtual workshops had three tracks: color guard, percussion, and leadership. In addition, instructors are offering private lessons.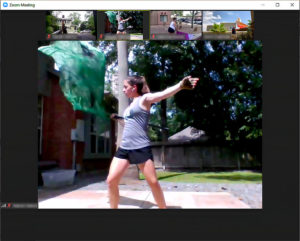 Virtual camps at Seattle Cascades Drum and Bugle Corps were also open to the public and offered for free with advanced registration. New students had the opportunity to learn right alongside existing corps members. "We are continuing the educational part of it as if we were still having camps," says educational director Dr. John Wilkerson.
These camps offer more than just education; they build and strengthen a community. "The leadership team … [starts] building the bonds with these kids and these other people," Wilkerson says.
Virtual Performances
As camps and other learning opportunities shifted online, so did performances.
The Bluecoats edited together a virtual performance of "The Boxer," an important song in its history, with videos of musicians playing their individual parts, including singing.
The Blue Devils drumline created an online event dubbed "Hackfest 2020." Each section—snare, tenor, bass, and rhythm—made an arrangement that was recorded by individual performers, then edited together and posted online. The public voted, ranking the sections first place through fourth. Several rounds of competition are occurring.
In addition, the Blue Devils brass line put together a filmed performance of "Chase the Clouds Away" in honor of Jim Ott, the Blue Devils' brass instructor who passed away in a car accident in 1980. The brass line used Ott's arrangement of the song.
According to Patrick Seidling, the Blue Devils A corps director, a virtual performance—such as Hackfest—benefits everyone involved, including viewers. "It allows the public to see our kids; it allows our kids to perform, to use their imaginations; and it has a fun little element of competition."
The videos themselves are very creative and have a music video-style feel, which is a unique aspect of filmed pieces that cannot usually be replicated by live performances, Seidling observes.
Chromium Winds, a program with The Cavaliers Drum and Bugle Corps, put together a special virtual performance of "Ave Maria" to celebrate Mother's Day. Though Chromium Winds doesn't compete in the summer, its winter season was cut short due to the cancellation of WGI Sport of the Arts championships. With so many rehearsals and performances under their belts, everyone felt disappointed that they lost the opportunity to showcase their skills to a larger audience. "We wanted to have a type of culminating thing that we could look back on for future years," says Andrew Zweibel, ensemble director. With everyone in quarantine, putting together a virtual performance "seemed like a logical solution," he adds.
Doing a piece from the current 2020 show would have been too technically difficult, and Zweibel thought that a slower and more lyrical piece made more sense for a virtual format; thus, "Ave Maria" fit the bill.
The Cavaliers have an existing version of "Ave Maria" used for special performances and other events. The song is "near and dear to our hearts as an ensemble," Zweibel says.
Out-of-the-Box Fundraising
With income from ticket sales, in-person merchandise sales, and other usual revenue sources eliminated for the 2020 season, corps have found alternative ways to raise money and stay connected while doing so.
Tina Kelly, the assistant membership manager for the Reading Buccaneers Drum and Bugle Corps, came up with a new idea for the organization. After participating in a virtual run with her dad in April, she did a virtual run with the mellophones. Then she proposed the creation of a virtual run, which took place from July 17 to 19, to include all corps members as well as family members, staff, and fans. Runners chose their distance—5K, 10K, or Wildcard (any distance) and donated a minimum of $10.
Similarly, Spirit of Atlanta Drum and Bugle Corps conducted a "Run for the Delta Virtual 5K" from June 12 through June 30. The race had been held in Norcross, Georgia, for the past two years but switched to a virtual event for this third installment.
Being virtual and spanning several days increased the event's reach. More than double the runners signed up this year compared to 2019. "We have somebody that lives in Italy who [signed up to run] our race," says Chris Moore, corps director.
Spirit of Atlanta also planned to stream its live annual fundraiser performance event from Atlanta's Symphony Hall on July 28.
The Boston Crusaders Drum and Bugle Corps raised $95,000 by hosting a two-hour watch party that featured produced clips of the corps as well as never-before-seen footage.
Showing the interconnectivity of the marching arts world, Rick Valenzuela, vice president of education and special projects for the Blue Devils' System Blue, hosted a reunion of directors from Phantom Regiment. Valenzuela had been the Phantom Regiment executive director from 2007 through 2019. Nine out of 10 living directors participated in a web conference meeting. The corps posted edited video of the conversation as part of Phantom Regiment's first ever Phan-a-Thon fundraiser on June 27.
For Valenzuela, the reunion was not only fun but also significant. "It was the first time that all of us had been together at the exact same time," he says.
BD Performing Arts has planned its own virtual gala for Aug. 1.
Traditionally, when Bluecoats move in for spring training toward the end of May, it is celebrated as "#movinginBLUE." This year, it became an online town hall in which the leaders gave a candid update on the organization's situation. Meeting participants previewed the video of "The Boxer" 24 hours before the public did.
For Scott, this event also showed the strength of the community. Some made contributions to annual fundraising while others joined "The Shield" as monthly donors. The Bluecoats' ultimate goal is to raise $350,000. As of this writing, donations are just shy of $200,000. "A lot of people jumped in [to] support," Scott says. "It was very cool to see people who hadn't previously engaged in our fundraising campaign join the campaign."
More Than Marching
One word used across the marching world, regardless of the specific corps, is "family."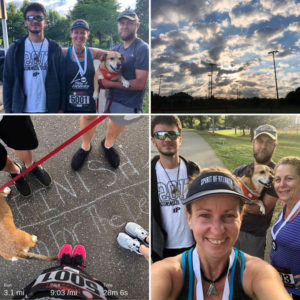 Similar to "Bluecoats Connect," Blue Devils drum majors set up online hangouts for members to meet, watch movies, and socialize. Seattle Cascades members have held weekly audio conference calls. The Spirit of Atlanta schedules meetings with members to coincide with major events that would have occurred. It also created a virtual tour, airing a different past show each day from June 18 to Aug. 6—the dates of this year's canceled season.
Since the Blue Devils had 60 new members accepted this year, making them feel welcome became paramount. "Our biggest goal is to let these members know that they are Blue Devils," Seidling says.
The Boston Crusaders has been connecting its members not only with each other but also with alumni. The corps' 80th anniversary gala was canceled and moved to 2021. For Chris Holland, executive director, it was a significant loss to the year. "It started to get me thinking, 'How are we going to replace this?'" thought Holland, who was a member of the 50th anniversary corps.
A video conference call between the 50th anniversary 1990 corps and the 80th anniversary 2020 corps became a good substitute until the gala in 2021.
After that experience, Holland believes that the alumni will be more united with the current members. "I think a lot of this is going to make the 2021 season even more special because alumni are going to be more connected, and more people are going to travel up here for a homecoming weekend."
With the many ways that ensembles are communicating and staying in touch during COVID-19, connection remains at the core of drum corps, even as members must stay apart for a little while longer.
Featured photo is courtesy of Chromium Winds.
Photo of Hackfest 2020 courtesy of BD Performing Arts.
Photo courtesy of the Seattle Cascades Drum and Bugle Corps.
Photo of the Blue Devils courtesy of  Christine Snead.