Juggling multiple musical endeavors can be intimidating. But many musicians value the unique rewards and have developed strategies that prevent them from toppling over.
Angela Estay, a music education major at George Mason University in Fairfax, Virginia, participates in a number of ensembles within the school and in the community, including symphonic band, the Green Machine Pep Band, indoor drumline, percussion ensemble, the Fairfax Main Street Community Band, and the Reading Buccaneers Drum and Bugle Corps. Though she plays percussion most often, she has started to explore other sections.
"There are a lot of differences in culture in different ensembles," Estay says. "Concert band ensembles are generally quieter, but in something like the Green Machine, it's … student-run. It's more involved since we're more in charge of ourselves."
Many students simply cannot get enough band. In high school and college, music students will participate in multiple ensembles within their schools, then take their skills to independent organizations such as drum corps and indoor ensembles.
This situation brings about a number of challenges, such as scheduling conflicts and finding enough time for individual practice, but it can also give students unique experiences that help them further their musical careers.
Musical Development
Music professors agree that many university students maximize their music participation in order to better their education and enhance their careers.
"I think a lot of the students I teach want to be music educators, so they're trying to get a well-balanced view of not only their instruments but also other instruments," says Shane Nickels, marching percussion instructor at George Mason University. "They're trying to get as much information and experience as they can to pass on to their future students."
Estay believes that learning to manage her time and keep her commitments organized will help her in her future music education career. "Just knowing I can handle all this at one time is relieving," she says. "When I get older, hopefully I can also manage multiple things at the same time."
Participating in a variety of ensembles also helps students narrow down the direction that they want to take with music. "They're probably trying to figure out what they enjoy and what they want to do with music," Nickels says. "They all know being well-rounded as musicians is going to pay off in their future careers. There are different things they can gain from each ensemble. They're very different experiences."
Maria Heuring, a student from Irondale High School in New Brighton, Minnesota, says that the skills she learns in one ensemble often transfer to another. She recalls taking the visual elements she learned from front ensemble during indoor drumline and using them in jazz band, incorporating more movement in an otherwise static ensemble.
"It just adds to the music and lets the audience know that you're engaged and having a good time," says Heuring, who participates in marching band, winter drumline, symphonic band, jazz band, All-Conference honor band, and All-State Band. "You get better at a certain technique, and you're able to translate that to something else."
Also from Irondale, Nick Seel says that playing multiple instruments has enhanced his experience in music. "I do play different instruments in different ensembles, so it's good to get a different perspective from a different part of the ensemble," he says. "It carries over, so it helps me understand how everything fits together and my place in the band."
Personal Growth
In high school, many students balance music participation with regular classes and might not intend to pursue music as a career. Jereme Frey, a band director from Father Ryan High School in Nashville, Tennessee, says participation in a variety of music ensembles will benefit students even if they do not plan to major in music.
"I view music in the same way people should view any other core subject; it's to make a more well-rounded individual," Frey says. "It teaches linear thinking, problem solving, [and] team thinking. For a lot of these kids, this is the best thing that they do. They're building life experiences day by day."
Participating heavily in music also allows for social development. Heuring says she didn't originally plan on participating in so many ensembles upon entering high school and does not plan to major in music; however, her heavy involvement in music has paid off.
"I just find music really rewarding in terms of personal growth, and [when] playing with other people in an ensemble, you form a lot of really good friendships and social groups," she says.
Seel's social circle exists primarily within the music department, giving him a reason to participate more fully. "I just enjoy doing it," Seel says, "It's fun, and my closest friends are in it. They do most of the same activities that I do."
Frey emphasizes that having students participate in multiple groups not only helps them musically but also enhances their academic ability and prepares them for the real world. "We find that our students actually do better in the fall and winter when they have these extracurriculars going on because they're forced to manage their time well," he says. "They're encouraged to be in so many things that they really have to manage themselves and make sure they're on top of stuff."
Time Management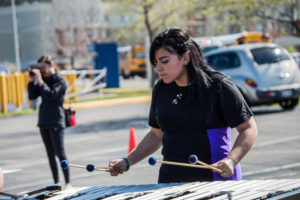 Despite the numerous benefits, time conflicts will inevitably arise while playing in multiple ensembles. Estay says that scheduling conflicts are the biggest obstacles in her participation. She describes an instance when she traveled to an indoor drumline competition in April, came back to campus in the middle of the week for a percussion ensemble concert, then went to a different indoor competition the following weekend.
"I like to keep a journal and write down everything I need to do," she says. "I have three or four different calendars all synced on my phone, and I have a lot of group chats to remind myself where I need to be."
Heuring prioritizes ensembles based on where in the season each stands: a rehearsal for a final performance in one group takes precedence over an early-season practice in another. "You're running all the time; there's no walking," she says. "You're always thinking about what you have to do next, and it can be stressful. There's a lot of critical thinking involved because you have to think about what's most important right now. You always want to finish the season you're in before thinking about the next one. You just have to try and plan ahead, and if you know there's going to be a conflict, do what you can to prevent it."
Although the workload and schedule conflicts make her participation in multiple ensembles difficult, Heuring says the rewards are worth it. "It can be challenging, and you'll feel like you want to quit, but whatever it is, you just have to remember that it's something greater and a really powerful tool for self-growth and inspiration," she says.
Seel says that participating in different types of ensembles on different instruments at the same time will cause conflicts. Trombone is his primary instrument, but he plays tuba with the marching band and bass drum during indoor drumline. He adds that ensembles within the school generally work with each other to avoid schedule conflicts, but in the case that time commitments overlap, performances take precedence. "I usually have to choose which one is the higher priority; generally, concerts come first," Seel says.
Especially when multiple instruments are involved, finding time for effective individual practice can also be a challenge. Estay practices repertoire from various groups in each session. "I usually just merge it all together because it's easier for me that way," Estay says. "Do it all at once instead of spacing it out."
Space and Perspective
From a director's perspective, Nickels says communication is key to ensure that students stay on top of their obligations and avoid falling behind. "Some of our performances and rehearsals overlap, so sometimes [students] have to pick one or the other or communicate with me to say they're going to be late," he says. "Being able to commit to all of them 100%, sometimes that's not possible. [But] as long as the communication is there, it's not a big problem."
Frey says that Father Ryan's music program encourages students to participate in outside ensembles by excusing them from rehearsals when drum corps camps or winter guard competitions conflict. "Typically, we excuse any kids that are doing things musically if it conflicts with rehearsals," he says. "Kids in drum corps will miss band camp, but we know that they will catch up and know what to do to get back on track."
Balancing rehearsal space can also have an impact on the multiple ensembles in a school's music program. With many groups but not enough space, ensembles have to seek out alternate rehearsal sites. For example, Father Ryan's winds program pays $100 per rehearsal to practice at the local fairgrounds while other programs practice in dining halls and church spaces in the area.
"Finding facilities is a constant struggle," Frey says. "That's the biggest issue with running a winter group in general for a school like us."
While participating in a large number of ensembles will create challenges for both schools and individual students, Estay says her varied experiences have helped her find the true purpose of musical performance.
"I think the most important thing I've learned is that it's all working toward a common goal," she says. "It's a common goal of playing music to the best of our ability. I like being a part of something bigger. You never know who could be in the audience and whose life you can change."
Featured image courtesy of Scott Philben.
Photo of Angela Estay courtesy of Chris Maher, corpsreps.com.
Photo courtesy of Angela Estay.
Photos of Irondale High School bands by Ron Rasmussen. All rights reserved.