"The Sound of the Swarm" from Mineola, Texas, works together as a "bamily" to achieve top honors in the state and nation with the Texas 3A band championship and the Sudler Shield.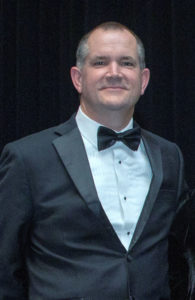 The Mineola (Texas) High School band had a major year in 2019. Not only did it win its seventh Texas University Interscholastic League (UIL) Sweepstakes Award in 3A competition—its sixth in a row—as well as its second state marching championship in 3A, but it also received the national Sudler Shield award in the small school division from the John Philip Sousa Foundation. With a background in small bands and through a strategy of team teaching, director of bands and fine arts Chris Brannan consistently prepares the Mineola band for success.
Halftime: What's your educational and musical background?
Brannan: I started [teaching] in Clarksville, [Texas], [for] seven years and then went to Queen City, [Texas,]—spent 11 years there, had some success. Queen City had three bands that won the state championship in the 3A class. And then I went to Mineola in 2013, and the band's really, really doing well. We just won our second state championship in marching this fall.
I started [in] sixth grade band at Parker Elementary [in Powderly, Texas]. My band teacher was Rhonda Morris, so I credit her and my high school director, Randy Jones, [at North Lamar High School in Paris, Texas,] for building that desire and making me want to be a band director. They were really great directors and inspired me to want to be like them when I grew up.
Halftime: What are unique issues with teaching at small school districts?
Brannan: We don't have as many staff members. You're the one who has to get to all those kids and teach out of your comfort zone.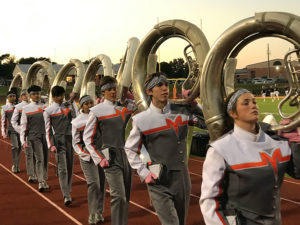 Halftime: What have been some of your proudest moments?
Brannan: Seeing our kids graced with those gold medals at the state level—it's just definitely one of those moments you will never forget, so I'm especially proud of that.
Halftime: What does winning the UIL Sweepstakes Award six years in a row mean to you and the band?
Brannan: It's very important to our program as far as our consistency and the quality of education to make sure that we're teaching all the kids, and they're performing at the appropriate level. For us, the band has grown and shown a lot of excellence.
Kids are like adults: Once you get a prize, you want to go back and get it again. That's something that they expect to achieve every year, so it definitely pushes that concept [to] them to keep the standards up.
Halftime: What does winning the Sudler Shield mean to you and the band?
Brannan: I think it's special to our kids and our community and our school but more [so]. It's a national award, and for the kids to do something so incredible that they get recognized at the national level and be the only band in the nation [in 2019] in small schools [classification] that receives the award is incredibly special. [Amanda Drinkwater, Sudler Shield committee member and director of bands at Marcus High school in Flower Mound, Texas] did a great job of explaining that to our audience—what this award means for a little town in Texas. Mineola's just 4,000 people. For this band to be nationally recognized is a phenomenal accomplishment.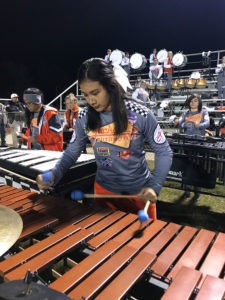 Halftime: What are your philosophies on helping the band excel?
Brannan: Our motto is: "Make it better." Those three words.
We don't settle. We just keep pushing forward and try to always keep going. If you're not getting better, you're getting worse.
Team teaching … is one of the key factors of the band's success. [We] developed a schedule where … all of the directors … teach high school band together. … And then we all go to the middle school band together. We're all in the room. We're all teaching beginners, and we're able to split up the instruments. That's the most effective way to have a very successful program where everybody can help.
We look out for each other; the kids help each other. We have mentors that help the younger players. We call it our "bamily" ["band family"]. We take care of each other in the "bamily."
Halftime: What are some of Mineola's special traditions?
Brannan: We're "The Sound of the Swarm" for the Yellowjackets. We're orange and white. All the parents and fans that come watch the band [are] wearing orange, so that's a tradition for the kiddos. They'll look up there and see a sea of orange in the stands, and then it makes them rise up and want to do better.
Halftime: What have been some of the biggest challenges in your time with the band, and how have you overcome them?
Brannan: An unforeseen challenge was developing and building the … community and the school to be more involved in fine arts. The community in the school just had never experienced a strong music program, so it was developing the culture of what you have to do to nurture [an environment] for funding, scheduling, and facility needs.
Halftime: What advice do you have for other marching band directors?
Brannan: Make everything important to the kids. Don't just focus on one season, on marching season or concert season. Keep to your highest level the entire year, and that will help promote a really strong band program.
Halftime: What advice do you have for marching musicians?
Brannan: Work really hard in high school and pay attention to what's going on in your programs because once you get out, if you decide to teach, or even if you're a performer, a lot… comes from what you did as a student and what you learned from your teachers. Get help and ask a lot of questions.
Here's a flashback to Sudler Trophy winners in 2009.
Photos courtesy of Mineola High School.