Many return champions dominated World Class in WGI Sport of the Arts competition while relative newcomers were crowned in other classes. Ensembles tackled an array of storylines including love, aging, mental health, and spirituality. Hope you enjoy our 10th annual WGI championships coverage.
World Class
Guard Independent World
Pride of Cincinnati
Score of 97.900
Director: Charles Gumbert
The Inevitable Direction of My Life: For the second year in a row and the sixth time overall, Pride of Cincinnati was destined to win the gold medal in Independent World Class. Its show explored the unraveling of the mind. Performers made rifle tosses through the open ceiling of a large cage—which signified the mind—as the prop was being moved around the floor. The show featured the song "Coming Together" by Frederic Rzewski as performed by Eighth Blackbird with words from Attica prisoner Sam Melville. Aimachi from Nagoya, Japan, received the silver medal with a score of 97.650 while Blessed Sacrament from Cambridge, Massachusetts, received bronze with a score of 95.700.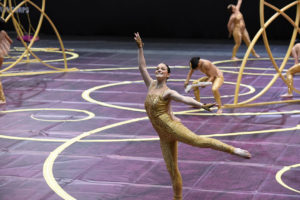 Guard Scholastic World
Carmel (IN) HS
Score of 97.550
Director: Rosie Queen
Arabesque: From its gilded, glittering costumes to its large and intricate golden swings that extended out of gold printed patterns on the tarp, the Carmel High School guard sparkled as it glided toward a fourth gold medal in WGI Scholastic World Class. Featuring Claude Debussy's "Arabesque" for piano, Carmel's performance embodied every definition of the word from its use in ballet, ancient scrolls, and fanciful ornamentation in music. Avon (Indiana) High School received the silver medal with a score of 97.000 while James Logan High School from Union City, California, received bronze with a score of 95.350.
Percussion Independent World
Music City Mystique from Nashville
Score of 98.000
Director: Josh Nelson
The Hand of Man: With shaved heads and wearing breathing masks, members of Music City Mystique looked on the verge of death. Their performance, however, brought to life an important message—man is destroying precious resources—catapulting the group to its eighth gold medal in Independent World Class. Inspired by a sculpture of the "last tree," the show featured a braided tree on its set and tarp. The pit stood at the back of the floor to symbolize the top of the tree. During a dramatic moment, members pushed the marimbas around to indicate limbs being torn apart. Broken City from Lake Elsinore, California, finished in second place with a score of 97.700 while Pulse Percussion from Westminster, California, rounded out the medalists in third place with a score of 96.950.
Percussion Scholastic World
Chino Hills (CA) HS
Score of 98.613
Directors: John Mapes and Ian Grom
Through Aging Eyes: Achieving its fourth gold medal in Scholastic World Class, the Chino Hills percussion ensemble can look back on a great season as its show looked back on the passage of a lifetime. The show started with a "child" and an aging man standing on each side of a mirror. Rocking chairs and a playground swing symbolized the contrast between young and old. The ensemble started with its own arrangement of "7 Years" by Lukas Graham and ended with "When We Were Young" by Adele. Arcadia (California) High School came in second place with a score of 96.813 while Ayala High School, also from Chino Hills, followed closely behind with a score of 96.075 for third place.
Winds Independent World
Rhythm X from Miamisburg, OH
Score of 96.750
Directors: Mike Scott and Steve Mason
Jumping Through Loops: The Rhythm X winds ensemble caught the brass ring, finishing as gold medalists in Independent World Class. The musicians came out running, performing "Rolling Thunder," a march by Henry Fillmore. The show also incorporated an extended tenor saxophone solo, acrobatic moves, hula-hoop tricks and a unicycle. STRYKE Wynds from West Palm Beach, Florida, received second place with a score of 94.275 while FIU Indoor Winds came in third place with a score of 90.750.
Winds Scholastic World
Avon (IN) HS
Score of 94.300
Director: Jay Webb
In Flight: Avon High School's winds group soared above the competition as it took home its second gold medal in Scholastic World Class. Wearing white aviator jumpsuits with flowing red scarves and flight goggles, performers showed off flying movements including going upside down and throwing trumpets into the air. Various instrument sections traded off on solis and performed on white platforms with wind turbine props in the background. Cleveland High School from Clayton, North Carolina, won the silver medal with a score of 93.475 while Greenfield (Indiana) Central High School won the bronze medal with a score of 89.800.
Open Class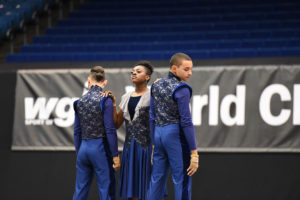 Guard Independent Open
AMP Winter Guard from Camden, NJ
Score of 97.000
Director: Dreu Toliver
I Carry Your Heart: In its portrayal of a love triangle, AMP Winter Guard won over audiences' and judges' hearts, winning its first gold medal in Independent Open Class. The tarp showed male and female symbols connected via an infinity sign. A table set in the middle of the floor served as a meeting point. The soundtrack, designed by Harrison Horowitz, combined poetry by E. E. Cummings, sounds from nature, and the predominant song "9 Crimes" by Damien Rice. In Motion Performance Ensemble from Fairfield, California, received a score of 96.350 to capture the silver medal while the University of South Florida from Tampa received bronze with a score of 94.600.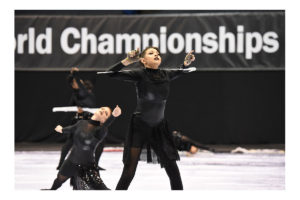 Guard Scholastic Open
Stockdale HS from Bakersfield, CA
Score of 97.800
Director: David Michael
Resolve: The Stockdale High School guard showed its determination to succeed, making it to finals for the first time and receiving the gold medal in Scholastic Open competition. During the three-day event, Stockdale increased its score by six points between prelims and finals. Stockdale began its show with a series of rifle tosses accented only by single piano notes. Music in its performance included "Silent Night" by Damien Rice and "Run to You" by Pentatonix. Lyman High School from Orlando, Florida, received the silver medal with a score of 96.300 while North Syracuse Central from Cicero-North Syracuse, New York, brought home the bronze medal with a score of 94.700.
Percussion Independent Open
Infinity 2 from Orlando, FL
Score of 98.025
Director: Larry Byington
Inventing Bliss: Infinity 2 lit up the crowd to win the Independent Open title. With musicians hammering on steel plates placed on top of their drumheads and playing mallet instruments covered by tin foil, Infinity 2 created unique sounds that might be heard in a factory. Light-emitting diode effects showed a metaphorical transition from darkness to light and from sadness to bliss as the performers tried out their new invention—light-up goggles. Rise Percussion from Denver scored 96.388 to capture the silver medal while Freedom Percussion from St. Louis received the bronze with a score of 94.138.
Percussion Scholastic Open
Burleson (TX) Centennial HS
Score of 97.100
Director: Richard Kearns
The Harvest: Burleson Centennial High School turned the marching floor into a field of wheat as a metaphor for life and won the Percussion Scholastic gold medal. The ensemble's musical layering included the hymn "I Need Thee Every Hour" and "The Promise of Living" by Aaron Copland. Tall stalks—made out of plastic spoons glued onto water bottles—served as large props that performers moved and manipulated to demonstrate peaceful wind as well as a devastating tornado. Clear Brook High School from Friendswood, Texas, received silver with a score of 96.275 while Victor J. Andrew High School from Tinley Park, Illinois, placed third with a score of 95.400.
Winds Independent Open
Chromium Winds from Rosemont, IL
Score of 92.750
Directors: Jordan Yi and Andrew Zweibel
Voices in My Head: In its inaugural season, Chromium Winds—presented by The Cavaliers Drum and Bugle Corps—took home the gold medal in Independent Open competition. Its show depicted mental illness with music and loud screams punctuating the characters' breakdowns. Chromium Winds is The Cavaliers' first co-ed marching ensemble. Midas Winds from Raleigh, North Carolina, finished in second place with a score of 89.525 while Point Winds Theater from West Point, Georgia, completed the competition in third place with a score of 86.775.
Winds Scholastic Open
Central Lafourche HS from Mathews, LA
Score of 94.350
Director: Willie Martin
Birds of a Feather: With large nests as props and digitally printed feathers throughout its costume, the Central Lafourche winds group flocked together to receive its first gold medal in Scholastic Open competition. The group ended the performance with a soprano saxophone solo and various nature sounds. Central Lafourche had previously placed second in 2015. Flanagan High School from Pembroke Pines, Florida, finished in second place with a score of 92.900, and Decatur Central High School from Indianapolis completed competition in third place with a score of 87.350.
A Class
Guard Independent A
FIU Winterguard from Miami
Score of 97.905
Director: Enrique Perez
The Road Ahead: The Florida International University Winterguard went on an evening joyride into the future and won the Independent A Class championship. Using music from Tommy Emmanuel's "Initiation," which incorporates unique sounds made on a guitar, the performers captured the fast pace of the traffic and people in the city through its rapid movements during full flag and full rifle features. The group incorporated a car prop and various traffic signs into the show. (Read Behind the Baton on page 30 for more details about FIU Winterguard's journey to the top.) MBI from Saint Paul, Minnesota, finished in second place with a score of 95.845 while Allegiance from Dundee, Illinois, scored 95.205 for third place.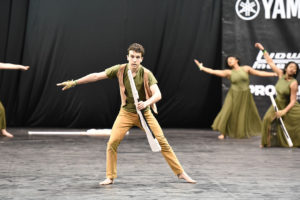 Guard Scholastic A
Klein Oak HS from Spring, TX
Score of 97.640
Director: Stephanie Chavez
Jamie: In its first year in WGI competition, Klein Oak High School finished in first place in Scholastic A Class by presenting a simple yet moving show. In its story of heartbreak, all of the female characters anguished over lost love from the one male "Jamie" character. Using mostly rifle equipment, dance moves, and no tarp, the ensemble performed to Cynthia Erivo's version of "Still Hurting," a song featured in the movie/musical "The Last Five Years." Dartmouth (Massachusetts) High School achieved a score of 96.915 for second place while Kickapoo High School from Springfield, Missouri, received a score of 95.725 for third place.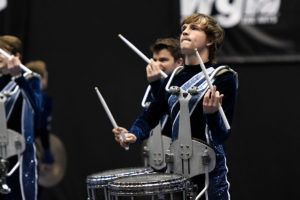 Percussion Independent A
Modulation Z from O'Fallon, MO
Score of 96.025
Director: Ryan Treasure
What's Out There?: Modulation Z was out of this world as it explored the possibility of life in space to win its first gold medal in Independent A Class. Its show comprised all original music and incorporated props that represented celestial bodies, which lit up during various parts of the ballad. The ensemble combines students from several high schools in its district and is in its third year of competition. Farmington United Percussion Ensemble from Farmington Hills, Michigan, finished the competition in second place with a score of 95.100 while Unity Percussion from Gainesville, Florida, came in third with a score of 94.488.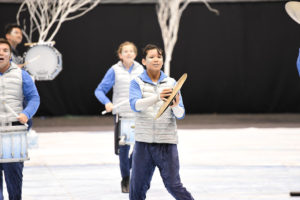 Percussion Scholastic A
Fair Lawn (NJ) HS
Score of 95.925
Director: Jamie Szeinberg
Below Zero: Fair Lawn Indoor Percussion (FLIP) froze out the competition in its first WGI finals bid and gold medal in Scholastic A Class. From experiencing a first snowfall to mountain climbing in a blizzard, FLIP explored all the fun as well as dangers of being outdoors in the bitter cold. The show incorporated a multi-level mountain with ramps, five trees, climbing backpacks, and confetti while the floor depicted a frozen lake in a snow-covered field. E. D. White Catholic High School from Thibodaux, Louisiana, earned a score of 94.425 for second place while Victor (New York) High School finished in third place with a score of 94.213.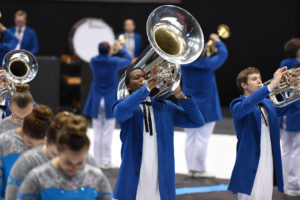 Winds Independent A
Inertia Independent Winds from Plain City, OH
Score of 91.250
Director: Kriss Davis
Ascension: Inertia Independent Winds rose to the top, winning its second Independent A Class title. Its spiritual show comprised mostly original music with the hymn "Amazing Grace" as an added element. Performers climbed up and down ladders while dancing or playing their instruments to enhance the theme. The ensemble also incorporated a violinist and color guard. Horizon Winds from Auburndale, Florida, finished in a close second with a score of 91.000 while the LakeShoremen from Downriver, Michigan, received the third place award with a score of 85.900.
Winds Scholastic A
Valley Christian HS from San Jose, CA
Score of 94.775
Director: Jeff Wilson
Shades of Night: Valley Christian High School lit up the night to win its first medal in Scholastic A Class. Its performance showcased evening colors including burnt orange sunset, twilight blue, royal purple, black, and sparkling starlight. The show used lighted globes and digital multiplex stage lighting against reflective circular backgrounds to change scenes and colors. The ensemble performed "Capriccio Espagnol, Op. 34 – II Variations" by Nikolai Rimsky-Korsakov and "Rocky Point Holiday" by Ron Nelson. Forsyth Central High School from Cumming, Georgia, scored 93.775 for second place, and Newnan (Georgia) High School finished in third place with a score of 93.125.
Photos courtesy of Ken Martinson/Marching.com and WGI Sport of the Arts.