College marching bands contend with COVID-19 to support their teams and provide musical outlets for their students.
Picture day for a college marching band is typically a routine, even boring, event. However, picture day for the Marching Illini from the University of Illinois at Urbana-Champaign took on a whole new significance in 2020. For the first time in the season, the entire band was permitted to assemble in the stadium in uniform. "It was a big deal for our students," says Barry Houser, director of the Marching Illini. "They were elated to see each other."
Individual photos of band members were taken, enlarged, printed on heavy-duty cardstock, and placed in select seats in Memorial Stadium, taking the place of the flesh-and-blood fans who would otherwise occupy those seats if not for the COVID-19 pandemic.
Like every band across the nation, the Marching Illini was forced to modify its 2020 fall marching season. While all conferences in the NCAA Division I Football Bowl Subdivision competed this fall, the rules that governed their game-day proceedings, including participation by marching bands, varied widely. "We have a huge [variety] of programs doing anything and everything, from not meeting to doing things virtually," says Houser, who is also chair of the athletic bands committee for the College Band Directors National Association (CBDNA). "I don't think there are any, at least that I'm aware of, that are marching pregame and halftime like we'd typically see."
Varying Rules of Participation
The Big 12 Conference allowed schools to determine how many individuals could attend their football games. The University of Oklahoma limited stadium capacity to 25 percent, thereby allowing only 25 percent of the marching band to attend home games.
The Southeastern Conference (SEC) permitted bands to attend football games but prohibited them from being on the playing surface. Like the Big 12 and the SEC, the Atlantic Coast Conference (ACC) banned marching bands from its football fields but encouraged them to attend and cheer from the stands.
The Big 10 Conference, however, prohibited bands, cheerleaders, dance squads, and fans from its stadiums altogether. "No representation for our marching band," says Dr. Eric W. Bush, director of the Hawkeye Marching Band at The University of Iowa.
Because Seattle was the nation's first virus "hot spot," Dr. Brad McDavid, director of athletic bands for the Husky Marching Band at the University of Washington, began contemplating many options early on. "I began preparing for every possible scenario that was being discussed by [the Pac-12] and our athletic department, … everything from socially distanced field performances to smaller pep bands performing only in the stands," says McDavid.
Unfortunately, for McDavid and his students, the Pac-12 Conference also did not permit bands or fans in its stadiums at all this football season.
Game-Day Experiences
Bands that were allowed at home games developed a variety of approaches to enthuse and engage the few fans permitted to attend. In the ACC, the Clemson University Tiger Band prepared and recorded halftime shows in advance of the games. During halftime, the show was played on the stadium's video screen with the audio muted. Band members performed the music accompaniment live from their seats. "We should be able to stay within a few seconds of the video," says Dr. Mark Spede, director of bands at Clemson and the president of CBDNA. "It gives us a chance to learn shows and perform live."
Although bands were allowed at Big 12 games, the conference treated the field as an athletic bubble. The Pride of Oklahoma Marching Band at the University of Oklahoma divided its 320-member band into four groups of 80 to serve as pep bands at each of the school's five home games. Seniors and upperclassmen enjoyed the privilege of playing at the fifth.
Oklahoma, like Clemson, prerecorded its halftime productions, which played on SoonerVision on game days. A team of videographers captured multiple camera angles from the photo deck, the home-side concourse, and the field. The full band marched in a block formation. "We're not moving nearly as much," says Brian Britt, director of athletic bands at Oklahoma. "We're using follow the leader and contrary motion for effects, but the spacing between the students never changes."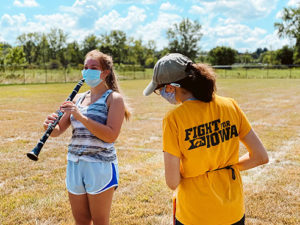 Though Iowa could not perform in the stadium, its marching band presented virtual shows. The band divided into four smaller groups: I, O, W, and A, with I and O marching on certain days and W and A on others. Students attended regular band camp and rehearsed as usual except they were exclusively outdoors and socially distanced in a block with four-step spacing, putting students about 7.5 feet apart. Some Iowa musicians wore two face masks: One is an altered musician's face mask with a slit cut into it to allow access to a mouthpiece, and over that is a mask without a slit. "They drape [the regular mask] over their ear, and as soon as they're done playing, they put it over the top [of the musician's mask]," Bush says.
Iowa recorded its traditional pregame concert, pregame show, drum cadences, and two different halftime shows for its four home games. For each show, Bush recorded half of his 250-member band at separate times and edited footage together from both performances. "We do a little bit of magic, splicing and putting them together," Bush says.
Washington's athletic department allowed a trumpet soloist to perform "America The Beautiful" and vocal soloists to perform the national anthem.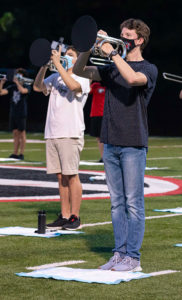 At the University of Georgia in the SEC, the band performed its pregame and halftime as standstills. "We're playing from the stands in reduced numbers," says Dr. Brett Bawcum, director of athletic bands for the Georgia Redcoat Band.
Altered Learning
Because colleges and universities offered their students a variety of learning options, from face-to-face to virtual to a hybrid blend of classes, band directors followed suit.
Houser taught his marching band virtually, addressing marching fundamentals and the history and traditions of both the university and marching band. He invited former Illini marching band students to speak about their experiences, marching health, and hearing preservation. Houser also addressed diversity, equity, and inclusion. "Usually we're busting chops to get out there and get the next show down—six to seven shows a season," Houser says.
Without the need to produce a new show every week, Houser says that he was able to dive deeper into these important marching-related topics. On the other hand, Houser had been able "to do a little more face-to-face" because the University of Illinois submitted each of its 52,000 students to a twice-weekly saliva test, he adds.
For example, the band recorded a performance in the stands, so athletics could play pieces like "Oskee Wow-Wow" when the team scored touchdowns. Also, the ensemble performed in a livestreamed concert to celebrate the 100th anniversary of the Altgeld Chimes, an iconic chimes tower on campus.
At Oklahoma when the band was together as a full ensemble, Britt staged students in a block where they stood no closer than 7.5 feet in any direction and typically 15 feet front-to-back and in diagonals. "We spend a considerable amount of time in section rehearsals, where they can be socially distanced in smaller groups," Britt says. "We've probably done more large-group work than some bands have, and we've had no spread within our group at all."
The Redcoat Band spent the first month of the fall semester in Zoom sectionals. "Working music, yes, but also doing our best to make sure the band's culture and traditions were preserved with the new members," Bawcum says.
When COVID-19 cases dropped in Georgia, leadership met as did one class year at a time. Bawcum rehearsed about one-quarter of the band to play at a single football game each. As of the end of October, the band had yet to march a single step. "Just getting the chops back in shape after a pandemic summer and missing camp have been huge challenges," Bawcum says.
Pillars for 2020
Preparing for the 2020 marching season was "a really long process that started with summer discussions," Bush says.
At Iowa, those discussions produced three goals: safety, providing a great musical experience, and maintaining engagement and relevance within the community and on campus. "If we can achieve any part of those three in that order, we'd be successful," Bush says.
Like Bush, Matthew Dockendorf, director of the Golden Buffalo Marching Band at the University of Colorado Boulder in the Pac-12, established three pillars for the 2020 season: safely provide a sense of community for all members of the band; retain and continue the band's traditions and learn about it's 112-year history; and continue musical instruction via smaller, distanced in-person groups and virtual teaching. "Our students and our leadership have been positive, terrific ambassadors and really embody who we want all of our marching band students across the country to be," Dockendorf says. "I'm very proud of them."
Over the course of the summer and into the fall semester, Dockendorf's expectations changed as he searched for and ultimately found "a delicate balance" for the marching season, he says. He held band camp, which brought students together, socially distanced, of course, for community-building exercises. When the semester began, he established attendance requirements to virtual rehearsals and meetings as well as for its few sectionals and full-band rehearsals in its empty stadium. "These few in-person rehearsals have been a terrific bonding opportunity for our musicians to feel the thrill of the full band and be in historic Folsom Field," Dockendorf says.
During the rehearsals, Dockendorf captured audio, and the marketing team played it during football games. "Our in-game stands music is played over the PA system to mimic a game-day atmosphere [that would normally have had] the band present," Dockendorf says.
The rehearsals also helped first-year members learn the music, so "next year they are not starting from scratch," he adds.
When McDavid realized his band would not be performing as an ensemble, "our focus shifted to preparing our new rookie members for the future, whenever that may be," he says.
He divided the class into two separate components. In one, the staff and section leaders addressed band policies, chart reading, and marching fundamentals. In the other, new members individually recorded the band standards and submitted them for evaluation via the program Marching Band Pro.
No matter how many surveys students completed before they walked into a classroom or how many saliva tests they took, inevitably some students would catch the virus. Whether or not a band program continued to meet largely depended on how the school's administration and its directors responded to positive cases. "We knew before we returned that we would be affected by COVID, whether or not we met," Bawcum says. "The principle we have been following is that we want to be only of benefit to our members and community. So we have a standing policy that we would suspend operations if the percentage of cases in the band approached or exceeded that of campus."
When considering the alternative, Britt says that he and his program were lucky. Some ensembles couldn't march, play, or do anything, he says. "Rather than being frustrated by the things we're not able to do, like our most cherished traditions, we're focused on making the most of the things that we can do," Britt says.
There is obviously no playbook for living through the COVID-19 pandemic. "Operating in a normal year is challenging and all-consuming," Bawcum says. "I hope every director, instructor, and performer is extending themselves a little grace while they try to learn how to handle this."
Photo of  Marching Illini courtesy of Bradley Leeb.
Photo of the University of Georgia courtesy of Margaret Anderson.
Photo of the University of Iowa band courtesy of Dr. Eric W. Bush.
Photo of Clemson University band courtesy of Imagine! Studios.
Photo of the Oklahoma band courtesy of Valorie Wakefield.
Photo of the University of Colorado Boulder band courtesy of Melinda Mason.