Developing a family culture in beginning band leads to a continuity of commitment into the future.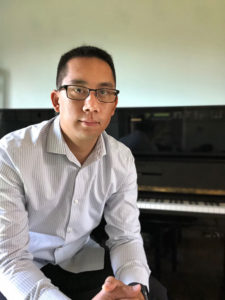 For the past eight years, Tim Graulty has served as an educator at his alma mater, the school where he fell in love with music. A 2005 graduate of Sycamore High School in Cincinnati, Ohio, Graulty returned to Sycamore Community Schools as the 5th and 6th grade band director at Edwin H. Greene Intermediate School in 2012 and became head director of the Sycamore High School Marching Band in 2020. Graulty also started a clarinet ensemble that now features students from 5th through 12th grades.
"Getting to work with the now-beginners and see them grow through the program I went through—that's really rewarding to me," Graulty says.
Here are some of his insights about creating continuity in band programming through different grades and buildings.
Halftime: How did you get involved in teaching music at your alma mater?
Graulty: I joined band back when I was in 6th grade. The clarinet was my first instrument. My junior or senior year [of high school], I started to appreciate the process to become proficient on my instrument and fell in love with the system.
[In college] I started out studying mechanical engineering. I continued to play in the college marching band, took music theory as an elective, [and] finally decided that my passion was to pursue a career in music and education as opposed to engineering.
I went to the University of Cincinnati for mechanical engineering, then went to Xavier University for music education. I had the opportunity to student-teach at Sycamore. A spot opened up for band. It's nice to be home.
Halftime: The combination of being a 5th/6th band director and head director for the high school marching band is rare. How did you get involved with both roles?
Graulty: [The head marching band director] position opened up, and I felt like I had a good rapport with the kids, knowing them since they were 10 or 11 years old. I was always on staff with the marching band anyway. … [Previously,] I worked primarily with the woodwinds.
Halftime: How do you balance both roles?
Graulty: Communication is key. … Constant communication with families, being open with them and answering their questions, is a big deal. Meeting with student leadership, especially at the high school level, [is] something we've established.
Every week we have a meeting with seniors and leadership [to hear] their feedback on rehearsals and scheduling. [Hearing] different ideas for the marching band has been really beneficial not only for me but also for them to see the other side of the process and the planning that goes into the season.
Halftime: Does your approach to teaching change when you're directing intermediate school students versus high schoolers?
Graulty: You can expect older students to be more independent in their learning and understanding. … You approach [instruction] in a different way because they have a foundation of knowledge that you're building on.
The younger students are just excited to be there, so you have to take things more slowly and make sure everyone understands every step of the process.
There are more similarities than differences. I believe in building a culture that is positive, something students feel like they're a part of but also have an investment [in]. High school students have a longing for that, [and] 5th and 6th graders also want to feel like they're part of a family. If you build a positive culture, the students [will] want to succeed.
Halftime: About 60 percent of students at Greene are involved in the 5th/6th grade band. How did you get so many students involved?
Graulty: The credit goes to the Sycamore community as a whole. The parents, staff, [and] administrators are supportive of the music program. The orchestra is growing as well.
As far as recruitment, we go out to the elementary schools in the spring. We bring a few 5th grade students to play for the 4th graders. We have an instrument tryout day. …
I can't take credit for what the program is. A lot of that has been built up by my predecessor, Lonnie Stover—[who] passed [away]—[and] the directors before him.
Halftime: How did the clarinet ensemble originate?
Graulty: [It] started five years ago with some 5th graders, who are now freshmen. A few of them came to me … and said, "We want to play some more music; [can we] start an after-school club?"
They all played clarinet, so we … started doing some chamber music … [and] had them play at some of the concerts. The year after, … another group of 5th graders heard and wanted to join.
Last year was the first year I was able to [increase] the scope of the program, having clarinet students in 5th grade up through seniors in high school. Each student at each grade level is like a snapshot in time. Hearing how they sound now versus how they played before is really enlightening for them. For younger students, it creates a sense of motivation, like, "I'm sitting next to a senior in high school, and I want to be like that."
Halftime: How has COVID-19 impacted your various ensembles?
Graulty: The COVID-19 pandemic affected every aspect of marching band. We started off with a virtual open house and Icebreaker Camp in April and May. … We were able to meet in person during our Mini Camp in July in smaller sections and for a reduced time. August brought more adjustments and guidelines during band camp as we again maintained rehearsing in small groups with adequate social distancing. Wind musicians did not rehearse indoors the entire season, and performance opportunities were limited. Even with all these adjustments, our students did an excellent job learning and performing an exciting show. I'm so thankful for the patience, flexibility, and support from parents, administrators, and students throughout the season. Because we were able to work together, we had a successful marching band season with zero positive COVID cases among marching band students and staff.
I teach both virtual and face-to-face every day. Without a concert season, the 6th grade band students are free to work at their own pace. Students have individual goals for each week and receive feedback directly or through video response. … We play outside as much as possible, and when we play inside, we have woodwind bags, bell covers, face masks, and are at least six feet apart.
Halftime: What advice do you have for other music educators?
Graulty: Have a core group of students and families who really buy into what you believe as a director, [who] trust your guidance, trust what you're doing, and really enjoy it. If you can [have] a core group of students to build a program around, then it will snowball into something bigger.
Photos courtesy of W. Solomon, Sycamore Band and Orchestra Boosters and Tim Graulty.