In September my family and I traveled to Williamsport, Pennsylvania, for the all-age Drum Corps Associates (DCA) World Championship. As soon as we arrived downtown on Friday night, we felt a buzz in the air. Food trucks and drumlines assembled on 4th Street to entertain locals and drum corps fans while the Individual and Ensemble and Mini Corps performed inside the Community Arts Center. The atmosphere felt more like a celebration than a competition.
As we entered The Genetti Hotel, the party continued. Concurrently with DCA each year, The World Drum Corps Hall of Fame—which operates independently—holds its annual induction and banquet. The 2018 Members, recognized for long-term achievement, are Gino Cipriani, Danny McBride, Jeff Prosperie, Jeff Sacktig, Lou Tierno, and James Wedge. The 2018 Associate Members, recognized for shorter durations of commitment or support, are Rich Hammond, Bill Ives, Charles King, Peter Propfe, and John Riley. In addition, two artists—Chick Corea and Diane Nicholeris—were inducted for Distinguished Professional Achievement. And Erik Julliard received the President's Lifetime Achievement Award.
On Saturday morning prior to DCA prelims, we learned about the history of this previous logging town while walking along the West Branch Susquehanna River and Millionaire's Row. We also enjoyed the depiction of "Bases Loaded," a baseball diamond in the middle of the street with statues in each corner of Market Square, representing Williamsport as the birthplace of Little League Baseball.
On Sunday, we invited friends to join us to watch the finals competition. I was particularly moved by their second grader's comments as she watched the performances. Questions like "How do people know when to clap?" soon turned into "I want to be a color guard member someday."
Halftime Magazine has been a partner of DCA for many years, and I was glad to finally venture to championships. It felt more low-key and yet just as exciting as being in Indianapolis for Drum Corps International (DCI) or Bands of America. To find out how various cities have welcomed the marching arts, read our feature article on "Marching Cities".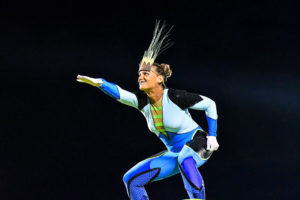 Congratulations to all performing drum corps, especially this year's DCA champions—the Reading (Pennsylvania) Buccaneers in Open Class and Carolina Gold from Goldsboro, North Carolina, in A Class—as well as DCI champions—Santa Clara (California) Vanguard and the Vanguard Cadets. Read about the DCI medalists in our 12th annual "DCI Champions" article.
Keep on Marching,
Christine Ngeo Katzman
Publisher and Editor-in-Chief